What would life be without cookies? You may well have been asking yourself this question if you've recently taken on a new diet plan where cookies are a big fat no. What you need are some high protein cookie recipes that slash the fat, sugar and calories right down. We've kept the tastiness and packed in the protein so that you can enjoy delicious cookies whatever your diet is.
Christmas cookies? Check. Chocolate? Of course. There's a high protein cookie for every season, mood and diet. Taste isn't all these cookies have got though, as they'll get you to your daily quota of protein for the ultimate gains as well as satisfy your appetite for something sweet. You can tuck in to your favourite flavour for an after dinner snack, or pump up your protein intake post-workout.
Whatever your goals, we've made sure that you don't have to miss out on tasty treats with these delicious high-protein cookie recipes. Get your mouth watering and your taste buds tingling with the cookies you can't afford to miss out on.
1. Angel Eye Cookies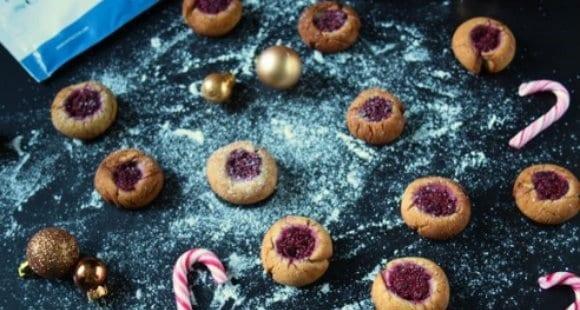 These are the prettiest (and tastiest) of cookies — perfect for brightening up a Christmas spread, or your lunch box all year round. Packed with raspberries and protein, these delicious cookies are bursting with the nutrients you need without all the nasties — it's time to forget fat and sling the sugar.
2. Double Chocolate Cookies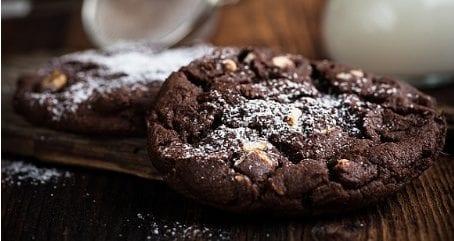 These rich and utterly scrumptious high protein cookies will leave your chocolate cravings curbed and your mouth watering for more. We've added nut butter and Impact Whey for an added protein punch as well as chunky chocolate chips for added gooeyness — yum. With no added fat or sugar, you can indulge and feel incredibly good about it.
3. Gingerbread Nut Cookies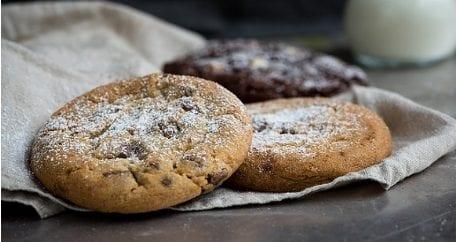 You can't beat a bit of spice in your cookies and this recipe comes with the best combination. Delicious ginger and cinnamon mixed with protein and nuts makes a cookie that's got a kick and a protein punch. With no added fat or sugar, you wouldn't believe that it could taste so good… but it does.
4. Vegan Christmas Cookies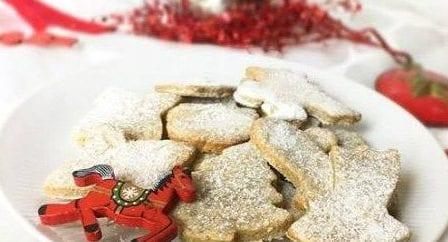 Healthy. Vegan. Cookies. Need we say more? This recipe is bursting with protein that's completely plant-based and tastes delicious. Cut into Christmas shapes to get you feeling festive, while the spices warm you from the inside out. There's nothing better than a Christmas cookie!
5. Chia Seed Gingerbread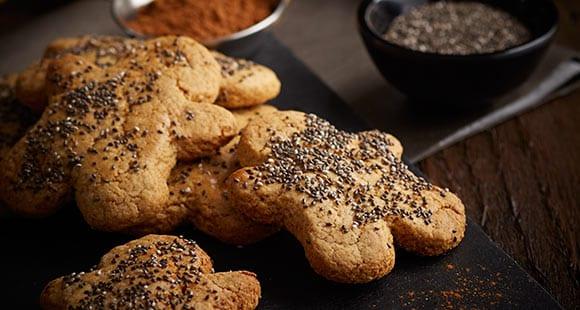 Imagine chowing down on gingerbread that's extra crunchy and healthy. Well, you don't need to because we've made it a reality. This chia seed gingerbread recipe is low in sugar, high in protein and full of deliciousness — what more could you ask for? These spicy biscuits are sure to be centre-stage of all your Christmas treats, so much so that you'll want to munch on them all year.
6. Frosted Chocolate Protein Cookies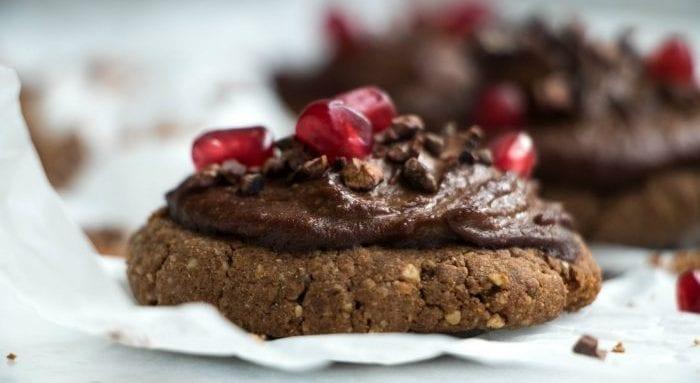 These cookies are the perfect solution when you're in need of a chocolate fix. Packed with protein, these cookies are guaranteed to be a popular post-workout treat. The creamy frosting makes these feel incredibly decadent, but the whole cookie only contains 180 calories. Now you have to try them…
7. Protein Raisin Cookies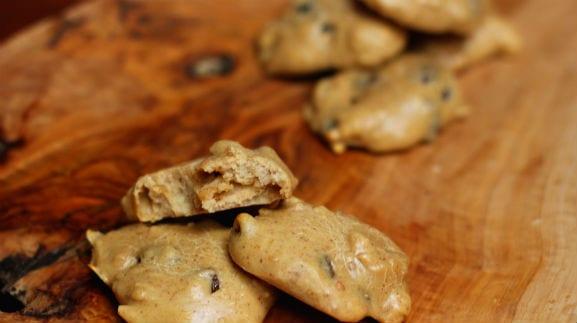 If you're looking for the softest delicious little protein treats we've got the recipe for you! Our gooey protein raisin cookies are quick to make and perfect to have with ice cream or greek yogurt for a tasty snack or amazing dessert.
8. Choc Chip Chickpea Cookies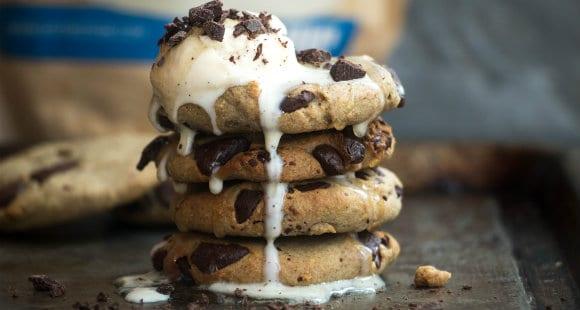 Chickpeas might not be the first ingredient you think to to put in a cookie, but it definitely works. Their smooth texture is already so much like cookie dough, minus all the bad stuff — what could be better? Added chocolate chips makes this a delicious snack for those with a sweet tooth.
9. High Protein Christmas Tree Cookies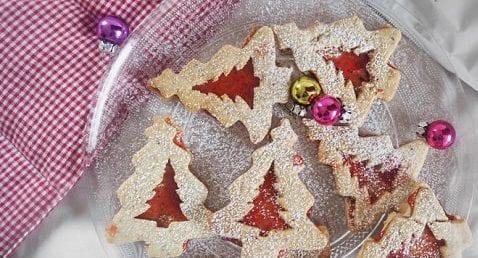 Follow this simple, sugar-free and delicious recipe and indulge in Christmas cookies, which are also suitable for vegans. The juicy jammy centre, mixed with the crunchy biscuit is the perfect combination to make a tasty Christmas treat.
10. Low-Carb Cinnamon Stars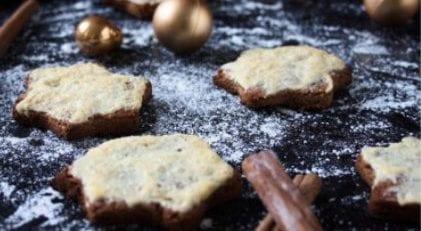 These stars will definitely spice up your life. Their low-carbohydrate content plus the delicious cinnamon makes it a warming winter snack that won't leave you piling on the pounds. Protein powder and ground almonds mean they're also packed with protein, making it perfect for post-workout too.
11. Low-Fat Vanilla Croissant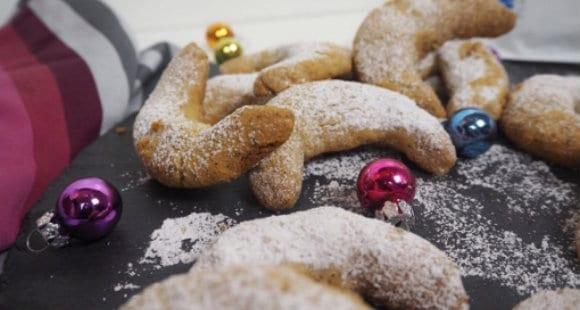 Croissants are usually filled to the brim with fatty butter, but not these ones. By using light margarine, we've significantly reduced the fat content and that's not all. These cheeky croissants are also low in sugar and carbohydrates and high in protein. It doesn't get much better than that, does it?
12. Healthy Butter Cookies
This could be your new classic cookie recipe. These delicious low-sugar cookies mean that there's no need to curb your cravings with naughty treats. Using chickpea and wheat flour also makes this a lower carb option for those watching their macros. Mix in your favourite spices or keep it plain and simple by adding some vanilla Flavdrops.
13. Protein Easter Egg Cookies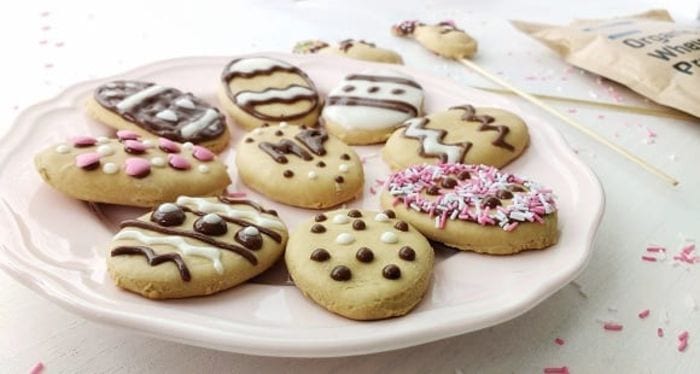 Mix it up this Easter and bake these colourful egg-shape cookies. They're much healthier than regular Easter cookies, made from oats and whey protein — perfect to share this Easter! They're so good, you'll forget all about your Easter eggs.
14. Date and Almond Protein Cookies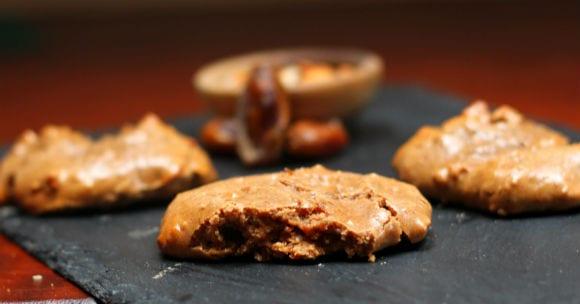 Need a quick energy post-workout? Handy pre-workout snack? These soft date and almond protein cookies are super easy to make and will provide you with the ultimate energy and protein release — perfect for a pre leg day snack or running aid. What's more, you only need 4 ingredients and the recipe is super simple and quick.
15. Easter Bunny Buckwheat Shortbread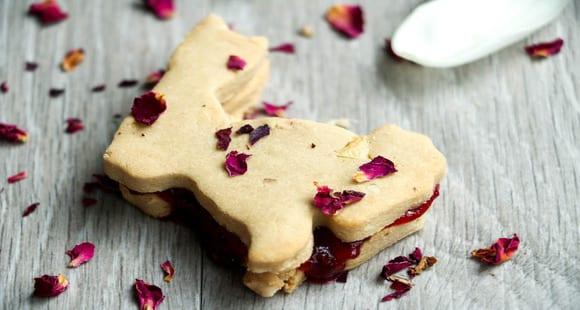 Step into Spring with this super-easy, low-sugar cookie recipe. These deliciously healthy buckwheat shortbreads make the perfect Easter treat, or make them into a different shape to eat at any time of the year — you're going to love them that much. With only 4 ingredients, Easter baking has never been easier.
16. Macro-Friendly Cheesecake Cookie Cups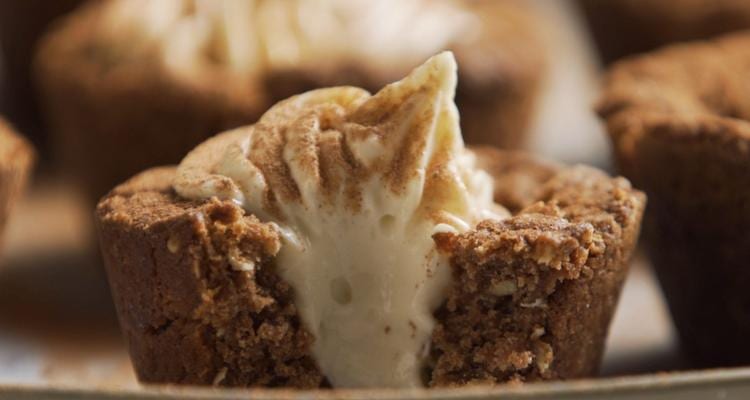 Our two favourite treats have been moulded into one for this healthy hybrid recipe – cookies and cheesecake! Low-carb, low-fat and high-protein, this recipe defies everything you ever knew about these devilish desserts. And the bonus? They taste just as good!