We're all about the no-bake recipes right now. Simple, energy-efficient and, most importantly, full of flavour.
Here are eight of our favourite no-bake recipes, all ready and waiting to satisfy your sweet tooth. Whether you're into cheesecake for breakfast (who isn't) or on the hunt for a new go-to after-dinner treat, I think it'll be in here. And all of them are macro friendly too. Let's dive in.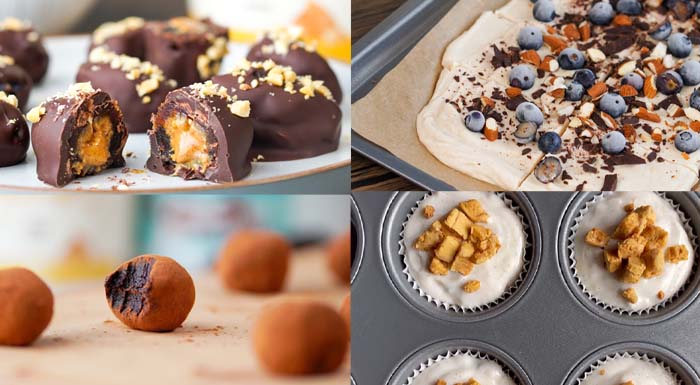 1. Frozen Protein Yoghurt Bark
Craving a snack with crunch but trying to cut down on crisps and biscuits?
Frozen Protein Yoghurt Bark is the ideal healthy treat to batch-make on a Sunday evening so you have a stash in your freezer for the week ahead. We love having something so delicious and high in protein on standby after a gym session, so you can instantly refuel without having to spend time prepping.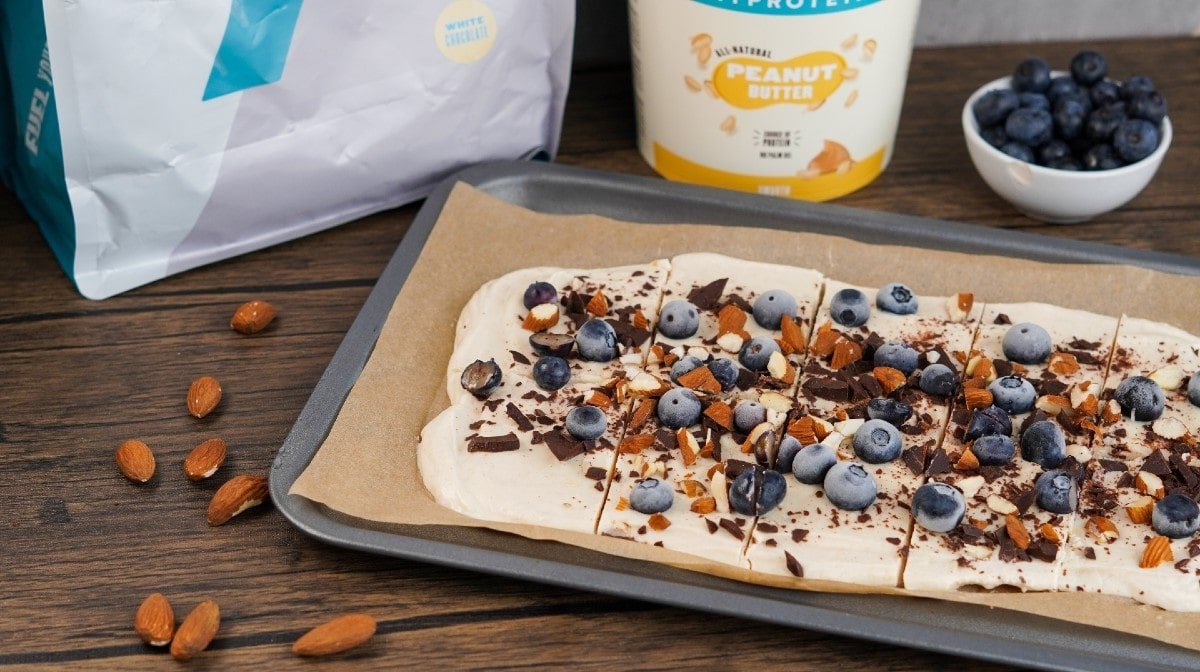 A sweet high-protein treat to have on standby for post-gym cravings.
2. No-Bake Protein Brownie
Marino Katsouris never fails us with a good macro-friendly recipe, and this No-Bake Protein Brownie is no exception. 13g of protein wrapped up in a fudgy, chocolatey brownie that won't hurt your macros.
3. Clear Whey Jelly Treats
These delicious Clear Whey Jelly Treats from @healthy_floflo are ideal for an instant way to recharge after a workout.
Boosted with few scoops of our Clear Whey Isolate, not only are they bursting with fruity flavour, but they have no added sugar and come with a helpful hit of protein to support your training progress.
4. White Choc Snickers Rice Cakes
Putting a healthy spin on the Celebrations classic are these White Choc Snickers Rice Cakes.
Silky white chocolate, crisp rice cakes, salty nuts — it's like an episode of MasterChef x with a Snickers ad.
5. White Chocolate Peanut Butter Cups
Another twist on a classic are these White Chocolate Peanut Butter Cups.
Just four ingredients and of course, no oven needed, these peanut butter cups are hassle-free and provide 14g of protein in a super tasty way. Another great sweet treat to give you a boost; a must-try for peanut butter lovers.
6. No-Bake Mini Egg Cheesecake
Another cheesecake recipe incoming.
OK, this one might be Easter themed, but it's well deserving of a spot on this list. First, it's a breakfast recipe, and who doesn't want cheesecake for breakfast? Second, it delivers 25g of protein and just 430 calories, so it will set you up with some great macros for the day.
7. No-Bake Choc Cloud Pudding
This No-Bake Chocolate Cloud Pudding is a dessert that will definitely fit your macros and satisfy your sweet-tooth at the same time.
Featuring just three ingredients, and of course not requiring any baking time either, this recipe couldn't be simpler.
8. No-Bake No-Chocolate Chocolate Truffles
Don't switch off just at the mention of "no chocolate", these truffles are a must-try.
Peanut butter, dates, vanilla extract and cocoa powder, make these truffles fudgy and indulgent tasting and macro friendly. Just 140 calories per serving, these are an ideal after dinner treat to satisfy those sweet cravings.
Take home message
Hopefully that's given you some solid recipe inspo for your next (no)bake. Stop pre-heating that oven and get stuck into some no-bake recipes. This is the way forward.
For more recipe ideas, check these out next: