There's a pretty big sporting event around the corner this year, and although we're not actually able to say the name of that huge sporting event, we hope you can guess. New records are constantly being broken and the bar is always being set higher and higher for athletes around the world. We want to celebrate a few of those remarkable wins and identify a few which could be set to be broken again this year. 
Here are 10 incredible World Records that could be broken once again, this summer.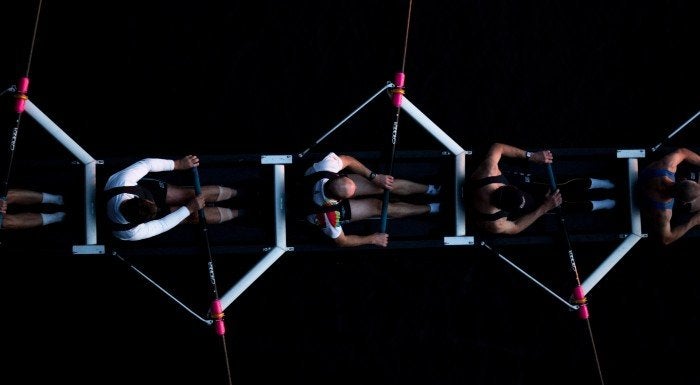 1. Men's Coxless Pair Rowing
Currently, the world record for Coxless Pair Rowing is held by New Zealand natives Eric Murray and Hamish Bond who broke the record back in 2012. But almost a decade after that record was broken, the Kiwi pair have some competition in Croatian brothers Martin and Valent Sincovik. The current record time is 6:08.50, but the Sincovik brothers are poised to take the crown this year. 
2. Women's Single Skull Rowing
The world record for fastest Women's Single Skull Row was last broken all the way back in 2002 by Bulgarian rower Rumyana Neykova who completed the row in 7:07.71. However, Irish rower Sanita Puspure is positioned to break Neykova's record this year, having taken gold at both the 2018 and 2019 World Rowing Championships. 
3. Men's 5000m/10000m Athletics
In 2020, Joshua Cheptegei set two new world records, one for the 5000m with an incredible time of 12:11.00 and one for the 10,000m with a time of 26:11. As for 2021, it looks like Cheptegei is the frontrunner for breaking his own record and we can't wait to see how it happens! 
4. Women's +87kg Weightlifting (Snatch, Clean & Jerk)
As recently as April this year, China's Li Wenwen broke two world records, managing 148kg in the snatch and 187kg in the clean and jerk in the women's +87kg division. Wenwen has incredible talent and is setting up to top her own records later this year, just a few months after her latest record-breaking effort.
5. Men's Pole Vault
The pole vault is one of the key sports to watch this year as Sweden's Arman Duplantis is set to break his own record. The 21-year-old literally set the bar high as he broke the world record for men's pole vault in 2020 with a height of 6.18m. Duplantis is definitely one on our watchlist. 
6. Men's 100m Breaststroke
The UK's Adam Peaty actually holds two records, the 100m breaststroke with a time of 56.88 and the 50m breaststroke with a time of 25.95. Peaty has a history of record breaking so we won't be surprised if he smashes his own record this year for the 100m breaststroke. 
7. Women's Freestyle Swimming
More from the swimming pool now with Katie Ledecky from the USA. Ledecky currently holds the crown for the world record in women's 400m (03:56.46), 800m (08:04.79), and 1500m (15:20.48) Freestyle Swimming. We'll have our eyes on Ledecky this year to see if she's able to break the record once again, or if she's got some competition. 
8. Men's Marathon
Incredible endurance, motivation, and mental strength are all skills needed in marathon runners, and world record holder Eliud Kipchoge from Kenya has all of these in abundance. Holding the record for the fastest marathon time, Kipchoge ran the Berlin marathon in just 2:01.39. Kipchoge is certainly one of the favourites to break his own record in 2021. 
9. Women's 20km Racewalk
Back to athletics now with China's Yang Jiayu currently holding the world record for fastest 20km racewalk with a time of 1:23.49. Jiayu will be competing again this year so we'll see if she's able to claim another record once again. 
10. Women's 50m/100m Freestyle Swimming
Another world record holder defending their title. Sarah Sjostrom from Sweden currently holds the world record in six events, achieving a time of 23.67 in the Women's 50m, and 51.71 in the Women's 100m Freestyle. Sjostrom is poised and ready to break the record once again this year. 
Take Home Message
All of these athletes have shown incredible talent and we can't wait to see what they achieve this year. Remember, these are just 10 world records up for grabs this summer, there are so many more athletes out there to keep an eye on for history-making events. We'll be watching all the way!
Want more inspiring stories?
READ THESE NEXT: