PT Reviews: The trend where we get a PT to review a trending, or popular workout to see if it's actually any good. Nerissa took to hula hooping to see if you should add one to your shopping list.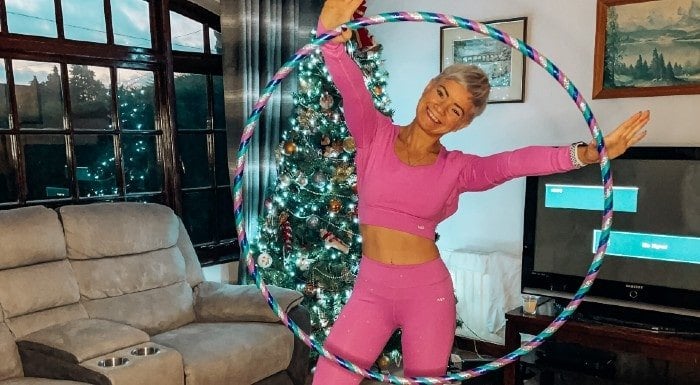 I vividly remember hula-hooping as a child. It's up there with some of my fondest memories, along with hopscotch, tip the can, hide and seek. The list goes on and on.
So, when I was asked to review this new viral fitness phenomenon now as a fully grown adult, I jumped at the opportunity.
When it comes to my approach to health and fitness, I try to make things as fun as possible! What goes around comes around — you only get out what you put in. So it's vital that you enjoy an exercise for there to be any chance you'll stick to it.
Though they've been around since the late 1950s, hula-hoops have recently become a social media trend. On TikTok, there are more than 972.8 million views with the hashtag #HulaHoop. Now that's rolling back the years.
I won't lie, I had my suspicions whether hula-hooping could be a legitimate, effective workout. I knew it would burn some calories, but I'm an avid strength trainer — I like to focus on my calorie burn outside the gym and prefer to lift heavy weights and build muscle when in the gym. I , must admit I came round to this exercise, and was pleasantly surprised.
Turns out it isn't all fun and games at all, though. I often had DOMS the day after. That's delayed onset muscle soreness, the muscle pain that lets you know that you've had a productive workout.
What did my plan look like?
I hula-hooped six times a week for three weeks. Each new week, I increased the total time spent exercising a day by five minutes.
Training diary:
Week 1: 20 minutes per day (Mon-Wed, 2 x 10 minutes; Thu-Sat, 1 x 20 minutes)
Week 2: 25 minutes per day (Mon-Wed, 1 x 15 minutes + 1 x 10 minutes; Thu-Sat, 1 x 25 minutes)
Week 3: 30 minutes per day (Mon-Wed,2 x 15 minutes; Thu-Sat, 1 x 30 minutes)
It's worth noting that while hula-hooping was my predominant core work for the duration of three weeks, I was also strength training in the gym four times a week. And if you've ever done strength training you'll know, if done correctly, every exercise is a core workout.
Average calorie burn over the course of the three weeks was between 54-99 calories each workout, and average heart rate was between 80-94 beats per minute (bpm).
Is hula-hooping good for your abs?
Firstly, before I get into the scientific nitty gritty , every time I increased the intensity of the workout, I felt DOMS in my core, which means my core muscles were activated!
One time when someone went to tickle me after I'd ramped up the exercise to 30 minutes, I let out such a yelp. I was pleasantly surprised!
Scientific studies
In one six-week trial of hula hooping using a weighted hoop, regular hooping was associated with reduced waist and hip girth together with a redistribution of body mass. Hula-hooping with a weighted hula-hoop can be used to decrease abdominal fat percentage and increase trunk muscle mass in overweight subjects. Its low-density lipoprotein (LDL) cholesterol-lowering effect resembles that described for resistance training.
It's worth pointing out here that just incorporating hooping into your regime isn't going to magically give you a rock-solid six-pack. If fat loss is your goal above all else, calorie deficit must be your primary objective.
However, hooping certainly has a useful place in the fitness world.
What are the benefits of hula hooping?
There are so many benefits to hooping, but one of the best is that it can be done in the comfort of your own home while watching TV, which is a huge plus during cold, dark winter months!
I thoroughly enjoyed binge-watching Emily in Paris while I hooped my way through December.
1. Burns calories
While I always advise my clients that 'burning calories' shouldn't be the sole intention of their workouts, it's important to create a calorie deficit if your goal is fat loss. Finding a physical activity you enjoy that also burns calories is the best way to create a bigger deficit.
Along with strength training three times a week, where the purpose of the workout is to build muscle, hula-hooping is a great way of increasing your activity levels while also getting a good core workout.
2. Boosts cardiovascular fitness
Cardiovascular exercise is any vigorous activity that increases heart rate, respiration and raises oxygen and blood flow throughout the body while using large muscle groups of the body repetitively and rhythmically.
This is important as it lowers your risk of heart disease and diabetes, improves cholesterol levels and brain function, and can reduce stress.
Was my heart pumping out of my chest? No. But it definitely got my heart rate up to where it would be for a brisk walk.
3. Challenges your core
Because hula-hooping is a 360-degree movement, it works your obliques big time, as well the lower lats in your back.
4. Improves balance
According to the American Council on Exercise, any type of physical activity that requires you to maintain posture and stability over a base of support, like hula hooping, can help you maintain and improve your balance.
5. Lower body workout
Although the predominant muscles worked are the core muscles, just try hula-hooping without using your legs and glutes. Impossible.
6. Inexpensive, portable and, most of all, so fun
You can pick up a hoop for a fairly reasonable price!
Some pro tips for beginners: you can't just pick up the old school plastic hoops you used as a kid. Advice is to find the right-sized hoop, as the success of your workouts has a lot to do with the size of the hoop. It's advised that beginners use a larger hoop to start with, as you spin more slowly.
It's also important to choose the best weight. If you're opting for a weighted hula hoop, a good rule of thumb for beginners is to start with a hoop that'ss around 1-2lbs (0.4-0.9kg). As you get stronger, you can move on to heavier hoops, but remember to maintain correct form.
I thoroughly enjoyed hula-hooping for the month. It was so easy to incorporate into my day-to-day life as I usually just did it in front of the TV in the evenings!
I honestly think this workout would benefit anyone who enjoys hula-hooping, or anyone looking to get a bit more activity into their day! It can be hard to maintain high activity levels over winter months, especially when many people work during the short period of time it's bright outside!
I also noticed a slight improvement in my core muscles — my obliques in particular! Regarding how to structure training, start small and build yourself up! For me, 10 minutes was a good starting point, but just see where you're at and try to improve regularly!
Take Home Message
Will I be jumping through hoops to change my training routine entirely? Probably not. I think it's important that everyone incorporates some sort of resistance training into their weekly regime.
However, hula-hooping certainly has its place as a valid ab workout.
It's fun as hell and easy to incorporate into day-to-day life.
In my eyes, that's a huge win.