A quick, 3-day spicy salmon meal prep recipe to liven up your lunches.

This spicy salmon meal prep recipe makes 3 days' worth of tasty lunches and is seriously easy to prep. Plus, salmon is brimming with omega-3 fatty acids – known to enhance muscle building and keep you lean. Bonus.
Click to jump straight to the macros.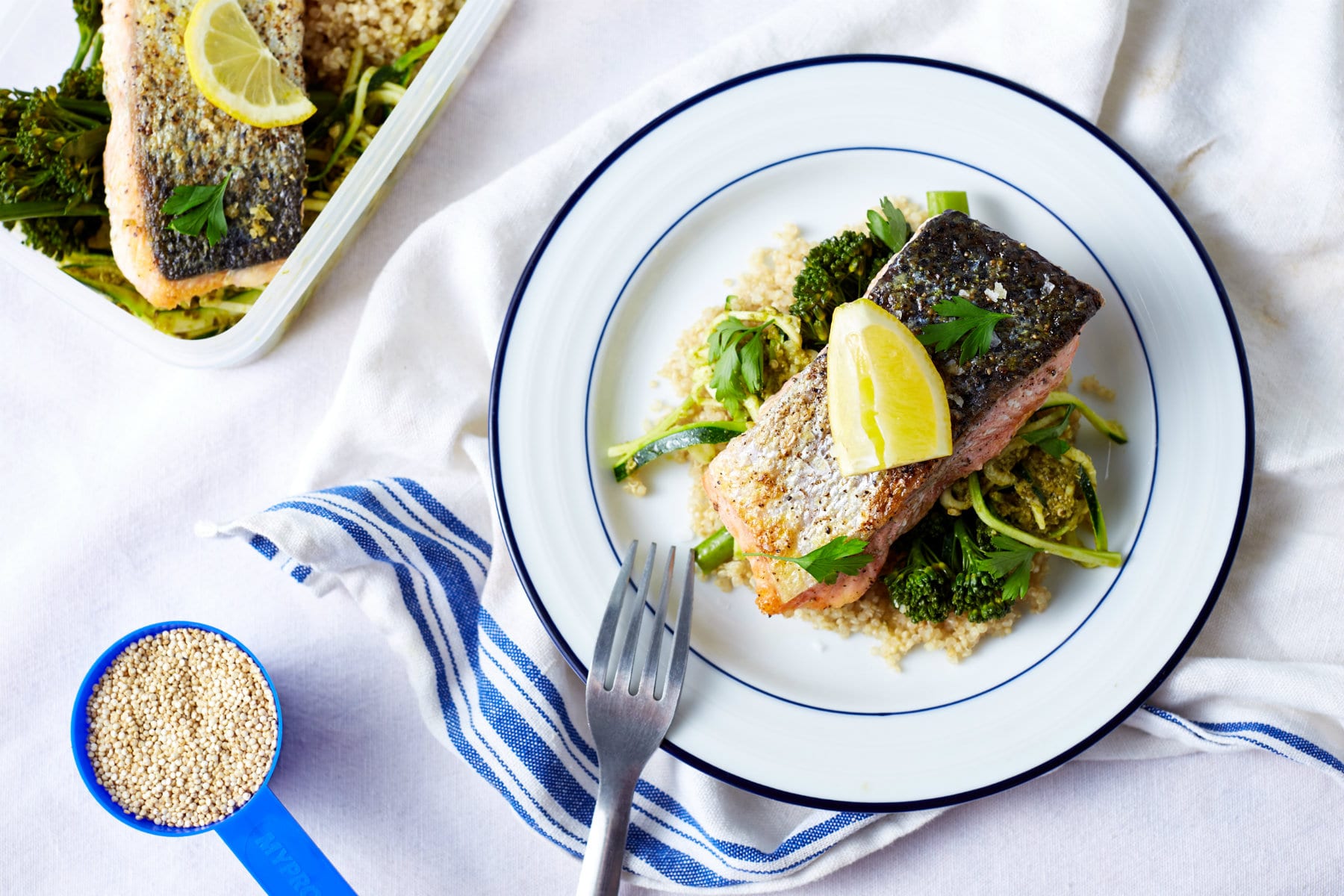 Don't forget to check out more fitness and meal prep recipes.
Ingredients
3 cloves garlic (roughly chopped)
1 lemon (sliced into very thin rings)
3 wild salmon fillets
1.5 tbsp. cajun seasoning (or to make your own, mix a pinch of salt, pepper, garlic powder, onion powder, cayenne pepper, paprika, dried oregano and thyme together)
1 tbsp. olive oil
1 tsp. coarse sea salt and black pepper
180g (dry weight) couscous
10-12 stems tender stem broccoli
2 courgettes
Method
1. Preheat oven to 160°C. Chop the dry ends of the tender stem broccoli off (about 1cm) and spiralise the courgette (you can cut the courgette into thin strips if you don't own a spiraliser). Lay the broccoli out into a deep baking tray, then layer with the courgette, garlic, and lemon and season with sea salt and black pepper. Drizzle with a little olive oil.
2. Rub the salmon fillets on all sides with the remaining olive oil and the cajun seasoning, then place them on top on the vegetables, skin-side up. Bake for 25 minutes, then increase the temperature to 180°C and bake for a further 5 minutes, until the skin begins to crisp up.
3. Cook couscous according to instructions on the pack, then divide amongst 3 Tupperware containers. Divide the salmon, vegetables and some lemon slices amongst the containers and allow to cool. Cover and refrigerate for up to 3 days. When ready to eat, microwave on full power for 3 minutes or until piping hot.
---
Nutritional Facts
Amount per serving
| | |
| --- | --- |
| Calories | 457 |
| Total Fat | 11g |
| Total Carbohydrates | 47g |
| Protein | 35g |
Nutritional Facts
Amount per serving
| | |
| --- | --- |
| Calories | 457 |
| Total Fat | 11g |
| Total Carbohydrates | 47g |
| Protein | 35g |