Protein is not just for bodybuilders - it is a key macronutrient that we all need for optimal health. Protein helps to boost our immune system, heal any injuries, and supports healthy cell growth and repair.1 When it comes to fitness goals, protein powders can also help us build lean mass, shorten recovery time, and even lose weight.2 
The best protein powders for women provide all of the essential amino acids to support health and strong muscles. While there are so many great options for women to choose from, it can also be confusing. So, let's break it down and clear up some of the confusion.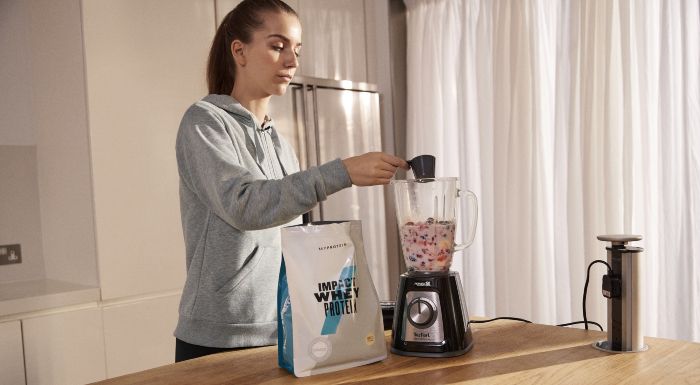 Portion Size: 25g 
Protein per Serving: 19g 
Whey protein is the most common form of protein powder that you'll find. Made from cow's milk, it contains all of the essential amino acids, including almost 5 grams of branched chain amino acids (BCAAs), which are key for muscle building and recovery. 
Impact Whey is good for anyone who needs to add protein in their diet; at close to 100 calories and low in sugar, it can easily fit your macros or calories for the day. 
Portion Size: 25g 
Protein per Serving: 20g 
While whey is the most common form of protein, most of the options are creamy, milky flavours. When you want something lighter and juicy, Clear Whey Isolate is the one to go for. 
It's packed with 25g of protein and comes in juicy flavours. It is still low in sugar and under 100 calories, making it perfect for staying hydrated at any time of the day. Clear Whey is so innovative that it was the Winner of 'The Best Sports Nutrition Product' in the European Specialist Sports Nutrition Awards 2019. 
Portion Size: 30g 
Protein per Serving: 23g 
Casein is the other major protein found in milk, but works differently in the body than whey protein. While whey is great for any time of day and digests quickly, casein's protein structure makes it digest more slowly, releasing the protein building blocks into the muscle over a longer period of time. 
This slow digestion makes casein a great option to use before bed or between meals, when you want to fuel your muscles continuously to recover and prepare for your next workout. 
Portion Size: 25g 
Protein per Serving: 22g 
Collagen protein is different from whey and casein in that its primary action is not in building muscle, but rather supporting many different tissue types throughout the body. Collagen is a structural protein that our bodies produce but break down over time. 
Collagen protein, or peptides (shorter protein chains), support healthy skin, hair, nails, muscles, and joints. While this type of protein powder still supports muscle growth, its primary role is in boosting the health of these high-turnover cells in the body. 
Portion Size: 25g 
Protein per Serving: 21g 
Diet Protein Blend is an excellent option that is packed with protein but tailored for women's weight loss success. Containing 25 grams of protein in only 96 calories, it also has added vitamins and nutrients to support a healthy metabolism, and minerals like iron and zinc that women need for optimal health. 
The protein blend helps preserve and build lean mass even when in a calorie deficit. 
Portion Size: 51g 
Protein per Serving: 18g 
Sometimes it can be exhausting and time consuming to plan all your meals - and sometimes you're just too busy to spend time in the kitchen. When you want a completely balanced meal replacement that's easy to take on the go, the Protein Meal Replacement Blend is the perfect solution. Containing 18g of protein, plus the other macros, fibres, minerals, and vitamins, one serving of this protein blend is great for both gym days and rest days. Meal replacements can be a key component of successful weight loss and a convenient option for women on the go. 
Portion Size: 16g 
Protein per Serving: 10g 
The only thing more impressive than the juicy Clear Whey Protein is the Clear Vegan Protein. While whey is a great option for most diets (including vegetarians), vegan protein options used to be limited to soy protein - but that's no longer the case. 
Not only is this vegan protein completely plant powered from peas, it has only 51 calories per serving - making it a low-calorie option for muscle fuelling or hitting your macro goals while staying hydrated.  
Portion Size: 14.5 g 
Protein per Serving: 6g  
While not technically a protein powder, Vegan Pre-Workout is the perfect pre-workout complement to any of the post workout protein shakes. It contains L-citrulline, an amino acid that can boost athletic performance, along with natural caffeine from green tea and green coffee extracts. 
When paired with a BCAA pre-workout supplement, this will both push you through a tough workout and prime your muscles for recovery. 
Portion Size: 30g 
Protein per Serving: 23g 
When you're following a soy/dairy free diet, it can be challenging to find a delicious vegan protein option - but the Pea Protein Isolate is a game changer. As an isolate, this is a highly refined protein powder that's also lactose and gluten free, making it fit almost any diet pattern. 
It supports healthy muscle mass and comes in several different delicious flavours right around 100 calories per serving. 
Portion Size: 100g 
Protein per Serving: 31g 
Just because you're a woman doesn't always mean you're trying to lose weight - and that's why the Weight Gainer Blend exists. If you need to pump up your calorie and protein intake, this protein blend contains the protein, carbs, and calories you need to build muscle mass. While challenging workouts are important, you can't see gains without the positive calorie and protein balance that you can achieve with the Weight Gainer Blend.
Our articles should be used for informational and educational purposes only and are not intended to be taken as medical advice. If you're concerned, consult a health professional before taking dietary supplements or introducing any major changes to your diet.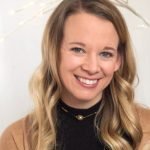 Claire is a Registered Dietitian through the Academy of Nutrition and Dietetics and a board-certified Health and Wellness Coach through the International Consortium for Health and Wellness Coaching. She has a Bachelor of Science in Biology and a Master's degree in Clinical Dietetics and Nutrition from the University of Pittsburgh.
Talking and writing about food and fitness is at the heart of Claire's ethos as she loves to use her experience to help others meet their health and wellness goals.
Claire is also a certified indoor cycling instructor and loves the mental and physical boost she gets from regular runs and yoga classes. When she's not keeping fit herself, she's cheering on her hometown's sports teams in Pittsburgh, or cooking for her family in the kitchen.
Find out more about Claire's experience here.