---
Want a high-protein lunch idea to mix up your weekly meal prep?
---
Whether you've completely cut out meat from your diet or you just want to try reducing it, these delicious teriyaki noodles with crispy tofu will hit the spot and are perfect for weekly meal prep!  
Packed with sizzling flavour, plenty of veggies, and a load of plant-based protein, this is a nutritious, macro-friendly option to keep your lunchtime fresh. 
Serves 4
Ingredients
For the teriyaki sauce: 
70ml soy sauce

 

2 tbsp. brown sugar

 

1 tsp. ginger (finely chopped)

 

1 tsp. garlic (finely chopped)

 

1 tsp. sesame seed oil

 

1 tbsp. honey

 

3 tbsp. mirin (can be swapped for rice wine vinegar)

 

2 tsp. corn flour (mixed with a splash of cold water)

 
For the crispy tofu: 
1 block tofu

 

3 tbsp. soy sauce

 

50g cornflour

 

1 tbsp. coconut oil
For the stir fry: 
1 tbsp. coconut oil

 

1 carrot (cut into matchsticks)

 

1 broccoli (florets cut from stem)

 

4 nests of egg noodles

 

To garnish: spring onions (chopped)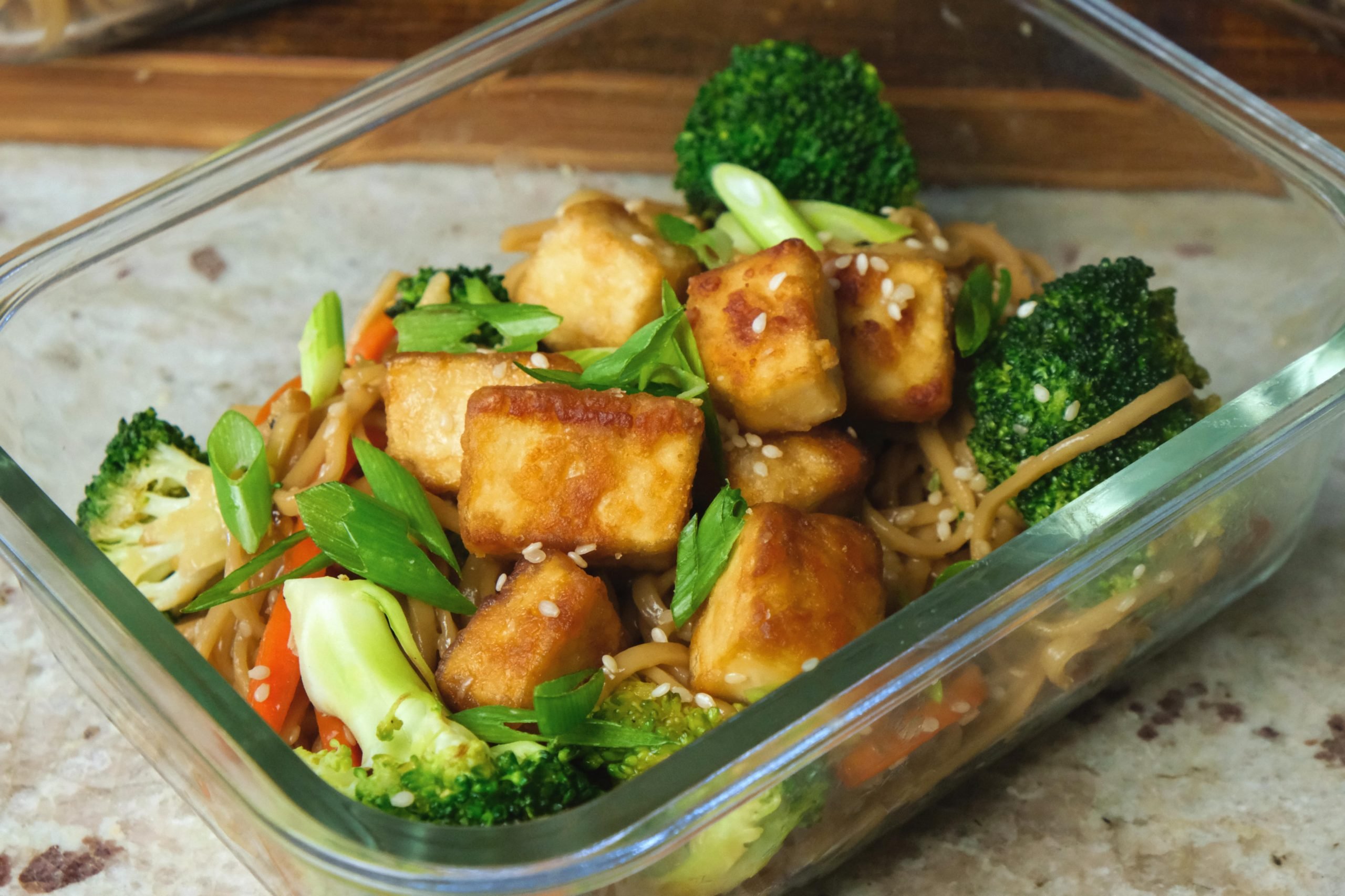 For more recipes and all your nutritional needs head to our website HERE!
Method
First, make the teriyaki sauce by mixing the soy sauce, brown sugar, garlic, ginger, sesame seed oil, honey, mirin (or rice wine vinegar), and cornflour mixture together in a small bowl. Stir well so that all the ingredients combine evenly.  

Next, add 3 tablespoons of soy sauce and 50g of cornflour to two separate bowls. Dice your tofu, then dip each piece in soy sauce, then cornflour, making sure each bit is coated before setting aside. 

Heat the coconut oil in a non-stick pan or wok, then add coated tofu to pan to cook, stirring and flipping every 1-2 minutes, until crispy and golden brown. Remove and set aside.   

Boil a large saucepan of water and cook your egg noodles according to pack instructions. 

Then, heat remaining coconut oil in pan and add the carrot and broccoli. Stir fry for 5 minutes, until slightly soft, then remove from pan. 

Add teriyaki sauce to pan, cook on a low heat until sauce starts to bubble and thicken. Once you're happy with the consistency of the sauce, add the drained egg noodles to pan. Toss noodles to coat in teriyaki sauce, then add in carrot and broccoli, and toss to combine. 

Divide teriyaki noodles between 4 meal prep boxes, serve crispy tofu on top, and garnish with spring onions. Sorted. 
Nutritional Facts
Amount per serving
| | |
| --- | --- |
| Calories | 462 |
| Total Fat | 14g |
| Total Carbohydrates | 67g |
| Protein | 17g |