Sweet potato toast is the healthy carb-swap you've been missing from your meals.
Imagine having a bread-like vessel that you could top with just about anything you wanted, that's lower in carbs than bread, more nutritious than bread, and arguably even more delicious than your carby arch-nemesis, bread. Enter, sweet potato toast.
The nation has been going crazy for this delightful little breakfast/snack/lunch/dinner, as not only are sweet potatoes packed with more nutrients than you can shake a stick at (like beta-carotene, fibre, vitamin C, calcium, and lots more), but they contain around half the carbohydrates of bread. Oh, and they're paleo-friendly, too.
You can put just about anything you can dream up ontop of your sweet potato toast. Here are our 3 favourite recipes.
Exactly How To Make Sweet Potato Toast
You'll need to make your toast slices before you add your toppings.
You might have heard that you can cook your sweet potato by placing the slices straight into your toaster. Our recommendation? Don't. We tried it when we made this recipe, and it simply doesn't work (think sweaty, hard slices of sweet potato).
This griddle pan recipe works wonders, and you can also just as easily use your oven. Here's what you'll need to do:
Ingredients
1 sweet potato
1 tsp. coconut oil
Method
1. First, scrub the sweet potato clean, then cut into 1cm slices down the length of the potato so you have long, thin slices.
2. Microwave the slices for 2 minutes on high, then remove and coat with the melted coconut oil.
3. Put a griddle pan on a high heat. Once the pan is very hot, pop the sweet potato slices on and griddle for 2-3 minutes on each side.
4. If you like, you can simply oven bake your slices instead of griddling. To do so, line a baking tray with a little greaseproof paper and add your sweet potato slices. Bake at 180°C for 15 minutes on the top shelf.
1. Guacamole & Feta Sweet Potato Toast
Top each slice with guacamole, feta cheese and a little extra cracked black pepper.
2. Strawberries & Almond Butter Sweet Potato Toast
Top your slices with cream cheese, sliced strawberries and drizzle with almond butter.
3. Smoked Salmon, Eggs and Dill Sweet Potato Toast
Top with smoked salmon slices, poached or fried eggs and a few sprigs of dill, then season with sea salt, cracked black pepper and crushed chilli flakes.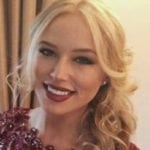 Jennifer Blow is our UKVRN Registered Associate Nutritionist – the UK's register of competent and qualified nutrition professionals. She has a Bachelor's of Science in Nutritional Science and a Master's of Science by Research in Nutrition, and now specialises in the use of sports supplements for health and fitness, underpinned by evidence-based research.
Jennifer has been quoted or mentioned as a nutritionist in major online publications including Vogue, Elle, and Grazia, for her expertise in nutritional science for exercise and healthy living.
Her experience spans from working with the NHS on dietary intervention trials, to specific scientific research into omega-3 fatty acid supplementation and also the effect of fast foods on health, which she has presented at the annual Nutrition Society Conference. Jennifer is involved in many continuing professional development events to ensure her practise remains at the highest level. Find out more about Jennifer's experience here.
In her spare time, Jennifer loves hill walking and cycling, and in her posts you'll see that she loves proving healthy eating doesn't mean a lifetime of hunger.