This is the only protein balls recipe you'll ever need to make a delicious protein-packed snack every single time. Protein balls are the perfect post-workout snack, mid-afternoon nibble, or after-dinner indulgence, depending on what you mix, dip, and sprinkle them with.
We've got down a straightforward recipe that you can re-design to your heart's content. Use your favourite nut butter and protein powder, or mix in chocolate chips, or raisins — his protein ball recipe is the perfect way to make snacks exciting again with all your favourite flavours.
After taste, it's all about nutrition — that's why oats are a vital part of this protein balls recipe. They have a low glycaemic index, which means no sugar spike and crash, just a slow release of energy to keep you feeling on top form between meals.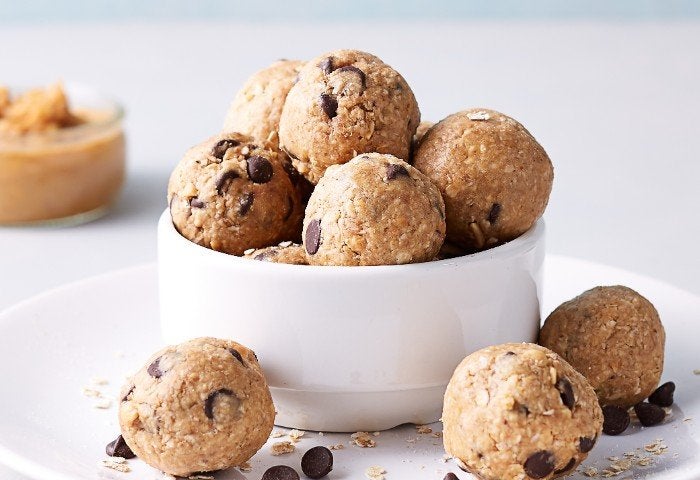 If you know anything about post-workout nutrition, then you'll know that it's worth packing in protein for muscle recovery. So, stir in your favourite flavour of Impact Whey Protein — there's plenty to choose from. We love Chocolate Smooth, or Banoffee for a sweet treat that'll keep you on track at snack time.
We like to keep our nutrition simple, balanced and convenient, so there's also no need to worry about baking something complicated. This 6-ingredient recipe makes a hefty 20 protein balls (talk about super-advanced meal prep!) and all you need to do is mix, roll the balls, and stick them in the fridge.
They'll last a few days in the fridge, are super easy to take with you when you're on the go, and make a delicious satiating snack whatever the time of day. So, check out the recipe below, experiment with the flavours and dig into the only protein balls recipe you'll ever need…
Makes: 20 balls
https://youtu.be/_Z_modyir10
Ingredients
Dry ingredients:
Wet ingredients: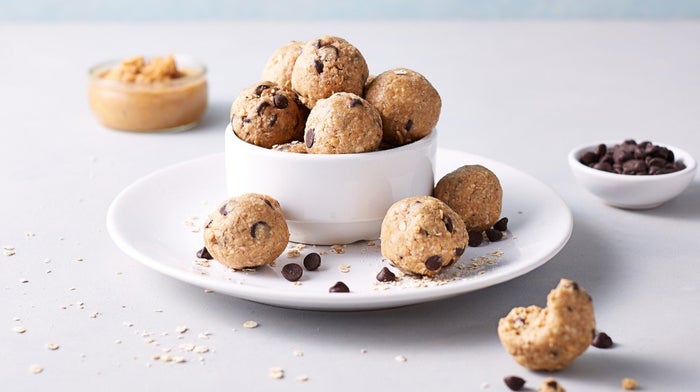 Method
1. Firstly, mix all of the dry ingredients together in a bowl until evenly dispersed.
2. Then, add the nut butter and syrup and mix through.
3. Slowly add the milk while mixing until all well-combined.
4. Take a small handful of mixture and roll into a ball. Repeat until you have 20 balls.
5. Place the balls onto a plate or tray covered in baking parchment and put into the fridge for about 2 hours.
6. Take out a couple whenever you're feeling peckish!
In need of some more strong recipes that work every time? Check these out...
Nutritional info per serving:
| | |
| --- | --- |
| Calories | 84 |
| Total Fat | 4g |
| Total Carbohydrates | 8g |
| Protein | 5g |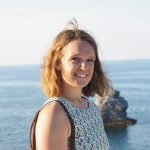 Evangeline is a Veganuary convert and newbie vegan with a degree in English and French from the University of Nottingham. Having recently ditched the meat and dairy, she really enjoys the new flavours and cooking techniques she's encountered on a plant-based diet. She's been shocked by the millions of ways you can use tofu, however still hasn't found a decent cheese substitute! When she's not in the office or eating, Evangeline usually out running or sailing. As a qualified RYA Dinghy Instructor and a marathon runner, she knows the importance of providing your body with the right nutrients for endurance sports as well as a busy lifestyle. Find out more about Evie's experience here.