These giant dairy-free cinnamon rolls are exactly what you need for an indulgent treat that fits into your diet. They're free of refined sugar, high in protein, and totally dairy-free and vegan-friendly.
https://youtu.be/6_UIvTebPbs
Ingredients
Dough:
185ml almond milk
7g active dry yeast
2 tbsp. Sugar-Free Maple Syrup
1 tbsp. ground flaxseed
1 tbsp. Coconut Oil (melted)
180g wholemeal flour
1 tsp. ground cinnamon
Filling:
70g pecan nuts
2 medium ripe bananas
6 medjool dates (destoned)
1 tbsp. ground cinnamon
Dairy-free cream cheese icing:
1-2 tbsp. almond milk
100g vegan cream cheese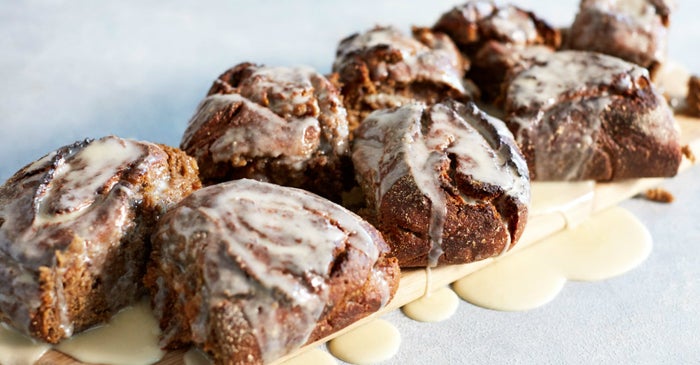 Method
To make the dough:
First, make the dough. Heat the almond milk until just warm. Once warm, add to a small bowl with the yeast and Sugar-Free Maple Syrup and set aside for around 5 minutes.
Next, make your flaxseed egg by adding 3 tbsp. of water to 1 tbsp. flaxseed and allowing to soak for a few minutes. This binds your cinnamon rolls together.
Now combine the flour, vegan protein, cinnamon, and melted coconut oil into a large mixing bowl. Stir and then gradually add the yeast mixture. Pour out the mixture onto a floured surface and knead for 20 seconds or so. Add the dough ball to a bowl and cover with a tea towel. Set aside somewhere warm to prove to double in size for around an hour.
Make the filling. Blend the nuts, bananas, and dates together until smooth.
Once the dough has doubled in size, preheat your oven to 180° Add a little flour to a large surface and roll the dough out into a large rectangle – roughly 8"x15".
Spread the filling evenly over the dough, then roll the dough from the shortest edge into a tight snake. Cut into 8-10 slices. Put the rolls into a greased 8"x8" baking dish, then cover with a tea towel and allow to prove for another 20 minutes or so.
Bake for 25-30 minutes until golden brown, then once cooked, allow to cool before adding the topping.
To make the topping, mix the vegan cream cheese and almond milk together. Add a little Sugar-Free Syrup here if you prefer it sweet. Coat the tops of your giant cinnamon rolls and devour.
Nutritional info per serving:
| | |
| --- | --- |
| Calories | 270 |
| Total Fat | 11g |
| Total Carbohydrates | 30g |
| Protein | 13g |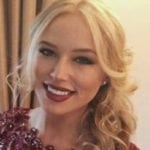 Jennifer Blow is our UKVRN Registered Associate Nutritionist – the UK's register of competent and qualified nutrition professionals. She has a Bachelor's of Science in Nutritional Science and a Master's of Science by Research in Nutrition, and now specialises in the use of sports supplements for health and fitness, underpinned by evidence-based research.
Jennifer has been quoted or mentioned as a nutritionist in major online publications including Vogue, Elle, and Grazia, for her expertise in nutritional science for exercise and healthy living.
Her experience spans from working with the NHS on dietary intervention trials, to specific scientific research into omega-3 fatty acid supplementation and also the effect of fast foods on health, which she has presented at the annual Nutrition Society Conference. Jennifer is involved in many continuing professional development events to ensure her practise remains at the highest level. Find out more about Jennifer's experience here.
In her spare time, Jennifer loves hill walking and cycling, and in her posts you'll see that she loves proving healthy eating doesn't mean a lifetime of hunger.