Peanut butter lovers, listen up.
---
This incredible recipe from our kitchen favourite, Niall Kirkland, is definitely one to try. Immediately.
Rich and creamy, this chicken curry has a deliciously moreish nutty taste thanks to a generous dollop of our crunchy All-Natural Peanut Butter. Who knew such a simple addition could make such a difference?
Making a curry from scratch might sound daunting at first, but Niall's here to show it doesn't have to take a load of obscure ingredients and hours of your time to prepare. Plus, when the end result tastes this good, it's more than worth your effort.
It's ideal for a warm and filling dinner, and if you don't have anyone else in the house to feed, it'll keep for your lunches that week. Meal prep sorted.
Serves 4
Ingredients
1 tbsp. 100% Coconut Oil
400g chicken breast (cubed)
1 onion (sliced)
2 garlic cloves (finely chopped)
1 thumb-sized piece ginger (finely chopped)
1 red chilli (deseeded and finely chopped)
5 tbsp. curry powder
1 tin chopped tomatoes
1 handful of fresh coriander (chopped)
400ml light coconut milk
To serve:
Basmati rice (around 75g per person)
Chopped peanuts
Coriander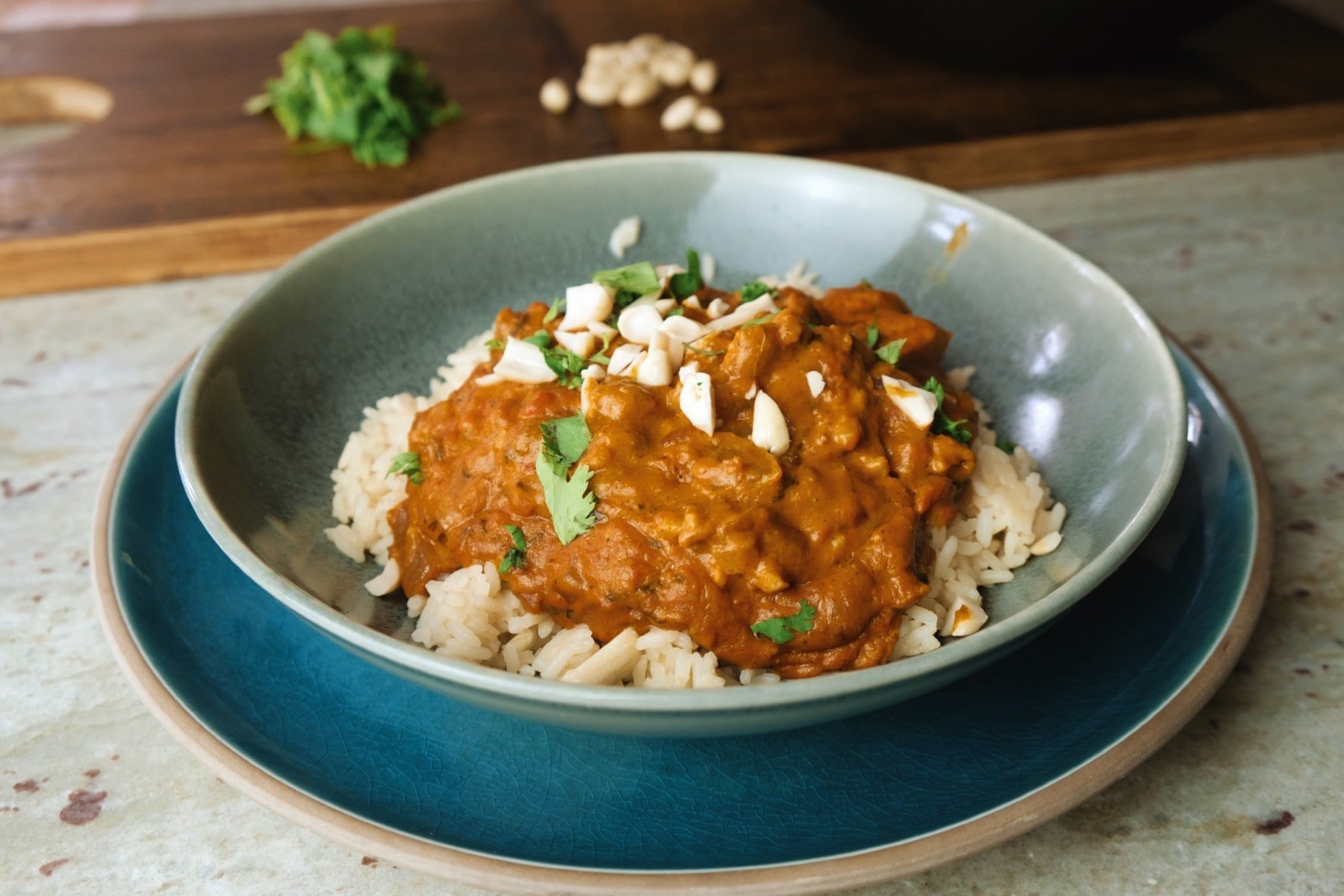 Method
First, heat the coconut oil in a large pan and add the chicken. Season lightly and fry until cooked through and golden brown on the outside, then set aside.
Now, add the onion and fry until soft. Add the chopped garlic, ginger, and chilli and fry for another 1-2 minutes before adding the curry powder and a large splash of water. Bring to a simmer, stir well and cook for 5 minutes.
Now, add the chopped tomatoes and coriander, give it a good stir and leave to simmer for another 10 minutes, stirring occasionally.
Gradually stir in the light coconut milk to the sauce and then add your crunchy peanut butter. Give it all really good stir, and leave to simmer on a low heat until your curry has reached your desired consistency.
Serve with basmati rice and a sprinkling of chopped coriander and peanuts, then enjoy!