Soft, chewy & more than a little on the chunky side… just how all cookies should be.
---
These incredible NYC style chocolate chip cookies from Niall Kirkland are the perfect treat to banish sweet-tooth cravings with natural ingredients and no refined sugar.
With a few simple switches, like using maple syrup to naturally sweeten and switching milk chocolate chips for dark chocolate pieces, you can easily keep sugar content down while keeping plenty of rich flavour.
That gooey inside speaks for itself though…
Makes 8
Ingredients
80ml maple syrup
1 tsp. vanilla essence (or Flavdrops)
1 scoop Impact Whey Protein (Vanilla)
1 egg yolk
60g almond flour
50g oat flour
½ tsp. baking soda
20ml milk
100g dark chocolate (roughly cut into chunks)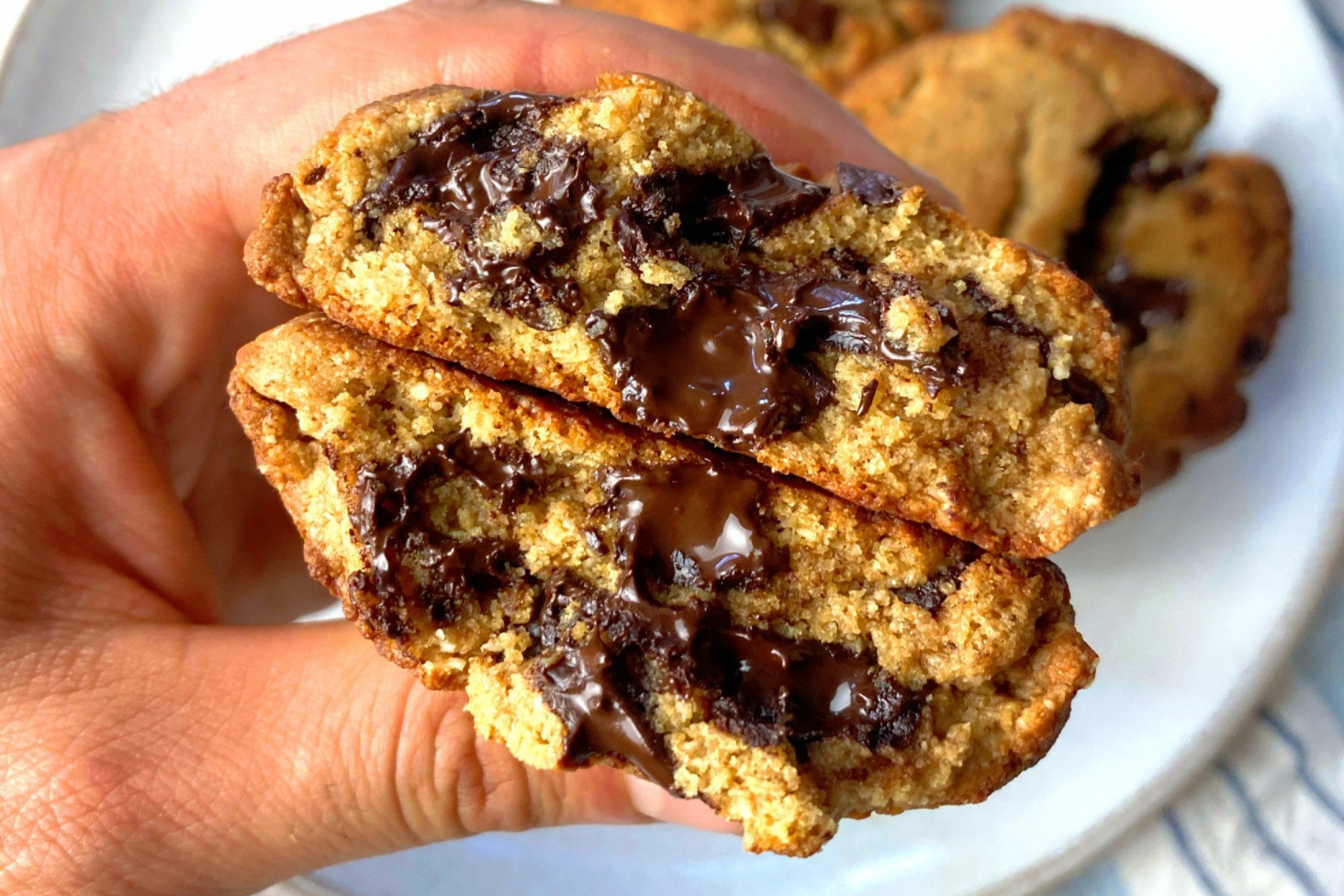 Method
1) Preheat your oven to 175°C.
2) Microwave the peanut butter for around 30 seconds to loosen up and make easy to mix. Then add the melted peanut butter, maple syrup, vanilla essence, protein powder, and egg yolk to a large bowl and mix well with an electric whisk.
3) Sieve in the flour and baking soda, then mix again until fully combined into a thick, clumpy mixture. Add the milk gradually until the mixture becomes sticky and the cookie batter holds together when you take out a piece.
5) Add the dark chocolate chunks and use a spatula to stir them through the batter. Then, using your hands, split the dough into 8 even, golf ball-sized pieces of the batter and roll between your palms to get smooth balls.
6) Place on a lined baking tray, with space between each cookie ball to allow spreading. Cover with clingfilm and let chill in the fridge for 30 minutes.
7) Once chilled, remove from fridge and flatten slightly (but not completely) using a spatula or other flat utensil. Then bake for 10 minutes until just cooked but still soft and chewy on the insides.
8) The cookies will be very soft when first removed from oven, so leave to cool for at least 5 minutes. Then enjoy while still warm and fresh, or they can be kept in an airtight container for a few days.