Caffeine is one of the most used supplements in the world. Many of us consume it daily without a second thought. Whether it's your morning coffee, afternoon tea, or energy drink before your workout, many of us rely on caffeine to wake us up or give us a boost throughout the day.
Although for a lot of us the main reason we drink coffee is for an energy boost, there are a number of other benefits associated with caffeine consumption. This article will explore both the benefits and potential negative effects of caffeine. 
Jump to: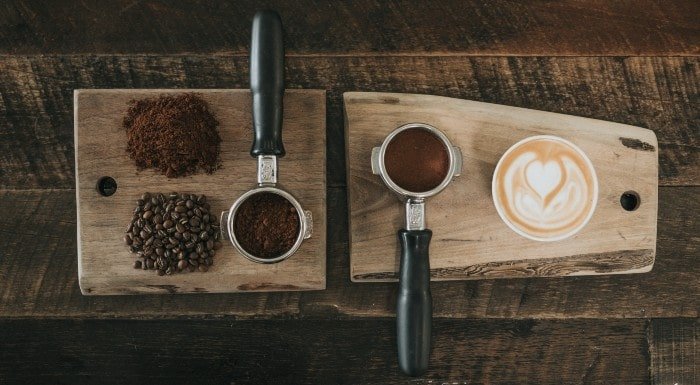 What is Caffeine?
Caffeine is a naturally occurring stimulant, found in tea and coffee plants (and some others). It stimulates the central nervous system, including the brain, and is used for its energising effects that can translate into various other benefits.1 Interestingly, the EFSA found that the majority of caffeine consumed in the UK is from tea, while in the US the majority is from coffee.2 
The average UK adult consumes between 122-143mg per day.3
How does Caffeine Work?
When we drink caffeine, it's absorbed from our digestive tract into our bloodstream. It's taken to the liver to be metabolised into smaller component molecules, which impact our body in several different ways. Caffeine blocks the effects of adenosine (which can slow down our nerve cells and makes us feel tired) and instead speeds up brain activity for more energy.1 
This increased brain activity is also thought to trigger the adrenal glands to increase adrenaline, while simultaneously boosting dopamine levels, the 'feel good' hormone. The combination of these effects on the brain can lead to feeling less tired and more alert and energetic. 
Research shows that it takes between 15 and 120 minutes for caffeine levels to peak after ingestion, which supports the idea of a "caffeine nap". Some people will drink their caffeine and then nap for a short period of time (like 20-45 minutes).4 The caffeine will kick in when they wake from the short nap and their body benefits from the brief physical recovery of a nap. 
Foods and Drinks containing Caffeine
While most caffeine comes from beverages, it's also naturally occurring in chocolate. According to the EFSA, here's the typical caffeine content of some key food & drink:5 
Coffee, 200ml: 90mg

 

Energy drinks, 250ml: 80mg

 

Espresso, 60ml: 80mg

 

Brewed tea, 220ml: 50mg

 

Soft drinks, 355ml: 40mg

 

Bar of chocolate, 50g: 10mg (milk), 25mg (100% cocoa)

 
What are the benefits of caffeine?
May improve concentration, learning, and memory
Research has shown that caffeine increases incidental learning, which means situations where you are not intentionally trying to study or learn something, but you end up being more aware and able to recall more details about things you observed.4
May boost mood and energy levels
Another benefit of caffeine is the emotional boost. Thanks to metabolic effects of caffeine described above, caffeine has impacts on the release of several hormones in the brain that make you feel less tired, whilst also helping you to feel happier.1
May improve exercise performance
When your energy levels are higher, you're more likely to push harder during your workouts. The combination of increased energy and focus lets your brain tell your body that you can perform at a higher level or for longer periods of time, which can be a benefit to your gym sessions.6
May speed metabolism and support fat loss
While much is researched on caffeine and the brain, the benefits of caffeine on other hormones might increase your metabolism.6 When you have higher energy levels and your nervous system is stimulated, you may feel less hungry and find it easier to stay on track with a healthy eating plan that supports fat loss.
What are the negative side effects of caffeine?
May increase risk for dehydration
Because caffeine is a mild diuretic, too many caffeinated beverages and not enough water (especially after a hard workout) may speed up dehydration. Be sure to balance caffeinated drinks (and foods) with extra water.
May increase anxious feelings
While an energy-boost sounds appealing to some, too much caffeine may lead to an overstimulated nervous system that leaves you feeling shaky and on edge instead of focused and energised.1
May cause headaches
While caffeine helps to constrict blood vessels and relieves headaches for some, its temporary effects may actually cause headaches for others.1 Withdrawal headaches are one of the most common symptoms of caffeine withdrawal once your body builds up a tolerance, even if you typically only have one cup per day.1
May cause sleeplessness
Too much caffeine or caffeine late in the day can counteract your body's inclination to relax for bedtime and keep your brain (and body) awake longer than you'd like to be.1 If this is a problem for you, limit your caffeine to one serving per day and have it in the morning. 
Thinking about giving up caffeine? Read this first…
How much Caffeine is 'too much'?
While everyone might react differently to caffeine, the EFSA and other regulatory groups state that up to 400mg of caffeine per day does not show negative health impacts.3 
The impact of caffeine on the body can be highly individualised and can be impacted by health conditions or certain medications. You can likely enjoy a cup or two of coffee or tea each day and still stay under the 400mg recommendation, but talk to your doctor if you have concerns, especially if you've built up a high tolerance to caffeine over time. 
Take Home Message
While there are some obvious benefits of caffeine (especially if you're not inherently a morning person), there can be some downsides, too. Whether or not to use caffeine in your diet (and how much) is up to you, but be conscious of how much you're consuming and how it impacts your day.