Brunch just got a summer upgrade.
---
In the mood to treat yourself to something a bit extra at the weekend? This incredible breakfast bruschetta recipe is definitely one to dish up.
Bruschetta is a classic Italian dish that's simple, delicious, and bursting with fresh flavours. We've added a twist to this warm weather favourite by throwing in some sizzling pancetta pieces to the traditional tomato topping and serving with two perfectly poached eggs for an extra protein hit.
Serves 1
[
su_youtube url
="https://youtu.be/8P6oDEgC4pM"]
Ingredients
Olive oil
40g pancetta
6 cherry tomatoes (diced)
Salt & pepper
1 tbsp. lemon juice
¼ red onion (diced)
1 handful coriander (chopped)
To serve:
Vine cherry tomatoes
2 eggs
Sourdough toast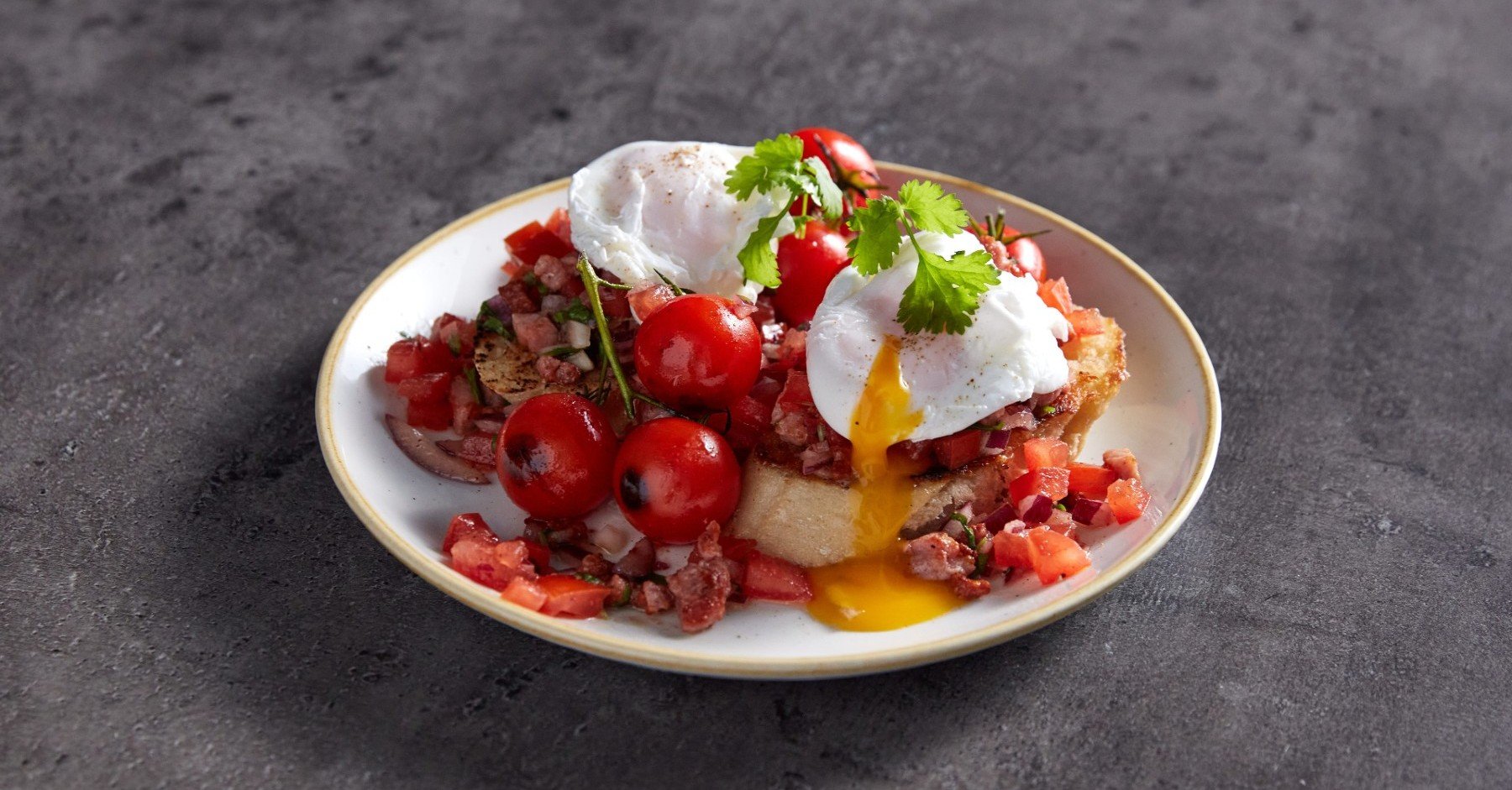 Method
Begin by frying your pancetta over a medium heat until cooked through and crispy. Remove from heat and transfer to a bowl.
Add the cherry tomatoes, lemon juice, red onion, and coriander to the bowl and season with salt & pepper. Stir well to combine everything and set aside.
Next, add the vine cherry tomatoes to a pan with a little oil and gently fry for a few minutes until softened. While the tomatoes are cooking, toast a couple of slices of sourdough bread.
Meanwhile, place a pan of boiling water over a medium heat and crack your eggs into a small dish. Then carefully pour egg each one at a time into the pan of water and leave to poach for 2-3 minutes.
Build up your breakfast bruschetta by spooning the pancetta & tomato mix on top of your sourdough toast, followed by the poached eggs, and vine tomatoes on the side. Garnish with a little coriander and a crack of black pepper – then dig in!