Nathaniel Massiah is hugely successful and still only 19 years old — in the gym and on YouTube. With 130,000 subscribers on his channel, 80,000 followers on Instagram and sponsored by some of the biggest brands in fitness and nutrition, what he's achieved so far is remarkable.
Following the Myprotein Labs event, Nathaniel took some time to reflect on questions he was regularly asked — mostly "how did you get to where you are". Well, it's a long story, as you'll see from the 30-minute video.
2007
Little five-year-old Nathaniel used to sit and leaf through the pages of his dad's bodybuilding magazines and always wanted to look like some of the bodybuilders in them, so from a young age, the seed was planted.
Nathaniel was also a really sporty kid. Growing up he mainly did gymnastics and basketball, playing the latter sport at county level later when in secondary school.
2015
Nathaniel's had a few moments in his life that have turned out pivotal to where he is now. One is the day his mum got him a junior gym membership at the local leisure centre. He went with his dad and did some cardio, dips, and pull-ups. They didn't do anything too advanced, but Nathaniel loved it and started going regularly.
At the age of 14, Nathaniel started taking basketball a little bit more seriously, so the gym took a backseat for a little while.
At this point, remember, Nathaniel had always been muscular growing up. This was partly from all the sports he played, but his genetics will have likely played a huge role too.
2017
The birth of his YouTube channel. While at school, Nathaniel was known for his hair. In his words, he had it down to an exact science. After showing his friends he thought, why not just put it on YouTube? And that's exactly what he did. He started posting once every couple of months and enjoyed it.
At the time Nathaniel was playing basketball consistently while completing a few dumbbell-only home workouts. He considered himself to be in great shape, but after experiencing a post-holiday slump after returning from a few weeks in Mexico, he did very little exercise for a while.
That was until September of that year when he made a vow to get back to the gym. This was also when he made his first gym workout video, which turned out to be his most viewed video ever. And for the five years since, he's not stopped going to the gym.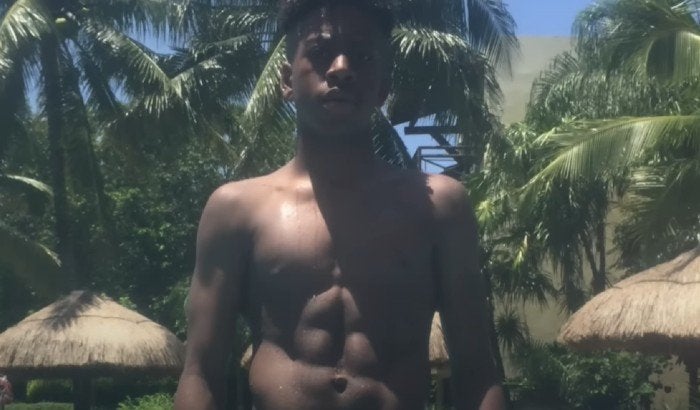 The stats:
Deadlift 1RM: 160kg
Squat 1RM: 100kg
Bench press 1RM: 75kg
Subscriber count: 1,073 subscribers
Income: £10 a month
2018
At 15, Nathaniel dedicated more time towards his YouTube channel. As they say, consistency is key. And although he wasn't getting many views, he enjoyed posting so carried on regardless, and he was getting bigger and stronger. His improved strength helped his basketball, and he was playing better than ever.
But the gym soon took over completely, and he began to spend less time playing basketball. Nathaniel started to bulk when he turned 16 and started to pack on muscle. By this point he could do eight reps of 160kg deadlifts.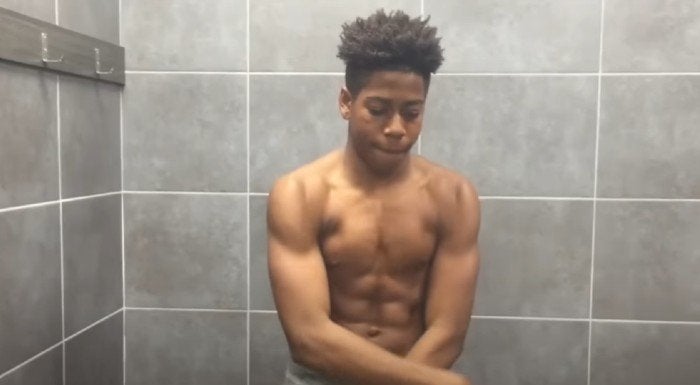 The stats
Deadlift 1RM: 200kg
Squat 1RM: 120kg
Bench press 1RM: 85kg
Subscriber count: 2,500 subscribers
Income: £15 a month
2019
2019 is the year Nathaniel's life changed. This was the year of his GCSEs, so he took a step back from the gym and his channel for a little bit. He'd also suffered a few intercostal muscle (the muscles that run along the ribs) injuries earlier in the year, which affected his training for a number of months.
This was a blessing in disguise though, as it meant he could focus properly on his exams. Nathaniel was determined to get all 9s (the best possible mark). Spurred on by a little friendly competition with his mate Gordon, Nathaniel put his head down, studied hard and got a 9 in all subjects. He was the only person in his school and one of only 800 pupils across the country to achieve this.
Over the summer holidays, Nathaniel started posting regularly on YouTube but still struggled to grow the channel. He was stuck at about 1,000 views on every video. But his physique got a lot better over this time. He lost about 10kg of body weight and was looking his best ever.
On the day he received his results, he recorded a video explaining how he managed to do so well. It was his first video to go semi-viral and changed his life. Because the video got so much attention, his other videos blew up and his channel grew. He went from getting 1,000 views per video to regularly hitting 100,000 views. In Nathaniel's own words: "You've got to grind even when the spotlight isn't there."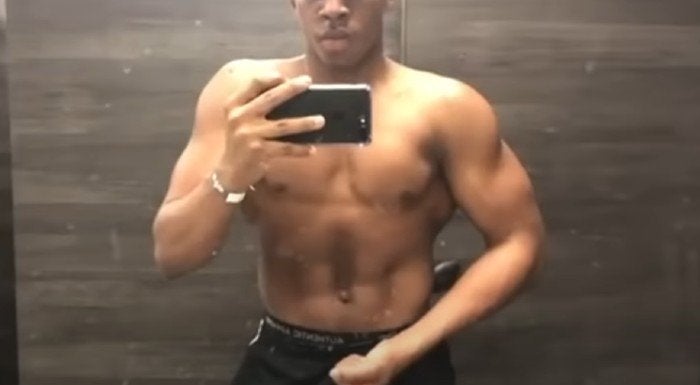 The stats
Deadlift 1RM: 260kg
Squat 1RM: 210kg
Bench press 1RM: 130kg
Subscriber count: 30,000 subscribers
Income: £2,000 a month
2020
Ah, 2020. Covid hit and things changed, for everyone. As a fitness influencer, Nathaniel was massively affected by not being able to go to the gym and experienced a content standstill.
But it wasn't all bad — during this time he became a Myprotein ambassador and was picked up by some other brands.
And during lockdown he took full advantage and went on a serious cut. When he started hitting the gym again, he looked "shredded".
The stats
Deadlift 1RM: 300kg
Squat 1RM: 230kg
Bench press 1RM: 145kg
Subscriber count: 70,000 subscribers
Income: £4,000 a month
2021
In 2021, Nathaniel's life changed again. The first six months of the year were a struggle due to continuing Covid disruption. He started filming content with Joe Fazer and started university, which caused his channel to blow up a second time, surpassing 100,000 subscribers in his first few weeks. On top of this, he was the best mix of size and leanness he'd ever been.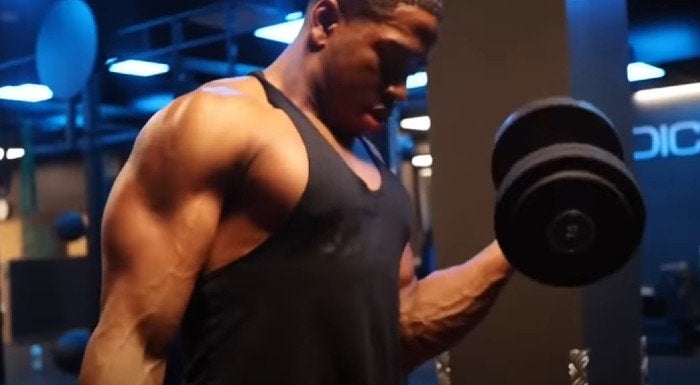 The stats
Deadlift 1RM: 320kg
Squat 1RM: 260kg
Bench press 1RM: 150kg
Subscriber count: 100,000 subscribers
Income: £11,000 a month (best month)
2022
Obviously, we're still powering through 2022, but it's been a successful year so far for Nathaniel. He's been to two powerlifting meets, winning at regional level and coming second at national level. He's also moved his training plans over to an app as sales have plateaued since 2020. And we're only in July!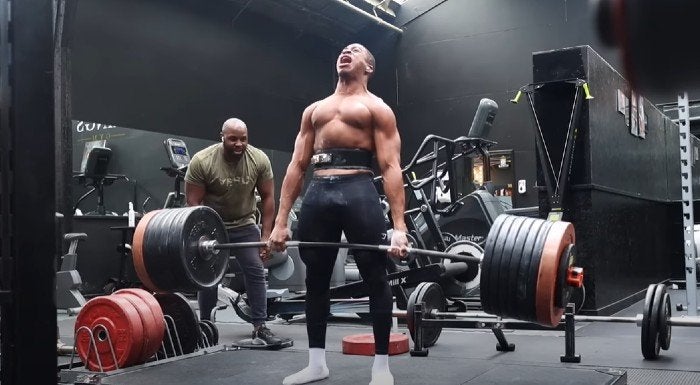 The stats
Deadlift 1RM: 320kg
Squat 1RM: 270kg
Bench press 1RM: 160kg
Subscriber count: 130,000 subscribers
Take home message
And there we have it: a brief history of Nathaniel Massiah. He thanks his training plans for providing him with a consistent income, which helped him to focus on YouTube rather than having to balance it with a regular job. And he also kept grinding when the spotlight wasn't there. And he's still only 19 years old. Stand by to see where he goes from here.
Enjoy this article?
READ MORE HERE: