Cod liver oil is probably a supplement that has been around longer than any other, with its introduction as early as the 1930s. 1 With a high content of omega-3, the reported benefits of cod liver oil are extensive, with some claims stronger than others.
Unlike, typical fish oil, cod liver oil also has a high content of vitamin D and vitamin A which both play large roles in keeping us healthy.
Jump to:
How is Cod Liver Oil Sourced?
As the name suggests, cod liver oil is sourced from the liver of cod fish. When fish eat phytoplankton, a type of marine algae, the fish take on the omega-3 fatty acids, the omega-3 in the cod liver oil is where the majority of the health benefits are from.
Unlike regular fish oil supplements, cod liver oil also has a vitamin D and vitamin A content which both play roles in keeping the body healthy. 
Who Should Take Cod Liver Oil?
Due to the wide range of associated health benefits of omega-3s, vitamin d and vitamin A, anyone looking to maintain their health wellbeing may benefit from cod liver oil supplementation.
For people who are at risk of vitamin D deficiency, cod liver oil may be particularly beneficial. Dietary sources of vitamin D are limited with the majority of our Vitamin D absorbed via sunlight. 2 This means the vitamin D content in cod liver oil will make it beneficial to most people over the winter, especially if you're in the UK.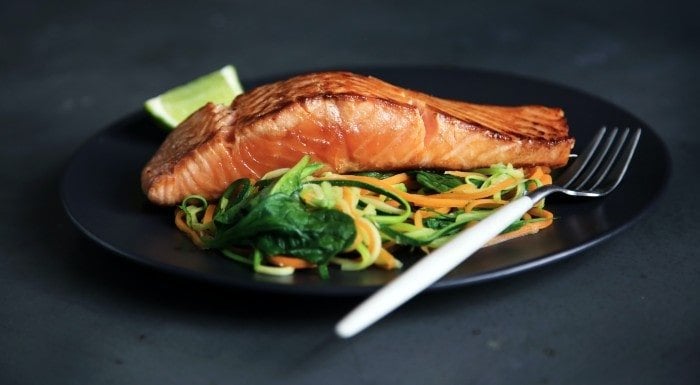 5 Benefits of Cod Liver Oil
1. Cod liver oil may help improve bone health
Vitamin D plays a key role in maintaining the health of your bones. 2 A deficiency in vitamin D leads to a reduction in calcium release which will affect the formation of bone mass. 2 This can lead to several different health problems, so keeping your bones healthy is very important. 
2. It may support the health of your heart
Omega-3s found in fish oil have been claimed to help lower the risk heart related diseases 3, although this has been questioned since. 4
It is recommended that you include one piece of oily fish in your diet once a week so if you really dislike fish, supplementing cod liver oil may be a way to ensure you are not missing out on the health benefits.
3. It may help improve mood
In people suffering from low mood, there is evidence to show that cod liver oil can be beneficial. 5 In a study comparing mood amongst those whose supplemented cod liver and those who didn't, depressive symptoms were less prevalent in those who supplemented. 5
However, mood can be affected by a large number of things and the evidence for the mood boosting effects of cod liver oil is still pretty mixed with most performed with participants already on anti-depressants. 
4. It may help to maintain immunity
Both vitamin D and vitamin A play important roles in maintaining your body's immunity and reducing the risk of infections. 6 Due the high content of each in cod liver oil, supplementing may help with function of your immunity. Especially, if your diet is low in either vitamin. 
5. Cod Liver Oil may help to reduce joint pain
There is evidence to show that the joint stiffness and pain may be reduced when supplementing cod liver oil. 7 However, the evidence is pretty mixed and the reduction in joint pain is limited to those suffering from arthritis.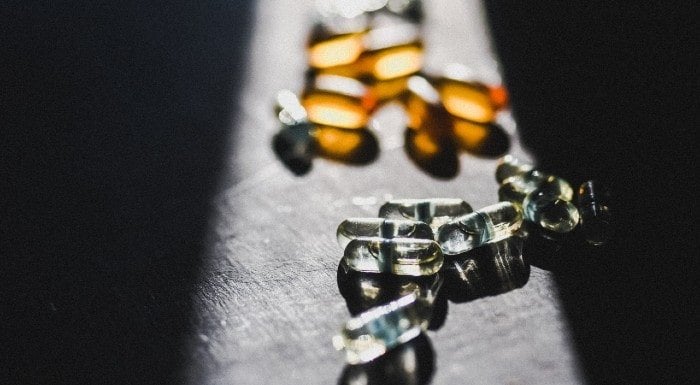 When to Take Cod Liver Oil
The benefits of fish oil are seen after supplementing on a long-term basis. 8 This means it doesn't matter too much which time of the day you take it as long as you take it consistently. 
Cod Liver Oil Dosage
A typical dosage is usually one to two teaspoons and it has been shown that as much as 3g a day is safe. 9 The British Dietetic Association recommends choosing a supplement that will contain no more than 450mg of EPA and DHA. 8
As cod liver oil contains vitamin A, you should check you are not consuming vitamin A in any other supplements such as a multivitamin. The Scientific Advisory committee on Nutrition (SACN) advise you should not consume more than 1.5mg of vitamin A per day. 10 
Are There Any Side Effects?
For most people, as long as you are not exceeding the recommended dose it is safe to consume. However, it is advised that pregnant women avoid supplementation due to the vitamin A content.  
Take Home Message
Due to the omega-3, vitamin D and vitamin A content, cod liver oil may be a worthwhile supplement for anyone looking to maintain their day-to-day health.
The wide array of benefits associated with cod liver oil include heart health, bone health and maintenance of immunity. It's safe to consume up to 3g of omega-3 a day and cod liver oil is recommended as a long-term supplement. 
So, if you're not a fan of oily fish but fancy reaping some of its benefits, supplementing with cod liver oil could be a good way to go.
Enjoyed this article?
READ THESE NEXT:
Our articles should be used for informational and educational purposes only and are not intended to be taken as medical advice. If you're concerned, consult a health professional before taking dietary supplements or introducing any major changes to your diet.
1. Rajakumar K. Vitamin D, cod-liver oil, sunlight, and rickets: a historical perspective.Pediatrics. 2003 Aug;112(2):e132-5.doi: 10.1542/peds.112.2.e132. PMID: 12897318
2. Laird E, Ward M, McSorley E, Strain JJ, Wallace J. Vitamin D and bone health:potential mechanisms. Nutrients. 2010;2(7):693-724. doi:10.3390/nu2070693
3. Kris-Etherton, P., Harris, W. and Appel, L., 2002. Fish Consumption, Fish Oil,Omega-3 Fatty Acids, and Cardiovascular Disease. Circulation, 106(21), pp.2747-2757. 
4. Abdelhamid AS, Brown TJ, Brainard JS, Biswas P, Thorpe GC, Moore HJ, DeaneKHO,AlAbdulghafoor FK, Summerbell CD, Worthington HV, Song F, Hooper L. Omega 3 fatty acids for the primary and secondary prevention of cardiovascular disease. Cochrane Database of Systematic Reviews 2018, Issue 7. Art. No.: CD003177. DOI: 10.1002/14651858.CD003177.pub3 
5. Giles GE; Mahoney CR; Kanarek RB. 2013 Omega-3 fatty acids influence in mood inhealthy and depressed individuals. Nutrition Reviews (71) 727-741
6. AranowC. Vitamin D and the immune system. J Investig Med. 2011;59(6):881-886. doi:10.2310/JIM.0b013e31821b8755 
7. SenftleberNK, Nielsen SM, Andersen JR, Bliddal H, Tarp S, Lauritzen L, Furst DE, Suarez-Almazor ME, Lyddiatt A, Christensen R. Marine Oil Supplements for Arthritis Pain: A Systematic Review and Meta-Analysis of Randomized Trials. Nutrients. 2017; 9(1):42. https://doi.org/10.3390/nu901004 
8. Bda.uk.com. 2021. Omega-3. [online] Available at:<https://www.bda.uk.com/resource/omega3.html> [Accessed 9 February 2021]. 
9. Kris-Etherton, P., Harris, W. and Appel, L., 2002. Fish Consumption, Fish Oil,Omega-3 Fatty Acids, and Cardiovascular Disease. Circulation, 106(21), pp.2747-2757. 
10. Scientific Advisory Committee on Nutrition 2004, Advice on Fish Consumption: Benefits and Risk