Ever find yourself daydreaming about your favourite dessert, knowing full well you have nothing even remotely similar in your kitchen?
---
Now that you can't satisfy your cravings with a quick dash to the supermarket, it's time to take things into your own hands. These delicious cheesecake bars are sure to hit the spot – and they're made with just a few simple ingredients.
We've chosen two different flavours for our bars and by using some of our favourite products we've kept the fillings as healthy as possible, with no refined sugar.
Our Powdered Peanut Butter is an amazing alternative for regular peanut butter, as it has all the taste, just with 70% less fat. The Sugar-Free Syrup that we've used in the second option is an absolute win too – with no carbs, sugar, or fat, and less than one calorie per serving.
As for the toppings – it's completely up to you to get as creative as you want! We've gone for some of our favourite #TreatWithoutTheTreat snacks to bring these cheesecake bars to the next level.
Our Peanut Butter Cups are just as indulgent-tasting as the current market leader, only they have a reduced sugar content and come with 6.7g protein per serving. And our Protein Break Bars have the same irresistible chocolate-covered, crispy wafer layers everyone knows & loves — with a massive 90% less sugar than the market leader and more than double the protein.
When you put it like that it's a no-brainer, right?
Ingredients
For Peanut Butter Cup:
For Berry & Chocolate: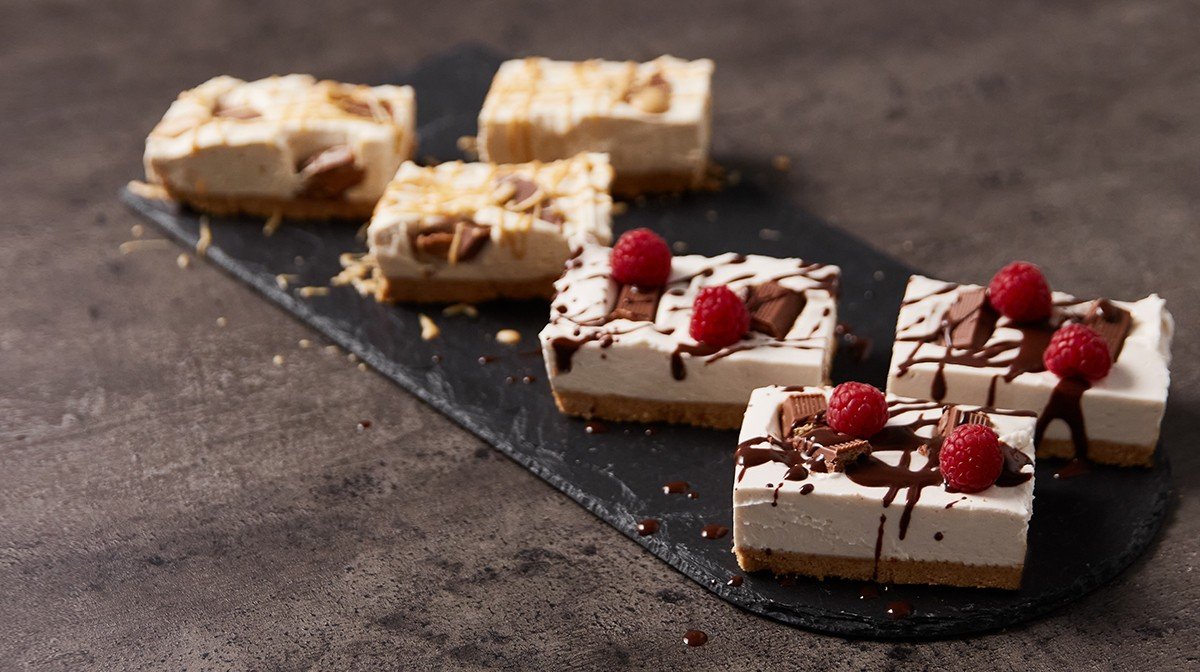 Method
1) First, prepare the biscuit base by adding all the digestives to a food processor. Process for a few minutes until completely broken up, then add the coconut oil and process for a few more.
2) Pour out the base into a lined baking tray and use the back of a spoon to firmly press down the mixture into a smooth, even layer and chill for 1 hour.
3) Meanwhile, make whichever cheesecake filling you've chosen by adding the cream cheese and other ingredients to a bowl. Use a mixer to beat them together until they are well combined in a smooth mixture.
4) Then use a spoon or spatula to scoop the cheesecake filling onto the biscuit base, smoothing it out to create an even layer.
5) Top with pieces of chopped Peanut Butter Cups or Break Bars, and leave to chill for another 4 hours.
6) Cut into bars and enjoy! If you're feeling indulgent like us, you might want to melt some chocolate or peanut butter to add an extra drizzle of deliciousness on top of your bars. You can easily make your Powdered Peanut Butter into a low-fat topping by adding a little water to make it into a sauce.