24-year-old Lucie Colbeck grew up as a pretty introverted kid, struggling with anxiety and a stutter. Searching for a distraction, Lucie found an outlet in gymnastics, specifically, tumbling.  
Now, sitting from the new trampoline in her back garden, she tells us about growing up in gymnastics, and the barriers she's overcome. Here's Lucie's story.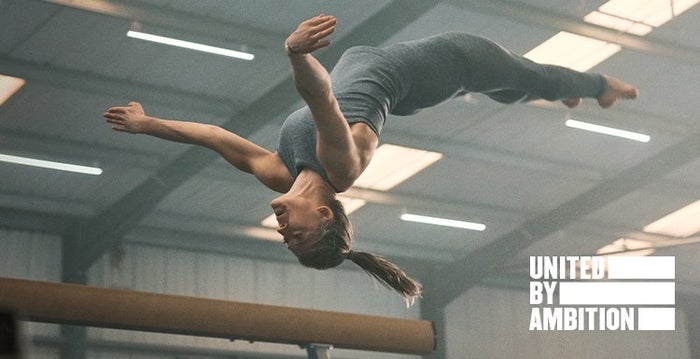 "The next best thing"
At 10 years old Lucie's talent was spotted by a tumbling coach during a gymnastics training session. She vividly remembers the offer that coach made to her that day; if she were to try tumbling, he would make her "the next best thing". 
This coach kept his promise, and after more than a decade of gymnastics Lucie has competed for Great Britain, won awards like 2016's Outstanding Athlete of the Year, and taken the silver medal at the 2015 gymnastics World Championships. On top of all of these incredible achievements, Lucie explains that training "inspired me to be a better version of myself" throughout her career.
"I now worry and get anxious about things that are outside of gymnastics" 
Her journey wasn't without its challenges though. Lucie suffered throughout her career with what she calls "mental block". After striking for the first time at around 18, this mental block caused anxiety around certain skills in her sport, not only affecting her ability to train, but also her personal life. 
Outside of training, Lucie explains that "the more I worry, the worse my OCD gets", sometimes to the extent that she worries "if I don't tap that table four times then something bad will happen to me or my family". Lucie continues to work through these issues, accepting that it will always exist in her mind to some extent, but focusing on taking each day as it comes, good or bad, helps immensely.
"Love is love; it doesn't have any limitations" 
After returning from a US tour with Cirque Du Soleil and entering into the year of the pandemic, Lucie has now retired from competitive gymnastics, even though she hopes to return some day for the pure joy if it. 
For now, she spends her time coaching gymnastics to kids a few times a week, working in retail, blogging about sports, life, and the importance of normalising LGBTQ+ relationships in sport. In her most recent blog post Lucie talks about how she views love without labels, and her experience coming out to family and friends, in the world of gymnastics.
Take Home Message
Lucie has racked up some incredible achievements despite the challenges she has faced, and to top it all off, is starting some important conversations around same-sex relationships in sport. Lucie and Myprotein are United by Ambition, to achieve our best every day and fight to improve inclusion in society along the way.