Most vegans will have heard at one time or another from their meat-eating friends a question like "but where do you get your protein from?". Little do they know there's a whole world out there of delicious vegan meals and moreish vegan snacks. 
We're here to give you a definitive list of our top five vegan snacks to sink your teeth into. Think chewy gooey cookies, crispy carb crusher bars and a whole lotta protein.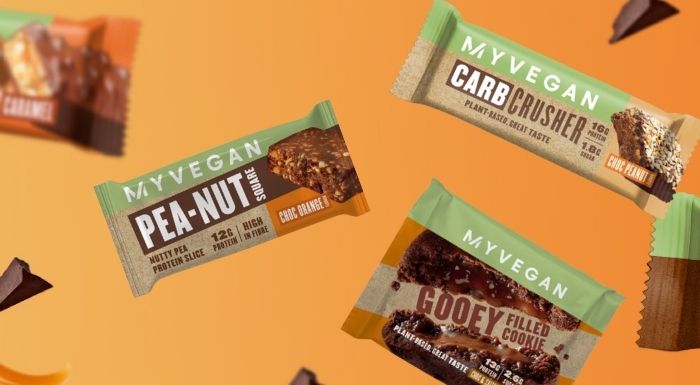 The Vegan Choc Chew is a brand-new addition to the Myprotein family, and we couldn't be happier that it's arrived. 
Coming in 2 flavours, Caramel and Orange, the Choc Chew bar has a chewy, crunchy centre, enrobed in a layer of chocolate. High in fibre, low in sugar and with 7.5g of protein all for under 100 calories, the Choc Chew is the perfect afternoon pick-me-up without messing up your macros. 
Get yours quick!
Vegan cookies can be just as rich and indulgent as any other cookie, and we made the vegan protein cookie to prove that. 
A rich dark chocolate cookie dough, baked with coconut oil and plenty of chocolate chunks, these will change your snacking game. And with 13g of plant-protein, they'll definitely help you hit your macros. 
Looking to level up your dessert? Meet the vegan filled cookie. 
Yep, we levelled up our baked protein cookie and gave it a gooey filled centre, and it soon became a customer favourite. Dark chocolate cookie dough, chocolate chunks, and a salted caramel centre, all with 13g of protein. Vegan dessert is served. 
You all loved the Carb Crushers so much that we had to make a vegan version. 
Layers of chocolate and gooey caramel covered in a dak chocolate flavour coating. High fibre, less than 2g of sugar and 15g of plant-protein make this the perfect afternoon snack to curb cravings. 
You'll be spoilt for choice too, with Banoffee, Chocolate Orange, Sea Salt Caramel and Peanut Butter all on offer.
The Pea-Nut square is free from any artificial flavours, combining cacao butter, chocolate chips and roasted nuts to make the perfect snack. Zero added sugar and 12g of vegan protein, what's not to love? 
Choose from Berry, Choc Chip and Chocolate Orange to find your flavour.
Take Home Message
Vegan snacks are not to be underestimated. Don't sacrafice plant-powered gains just because you can't find any good vegan snacking options, there's something for everyone on this list. All with a hit of plant-based protein and all deliciously moreish, all that's left is to stock your kitchen.
Check out our other vegan articles here:
Our articles should be used for informational and educational purposes only and are not intended to be taken as medical advice. If you're concerned, consult a health professional before taking dietary supplements or introducing any major changes to your diet.