It's hard to believe this creamy, cheesy pasta is totally plant-based.
---
There's no denying that mac n cheese is top tier comfort food. We're classing it as an absolute essential for this time of year, especially now that we're in lockdown again.
To celebrate World Vegan Month, we're bringing you a vegan version of the classic dish — it's every bit as indulgent-tasting and delicious, only completely free from any dairy products. It'll take one forkful for you to be convinced, trust us.
Serves 4
Ingredients
250g macaroni
Olive oil
½ white onion (diced)
3 garlic cloves (minced)
1 cup raw cashews (soaked overnight & drained)
1 tsp. chilli powder
½ tsp. cumin
3 tbsp. nutritional yeast
Salt to taste
5 cups vegetable stock
3 tbsp. toasted breadcrumbs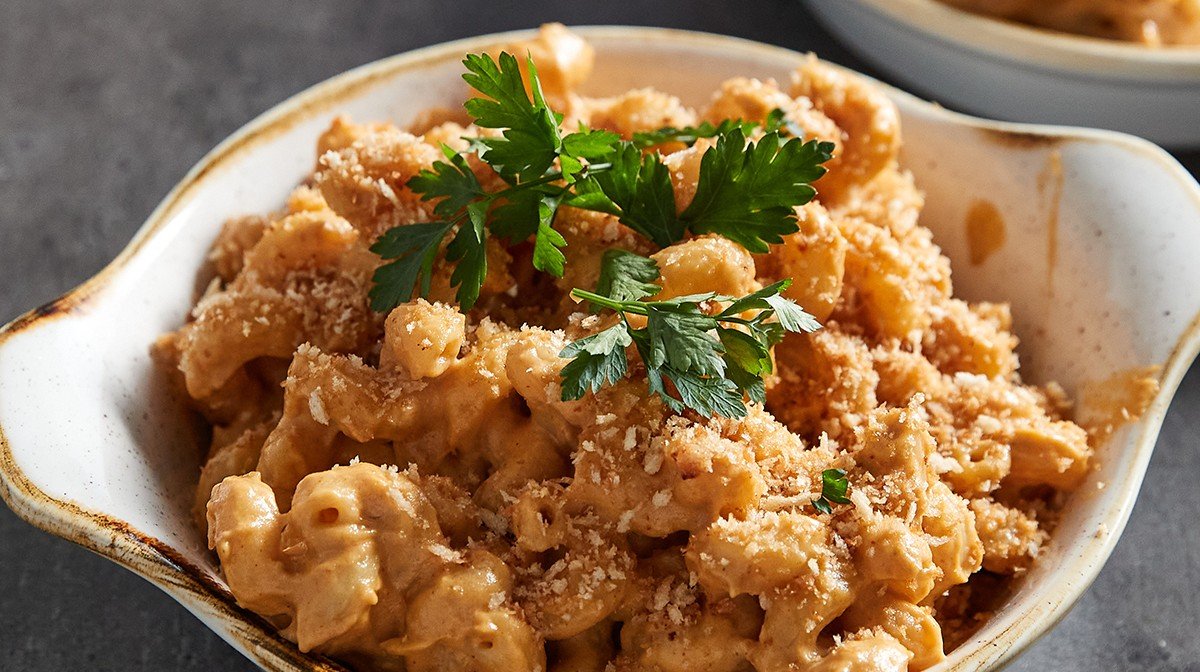 Method
1) First add the macaroni to a pan of boiling water and cook for 9-11 minutes (or as per the pack instructions).
2) Meanwhile heat the olive oil in a frying pan over a medium heat and add the onion. Fry for a few minutes to soften and then add the garlic. Fry for another 2 minutes.
3) Add the onion and garlic to a food processor or blender along with the soaked & drained cashews, chilli powder, cumin, nutritional yeast, and a pinch of salt. Pour in the vegetable stock and blend until thick and smooth.
4) Drain the macaroni and place back in the pan. Then add the 'cheese' sauce to the macaroni and stir through until fully combined.
5) Serve immediately with a sprinkle of toasted breadcrumbs for an extra crunch. Enjoy!