Take a look at our 3 favourite pea protein recipes!

Whether you're completely committed to a vegan lifestyle or just want to cut down on the dairy, there are so many delicious alternative proteins out there to help you stay on top of your daily requirements.
One of our absolute favourites is the mighty pea protein — not only is it totally plant-based, but it's also naturally gluten and dairy-free, so a great option for those with allergies or intolerances.
We're also super-excited to launch two brand new flavours of our Pea Protein Isolate, sweet Strawberry and classic Chocolate. They both offer 21g of complete protein per serving, which means you've got a convenient source of all your essential amino acids too — something that's not always that easy on a plant-based diet.
Our supplement is also low in sugar and has zero artificial preservatives or soy containing ingredients, making it a great fit for daily diet, whatever your goals.
Scroll down to see 3 incredible pea protein recipes.
Click to jump to:
1. Toffee Popcorn Sundae Smoothie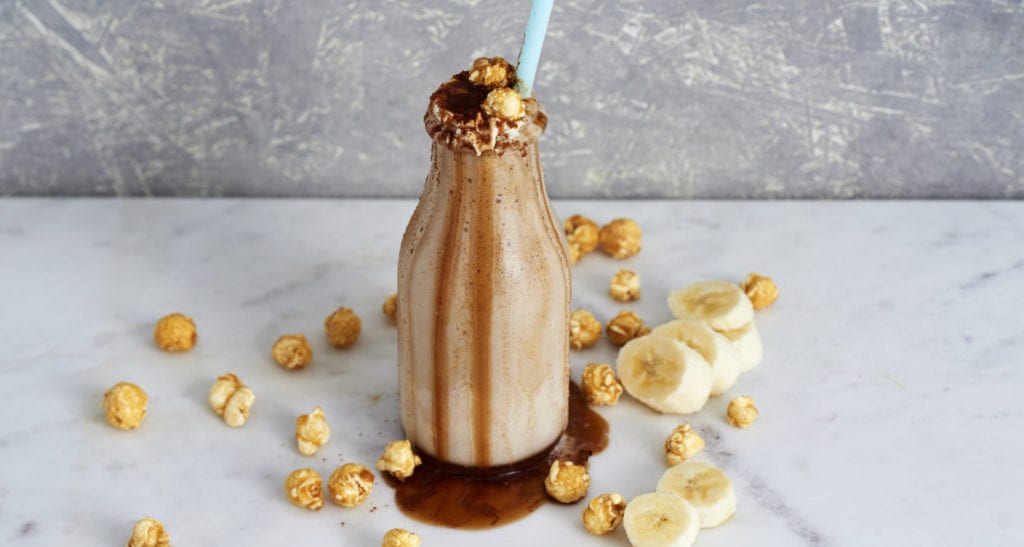 Makes: 1 smoothie
Ingredients
1 scoop Pea Protein Isolate (try unflavoured or chocolate for this one)
1 large banana
250ml dairy-free milk
4-6 drops Toffee FlavDrops
½ tsp. cinnamon
Handful popcorn to garnish
Method
1. Simply blend all ingredients except popcorn and process until smooth.
2. Top with a little extra cinnamon and the popcorn and get stuck in!
MACROS
Calories: 312      Protein: 34g        Fat: 2g       Carbs: 38g
2. Blueberry Banana Swirl
Sweet, thick, and packed with protein – this soft-serve tastes like a dessert disguised as a macro-friendly smoothie!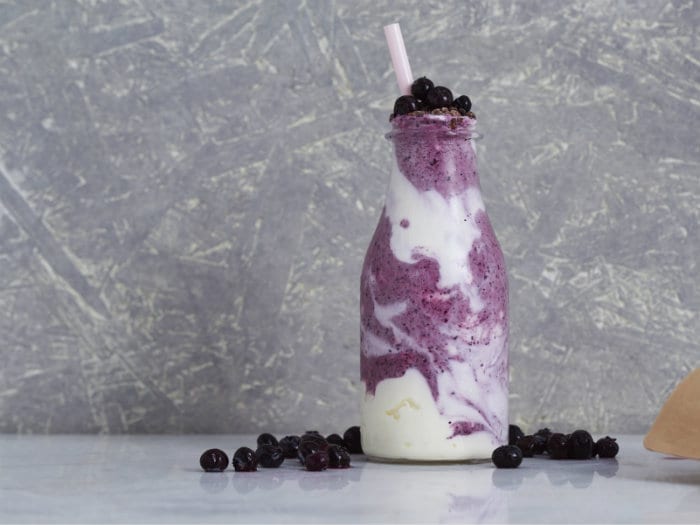 Makes: 1 smoothie
Ingredients
1 scoop Pea Protein Isolate (we think unflavoured or strawberry works best)
50g frozen blueberries
100ml dairy-free milk
100g dairy-free yoghurt
1 small banana
2-4 drops Vanilla FlavDrops
Method
1. First, blend together pea protein, blueberries and milk until smooth, then pour into your glasses half full.
2. Next, blend together the banana and yoghurt, then layer on top of the blueberry mixture. Swirl the layers together using a spoon, top with a few extra blueberries and devour!
MACROS
Calories: 303      Protein: 32g        Fat: 4g       Carbs: 25g
3. Super Green Protein Smoothie
This smoothie is super-fresh and crisp – perfect to wake you up in the morning or for a post-workout protein hit.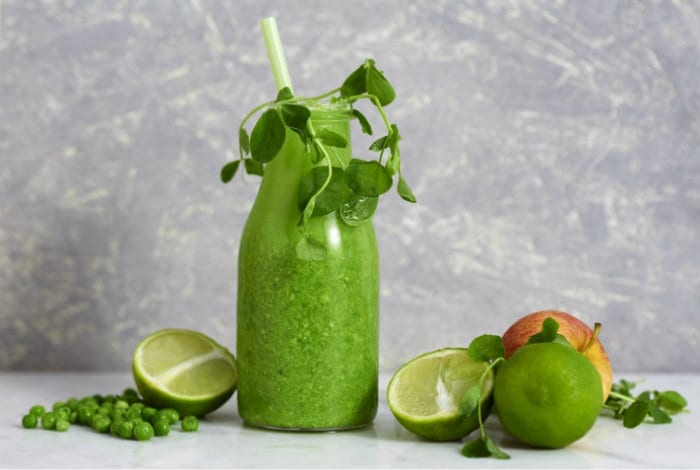 Makes: 1 smoothie
Ingredients
 1 scoop Pea Protein Isolate (unflavoured)
½ thumb fresh ginger
50g cooked garden peas
1 Granny Smith apple (you can use others but we like the Granny for its crispness)
1 pear
½ lime (juice and zest)
¼ cucumber
150ml water
Method
1. First, core your apple and pear. Then, simply place everything into your blender and process until smooth. Simple!
MACROS
Calories: 309      Protein: 27g        Fat: 2g       Carbs: 53g