Sunflower seeds are a popular snack. Obtained from the head of the sunflower plant, they're good on the go and have been a traditional snack for baseball players for many years. Able to be eaten raw, roasted, pureed as a "butter" or as part of other dishes makes them versatile, while their distinct nutty flavor has wide appeal. Do you know the health and nutrition benefits of sunflower seeds? Read on to learn more about the best ways to incorporate them into your diet.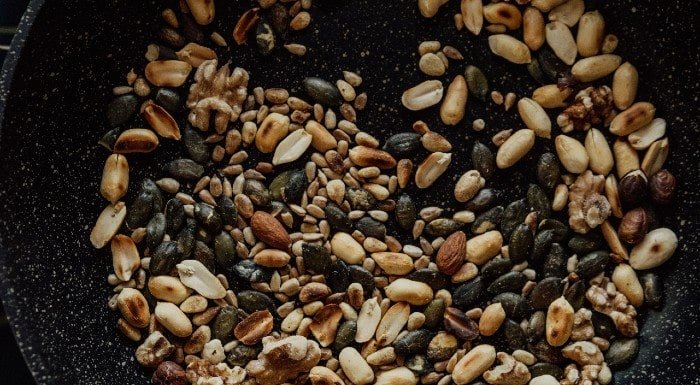 Sunflower Seeds Nutrition
Sunflower seeds are nutrient dense – meaning they pack a lot of energy (calories) and nutrients into a small volume. Here are some of the important macro and micronutrients in 100g of sunflower seeds (dried, not roasted):
| | |
| --- | --- |
| Nutrient | Per 100g |
| Calories | 269 |
| Carbohydrates | 9g |
| Fiber | 4g |
| Total Fat | 24g |
|   Saturated fat | 2.0g |
|   Monounsaturated fat | 8.5g |
|   Polyunsaturated fat | 10.6g |
| Protein  | 9.6g |
| Thiamin | 0.7mg |
| Folate | 104mcg |
| Vitamin E | 15.3mg |
| Choline | 25.3mg |
| Iron | 2.4mg |
| Magnesium | 150mg |
| Phosphorus | 304mg |
| Potassium | 297mg |
| Selenium | 24.4mg |
| Zinc | 5mg |
Sunflower seeds are a good source of vegetarian protein and heart healthy polyunsaturated fats. They also contain B vitamins and minerals like iron and magnesium that support overall health.
Sunflower Seeds Health Benefits 
Sunflower seeds can be a great part of your diet to support your overall health and fitness goals. They have the following benefits:
Reducing inflammation:
Packed with phytonutrients (plant compounds like phytosterols) that have antioxidant and antiinflammatory properties, sunflower seeds can help to reduce inflammation.2 They are also rich in polyunsaturated fats, like omega 3s, that can also reduce inflammation.2
Supporting heart health:
The polyunsaturated fat (rich in oleic and linoleic acid), fiber, and phytosterols found in sunflower seeds can support the good cholesterol (HDL) in our blood and overall heart health.2
Supporting the immune system:
A 100g serving of sunflower seeds contains more than a third of your daily requirement for both zinc and selenium, which are crucial for boosting your immune system.1 A healthy immune system is stronger when fighting off bacteria and viruses.2
Supporting healthy growth and metabolism:
Folate is a key nutrient for development and important for women of child bearing age. All of the B vitamins found in sunflower seeds are crucial for the healthy metabolism of carbs, protein, and fat to optimize our performance, energy, and nutrient absorption.2,3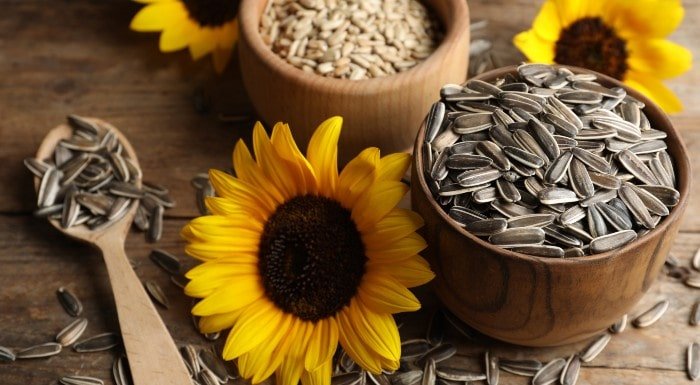 Sunflower Seeds Risks 
While there are no major risks when consuming sunflower seeds, the type of processing and preparation is important to consider. Being high in fiber, all seeds should be consumed along with plenty of liquids – try not to increase your fiber intake dramatically in a short period of time, rather slowly over a few weeks.
Choose dry roasted or raw seeds when possible, avoiding preparations that involve added oils or sodium (salt). While chocolate covered sunflower seeds are a delicious treat, the added sugars aren't helpful. 
Because they are a nutrient dense food, they also pack a lot of calories in a small serving – so be mindful of how much you are consuming in relation to your calorie or macro goals. While allergies to sunflower seeds are rare (the butter made from sunflower seeds is actually a popular substitute for those who have peanut allergies and can't eat peanut butter), they should be avoided if you have a known allergy.3
Add sunflower seeds to your shopping list for a healthy snack.
Take Home Message
A convenient, nutrient packed food like sunflower seeds can be incorporated into your diet in many ways. Containing nutrients to support your health as well as a solid macro profile, dry roasted or raw sunflower seeds are the healthiest option to support your diet goals.