This mighty, macro-friendly lunch will keep you on track for the whole day through.
---
If you've got a jam-packed schedule of commuting, working, and training sessions then sometimes a meal deal just doesn't cut it. You need the right fuel in the tank to set your body up for success and keep making the progress you want to see — which is exactly what this protein bowl provides.
Packed with lean protein and lots of veggies, it has a base of quinoa, which is a super-nutritious carb source that contains protein and fibre, along with iron, zinc, and calcium.
Serves 1
Ingredients
2 tbsp. soy sauce
1 tbsp. honey
1 tsp. black pepper
1 tbsp. garlic (minced)
1 chicken breast
75g quinoa
200ml water
1 egg
50g broccoli
50g mangetout
½ red pepper (sliced)
4 cherry tomatoes (halved)
Spring onions (chopped)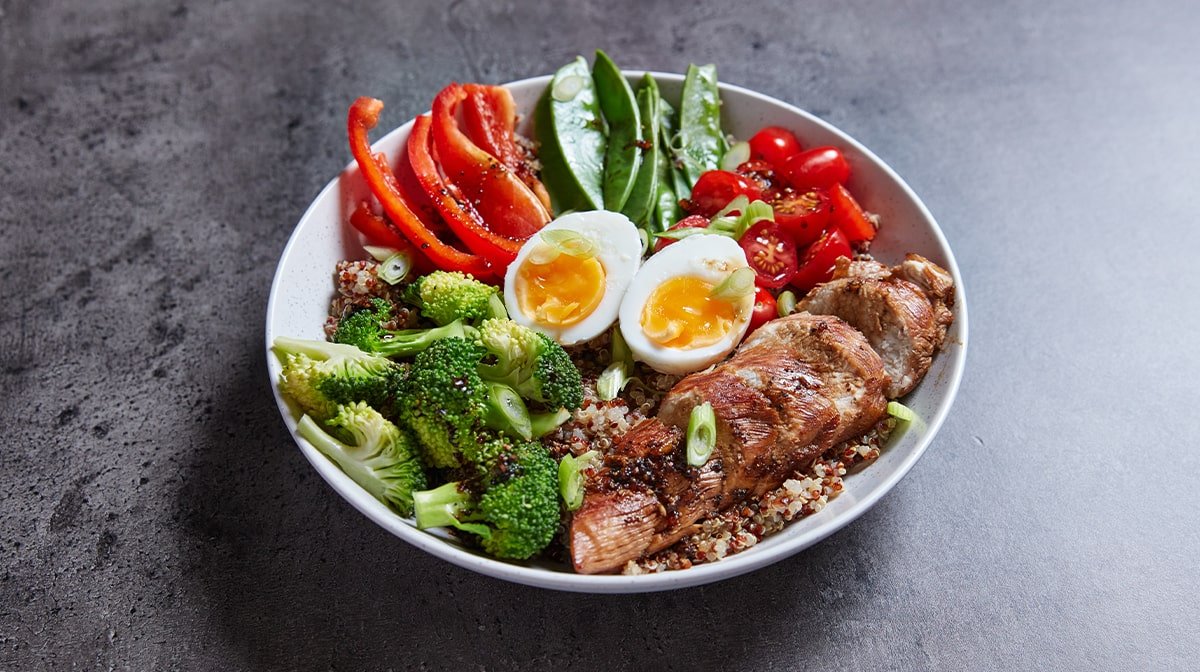 Method
First, mix together the soy sauce, honey, black pepper, and garlic to make a marinade. Pour 3/4s of the marinade over the chicken breast, cover, and leave to marinate in the fridge for 30 minutes (or you could do this the night before). Keep the remaining marinade aside for serving with later.
Next, add the quinoa and 200ml water to a pan, cover with the lid, and bring to the boil. Once boiling, add a sieve over the pan and place your egg in the centre above the quinoa. Cover again and let steam for 10 minutes.
Meanwhile in a separate frying pan, heat a little oil or low-calorie cooking spray and then add your marinated chicken breast. Cook for around 5-7 minutes on each side until browned and completely cooked through with no pink bits inside.
Add the broccoli and mangetout to the sieve above the quinoa, then cover and steam for a further 5 minutes. Then carefully remove the sieve and stir the quinoa with a fork to fluff up.
Build your protein bowl. Make a quinoa base, then add the cooked broccoli and mangetout, along with slices of red pepper and cherry tomatoes. Add the sliced chicken breast and boiled egg (remove the shell first!) then add the remaining marinade that you kept aside and garnish with chopped spring onion.