With Halloween just around the corner, our love for pumpkins is reignited.
---
Looking for a tasty way to incorporate pumpkin into every meal this autumn? Niall Kirkland's pumpkin Thai red curry is a deliciously hearty meal to warm up those dark nights.
Made with plenty of garlic, ginger, fresh chilli, and a few tablespoons of rich, aromatic Thai red curry paste — it's a flavour sensation that will have you glowing from the inside out.
Plus, Niall's recipe is great to use up any leftover veg, just throw it in the pan along with the broccoli at the end for a nutritious boost that tastes great.
Serves 4
Ingredients
600g pumpkin (peeled and cubed)
1 tbsp. coconut oil
1 onion (finely chopped)
1 red chilli (finely chopped)
3 garlic cloves (crushed)
Thumb-sized piece of ginger (finely chopped)
2 tbsp. Thai red curry paste
400ml chicken stock
1 tin coconut milk
1 tsp. turmeric
A pinch of chilli powder
1 broccoli (florets removed from stem)
Salt and pepper
Serve with:
Basmati rice
Chopped coriander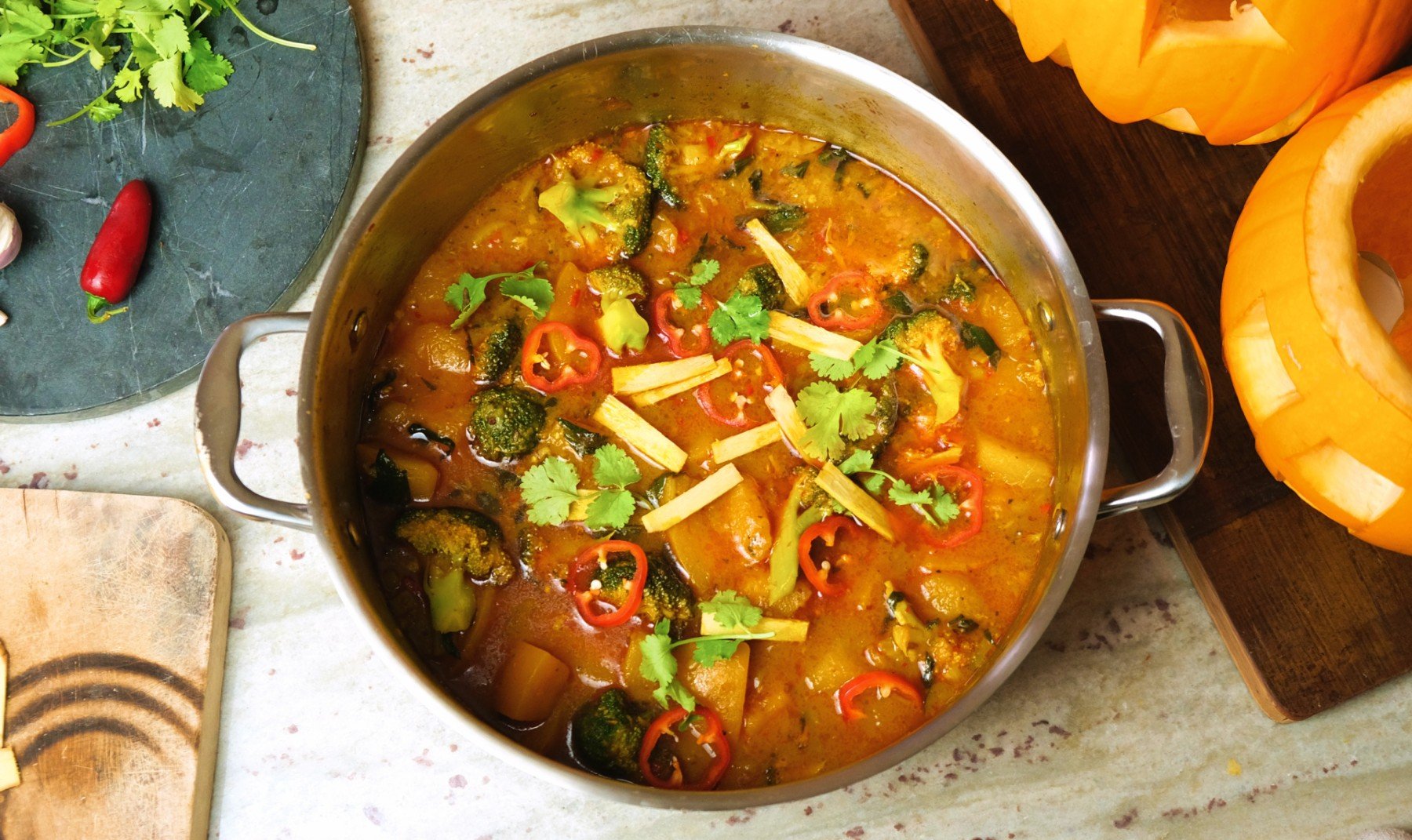 Method
First, peel and cut your pumpkin into large chunks.
Heat the coconut oil in a large, deep pan and add the onion.
Fry for 5 minutes, then add the chilli, garlic, and ginger and cook for another 2-3 minutes, stirring often.
Add the curry paste, stir well and fry for 1 minute.
Now add the pumpkin chunks to the pan with a splash of water, coat the pumpkin in the curry paste and then add vegetable stock and coconut milk.
Stir well and bring to a low simmer. Leave to cook for 15 minutes.
Add the turmeric and chilli powder, season to taste and stir well.
Add the broccoli florets, cover and leave to steam 3-4 minutes.
Taste again and season if necessary. Serve with basmati rice and garnish with coriander — enjoy!