Wondering what else you can do with your Protein Pancake Mix?
Wonder no more, and say hello to the protein pancake batter waffle.
The only additional things you'll need is a little coconut oil and a cheap silicone waffle mould (or a waffle maker if you have one) to make this decadent, macro-friendly dessert.
https://www.youtube.com/watch?v=HRuusIMAd7s&t=8s
Serves: 4
Ingredients
Method
1. In a mixing bowl, whisk together Protein Ice Cream Mix and 50ml milk. Pour into a Tupperware box and freeze for 2-3 hours, whisking up occasionally to prevent ice crystals from forming.
2. When the ice cream is nearly set, it's time to make your protein waffles! Whisk Protein Pancake Mix with 100ml milk and melted coconut oil until no lumps remain. Pour batter into a silicone waffle mould (or use a waffle iron if you own one). If using a silicone waffle mould, place a tray with a weight on top (like an oven-safe dish) so the waffles don't rise.
3. Bake at 220°C or 200°C for fan-assisted for 9-10 minutes or until golden brown at the edges.
4. Remove from moulds, serve with protein ice cream and drizzle with melted chocolate. Easy.
Enjoy this recipe? Check out more tasty health and fitness recipes.
MACROS PER PORTION
Calories: 186      Protein: 19g      Fat: 6g      Carbs: 9g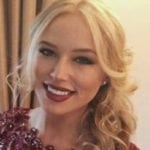 Jennifer Blow is our UKVRN Registered Associate Nutritionist – the UK's register of competent and qualified nutrition professionals. She has a Bachelor's of Science in Nutritional Science and a Master's of Science by Research in Nutrition, and now specialises in the use of sports supplements for health and fitness, underpinned by evidence-based research.
Jennifer has been quoted or mentioned as a nutritionist in major online publications including Vogue, Elle, and Grazia, for her expertise in nutritional science for exercise and healthy living.
Her experience spans from working with the NHS on dietary intervention trials, to specific scientific research into omega-3 fatty acid supplementation and also the effect of fast foods on health, which she has presented at the annual Nutrition Society Conference. Jennifer is involved in many continuing professional development events to ensure her practise remains at the highest level. Find out more about Jennifer's experience here.
In her spare time, Jennifer loves hill walking and cycling, and in her posts you'll see that she loves proving healthy eating doesn't mean a lifetime of hunger.