We don't think there's much that can beat hearing those three little words… and yes, we mean "peanut butter stuffed". These cookies are full of oozy, nutty goodness and they're packed with protein too! Meeting your macros never tasted so indulgent.
It doesn't take much time at all to whip up a batch of these high-protein peanut butter cookies. They're the perfect partner for a cuppa, or to have on hand for when evening cravings kick in – if you can keep them around that long…
https://youtu.be/IjDIslrqaf4
Ingredients
2 large eggs
225g 100% Coconut Oil
200g coconut sugar
75g dark or milk chocolate chips
100g flour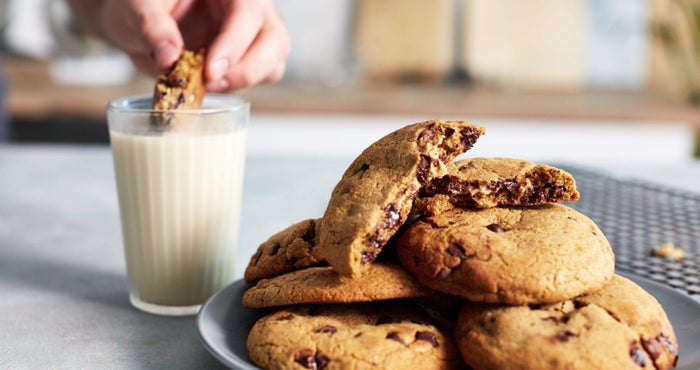 Method
First, place the peanut butter into a bowl and put it into the fridge to firm up.
Then, mix the coconut oil and sugar in a large bowl until smooth, then add the eggs.
In a separate bowl, mix together the flour and protein powder. Then gradually add this dry mixture into the other bowl of wet ingredients, stirring to mix well.
Once mixed, stir in the chocolate chips. Cover the bowl with cling film and chill for 30 minutes. While the dough is chilling, preheat the oven to 190°C.
Remove the cookie dough and peanut butter from the fridge. Using your hands, roll balls of cookie dough (they should be around the size of golf balls) and then on a baking tray flatten them into discs about 1-1.5cm thick.
Add a teaspoon of peanut butter to the middle of each disc, then fold over the dough so that it covers the peanut butter entirely.
Place into the oven and bake for 20 minutes. Once the time is up, leave to cool for 2-3 minutes – then enjoy!
Nutritional info per serving:
| | |
| --- | --- |
| Calories | 177 |
| Total Fat | 8g |
| Total Carbohydrates | 17g |
| Protein | 8g |
Lauren is an English Literature graduate originally from the South. She's always loved swimming, has discovered the power of weight training over the past few years, and has lots of room for improvement in her weekly hot yoga class. On the weekends she's usually cooking or eating some kind of brunch, and she enjoys trying out new recipes with her housemates – especially since shaking off student habits, like mainly surviving off pasta. Above all, she's a firm believer in keeping a balance between the gym and gin. Find out more about Lauren's experience here: https://www.linkedin.com/in/lauren-dawes-b4416aaa/