There's nothing like warm and comforting banana bread to turn your afternoon from average to pure perfection. If you're trying to keep it lean, but are missing a spoonful of something special, then you've come to the right place. This low-sugar banana bread will hit all the right spots without a colossal calorie count.
This is also a great recipe for clearing out your cupboards. Got some bananas hanging around that are looking a little worse for wear? These make the perfect banana bread as they're so much sweeter — ideal for a low-sugar banana bread recipe!
Cakes are known for their refined sugars, bad fats, and stodgy white flour, but this banana bread breaks all of those rules. The only fat comes from silky Coconut Oil, the sweetness is from the bananas and a squeeze of honey, and we even switched out your normal flour for whole-wheat bread flour.
Forget feeling unhealthy, you can dig into this low sugar banana bread practically guilt-free. At 200 calories a slice, it's the perfect sweet and satiating snack. Don't think the indulgence stops there either, as it's got a healthy sprinkling of chocolate chips — keep these dark chocolate for a low-sugar loaf.
Skip straight to the nutritionals here.
https://youtu.be/yvJaCbHKjcE
Serves: 10
Prep time: 10 mins
Cook time: 55 mins
Ingredients
70g 100% Coconut Oil
100g Honey
2 eggs
3 medium sized bananas — mashed
1 tsp. vanilla extract
1 tsp. bicarbonate of soda
1 tsp. cinnamon
175g whole-wheat bread flour
85g milk (any kind)
30g choc chips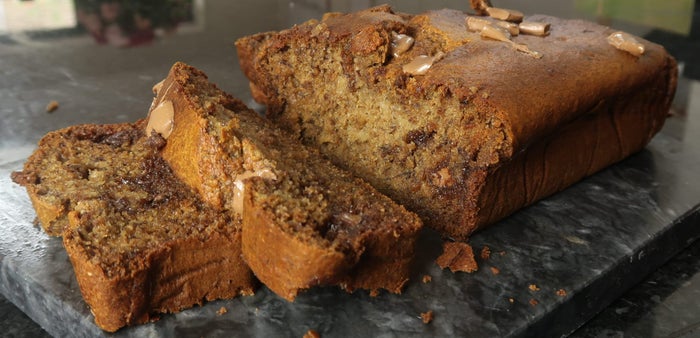 Method
1. Preheat your oven to 180°C and line a loaf tin with baking parchment.
2. In a small bowl, microwave the coconut oil for 30-second intervals until completely melted.
3. Whisk together the melted coconut oil with the honey and eggs until well combined.
4. Add in the mashed bananas, vanilla essence, bicarbonate of soda, and cinnamon and mix together until well combined.
5. Next, mix in the flour and then whisk in the milk before finally folding in the chocolate chips.
6. Pour the cake mix into the loaf tin and bake in the oven for 55 minutes.
7. Leave to cool, remove from the tin, and tuck in.
Enjoy this low-sugar banana bread? Make these next...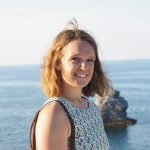 Evangeline is a Veganuary convert and newbie vegan with a degree in English and French from the University of Nottingham. Having recently ditched the meat and dairy, she really enjoys the new flavours and cooking techniques she's encountered on a plant-based diet. She's been shocked by the millions of ways you can use tofu, however still hasn't found a decent cheese substitute! When she's not in the office or eating, Evangeline usually out running or sailing. As a qualified RYA Dinghy Instructor and a marathon runner, she knows the importance of providing your body with the right nutrients for endurance sports as well as a busy lifestyle. Find out more about Evie's experience here.