We've been waiting with our spoons on standby for this product launch — we're super-excited to announce the arrival of Protein Spreads.
An indulgent chocolate spread alternative made with high-quality whey… they're the answer to all your chocoholic prayers. Delivering 21g of protein per 100g, they also have a massive 87% less sugar than supermarket alternatives, making this one serious treat without the cheat.
If you have the restraint not to polish off the jar as a soon as your order arrives, then we'd highly recommend putting this delicious recipe from Niall Kirkland to the test. ASAP.
Serving up yet another brunch idea from heaven, his chocolate hazelnut French Toast sure is a sweet way to get your protein fix.
Serves 2
https://youtu.be/fN4g7o0LS8E
Ingredients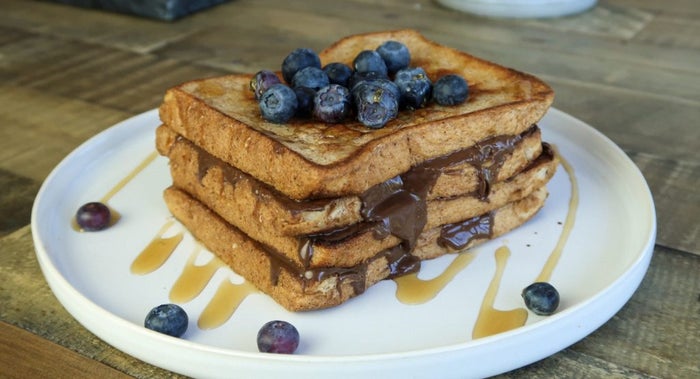 Method
Firstly, mix the whey protein and milk together, making sure you have no lumps (the quickest and easiest way to do this is in a shaker).
Then, in a large bowl, mix together the egg whites, milk and protein mixture, salt, cinnamon and nutmeg.
Next, dip each of your slices of bread into the mixture, making sure all parts of the bread are covered. Allow enough time for the bread to soak up the batter.
Then, heat a small amount of coconut oil in a large frying pan (roughly 1 tsp. between all four slices) and add your bread slices.
Fry each slice for 3-5 minutes on each side or until the bread is slightly crispy on the outside, and remove from pan.
While the French toast is still warm, spread a generous amount of our delicious Protein Spread on each slice and build your French toast stack.
Garnish with blueberries and a drizzle of Sugar-Free Syrup over the top, then dig in!
Fancy trying a different flavour combination?
With three delicious flavours of Protein Spreads, there's nothing to stop you getting creative in the kitchen. Try mixing up this recipe by using White Chocolate instead of Chocolate Hazelnut, and raspberries instead of blueberries. Heavenly.
Enjoyed this recipe? Check these out next:
Nutritional info per serving:
| | |
| --- | --- |
| Calories | 476 |
| Total Fat | 16g |
| Total Carbohydrates | 49g |
| Protein | 33g |
Lauren is an English Literature graduate originally from the South. She's always loved swimming, has discovered the power of weight training over the past few years, and has lots of room for improvement in her weekly hot yoga class. On the weekends she's usually cooking or eating some kind of brunch, and she enjoys trying out new recipes with her housemates – especially since shaking off student habits, like mainly surviving off pasta. Above all, she's a firm believer in keeping a balance between the gym and gin. Find out more about Lauren's experience here: https://www.linkedin.com/in/lauren-dawes-b4416aaa/