This week MP launched a brand new collection designed in collaboration with Myprotein ambassadors and wellness queens Sinead Heggarty and Siobhán O'Hagan. The range features leggings, sports bras, hoodies, T-shirts and cycling shorts, all coming in two different colourways — Pink and Green.
The leggings, cycling shorts and sports bras feature durable, ribbed fabrics with minimal seams for comfort and to allow full range of movement. And contouring panels create a flattering shape.
The hoodies are made with a soft-touch fabric for maximum comfort and have a flattering cropped length that won't restrict your movement.
Whatever piece you pick, you'll be looking and feeling great during your workout sesh.
I asked Siobhán some quick-fire questions to find out how the collab came about and what her favourite piece in the range is.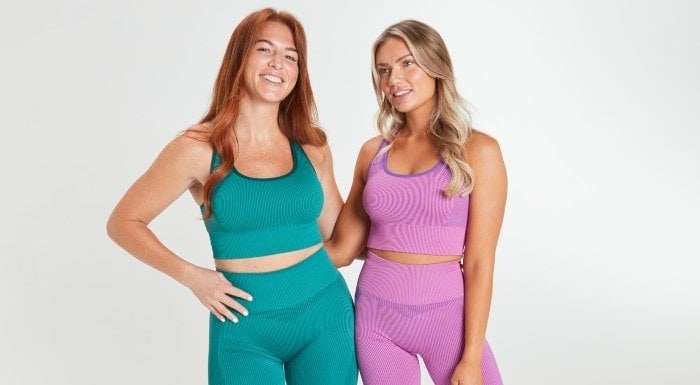 How did you and Sinead first meet?
I was at a fitness camp in Thailand in 2018, and I got a message from Sinead saying she was there too, so I invited her for dinner with my friends and we hit it off.
I did a lot of travelling over the last few years and so did Sinead, so we ended up spending a lot of time together in different countries.
We got very close and lived together a lot. I was delighted when Sinead started working with Myprotein too, but I never thought we would be releasing a collection together.
What's your favourite piece from the collection?
I think it has to be the green shorts! But I love mixing and matching the colours and pieces.
What made you decide to do the collab with MP?
I've been working with MP for six years, so I've been lucky that they always asked my opinion on the clothing.
It seemed like a natural thing to put together all of our favourite features and create something new.
What is your favourite workout day?
Jiu-jitsu day.
What's one song that's always on your workout playlist?
Fischer - Losing It
What's one song that's always on your chill out playlist?
I've started listening to Jazz around the house - I think I'm getting old!
What are your go-to acts of self-care?
Yoga, reading and journaling.
Take home message
Sinead, Siobhán and the MP team have curated a gorgeous collection, perfect for heading out on a coffee run or hitting a heavy leg day in the gym. Whichever colourway you go for, you'll be supported throughout your workout.
Want more style advice?
READ THESE NEXT: