Get your fill of good ol' American-style pancakes, without even having to step foot into a diner. This delicious recipe is another easy-to-follow kitchen creation from our ambassador, Niall Kirkland — if you want to see more from him, check out his insta @niallkirkland.
Irresistibly thick and fluffy, a stack of these will really take your brunch game to new heights — plus, they're loaded with protein, making them a great addition to your training routine. Hitting your daily intake just got real tasty.
The world is your oyster when it comes to toppings, but if we're sticking to American-style here, then it's got to be a whole load of maple syrup, with either classic blueberries or sizzling streaky bacon.
Get flippin'
Makes: 5 pancakes/1 stack
https://youtu.be/WLAx0Tpa_Wk
Ingredients
For the pancakes:
1 banana
2 eggs
40g coconut flour (or use shredded coconut)
60g oat flour (or use whole oats)
1 tbsp. Greek yoghurt
1 scoop Impact Whey Protein (Vanilla)
1 tsp. baking powder
1 tsp. cinnamon
1 tsp. nutmeg
¼ tsp. salt
Optional toppings:
or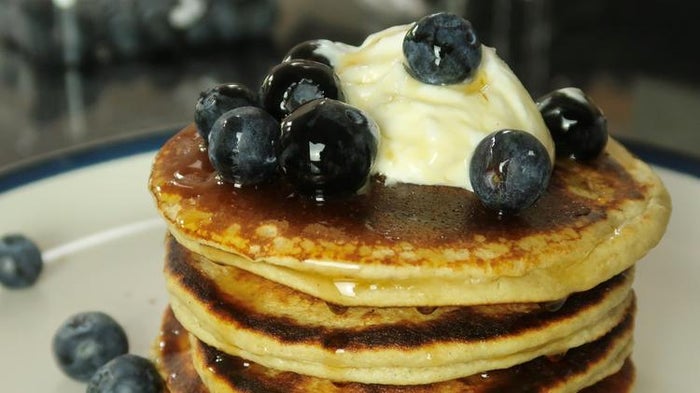 Method
1. Add all of the pancake ingredients to a food processor and blend. (See the video for the desired consistency of the pancake batter, you may need to add a splash milk if it's too thick, or some more oats if it's not thick enough).
2. Heat a non-stick pan on a low heat and add a ladle/large spoonful of pancake mixture to the pan.
3. Cook each pancake for roughly 90 seconds before flipping and cooking for another minute. You should aim to get a total of five pancakes from the mixture.
4. Stack your pancakes and then add toppings of your choice. Tip: try heating the maple syrup in the microwave for 30 seconds, it makes it nicer!
Nutritional info per 
½ stack:
Nutritional info per serving:
| | |
| --- | --- |
| Calories | 313 |
| Total Fat | 10g |
| Total Carbohydrates | 33g |
| Protein | 21g |
Lauren is an English Literature graduate originally from the South. She's always loved swimming, has discovered the power of weight training over the past few years, and has lots of room for improvement in her weekly hot yoga class. On the weekends she's usually cooking or eating some kind of brunch, and she enjoys trying out new recipes with her housemates – especially since shaking off student habits, like mainly surviving off pasta. Above all, she's a firm believer in keeping a balance between the gym and gin. Find out more about Lauren's experience here: https://www.linkedin.com/in/lauren-dawes-b4416aaa/