Breakfast can really make or break your day, so start strong with one of these delicious high-protein recipes.
---
Online coach and Myprotein athlete, Em Ricketts, isn't only dedicated to her training — she's serious about fuelling her body with the best nutrition too. She's known for her incredible healthy cooking & baking ideas, so we asked her to share 3 of her favourite high-protein breakfasts. Needless to say, she did not disappoint.
She's hit the spot with these classic recipes — cinnamon-spiced oats, blueberry pancakes, and a simple berry smoothie (perfect for those who usually find themselves dashing out the door with seconds to spare).
You can rely on these quick & easy recipes to keep you full throughout the morning, with a healthy dose of protein and carbs to fuel your activities.
Give them a go now!
1. Cinnamon-Spiced Apple Protein Oats
This might sound wintery, but cinnamon lovers will agree that it's an all-year-round flavour combination that tastes good 365 days of the year. And you can't beat a bowl of porridge to keep you going until lunchtime.
Ingredients
1 cup Low Gluten Oats
1-2 cups water or almond milk
1 tsp. cinnamon powder
½ apple (chopped)
1 tsp. peanut butter
Extra cinnamon to dust
Method
1) First, Em makes her porridge by warming up the oats and water in a pan on the hob over a medium heat. Stir constantly until cooked (around 3-5 minutes). Remove from heat and allow to cool for 1-2 minutes.
2) Once cooled, stir through the Impact Whey Protein until combined. If you like it super cinnamon-y like Em, add another teaspoon of cinnamon powder here too.
3) Serve in a bowl, top with chopped apple, a dollop of peanut butter, and cinnamon to dust. Delicious.
Nutritional info per serving:
| | | | |
| --- | --- | --- | --- |
| Calories | Carbs | Protein | Fat |
| 464 | 67.7h | 31.2g | 9.4g |
2. Blueberry Protein Pancakes
On days where you have a little more time to spend on breakfast, pancakes are a must. There's just something about drizzling syrup over a fresh stack that's irresistible.
Our Protein Pancake Mix makes it even easier to enjoy perfect pancakes with no fuss and very minimal effort. Plus, each serving packs in a massive 34g of protein — talk about getting off to a strong start.
Ingredients
Method
1) Add 2 scoops of Protein Pancake Mix to a bowl or jug and mix with water until you have your desired consistency (it should be runny enough to pour).
2) Heat a little oil or low-cal cooking spray in a frying pan over a medium heat and once hot, pour out your pancake batter into small circles. You should get at least 3-4 mid-sized pancakes. Cook for a few minutes until golden brown and then flip.
3) Once cooked, pile your pancakes into a stack and then top with fresh blueberries and drizzle with plenty of maple syrup. If you're watching your sugar intake, you should definitely check out our Sugar-Free Syrup for a sweet alternative.
Nutritional info per serving:
| | | | |
| --- | --- | --- | --- |
| Calories | Carbs | Protein | Fat |
| 285 | 26.1g | 37.7g | 3.3g |
 3. Berry Protein Smoothie
Simple, effective, delicious — that's how we'd describe this breakfast smoothie. Some days you just don't have the time or energy to actually cook anything, and that's absolutely fine. You can still nourish your body with all the important nutrients, just in a sweet and simple protein smoothie like this.
Em's gone for a classic berry & banana combo, but really it pretty much works with any fruit or flavour Impact Whey Protein you have in the cupboard. Foolproof.
Ingredients
1 cup frozen raspberries
1 banana
1 tbsp. chia seeds
300ml almond milk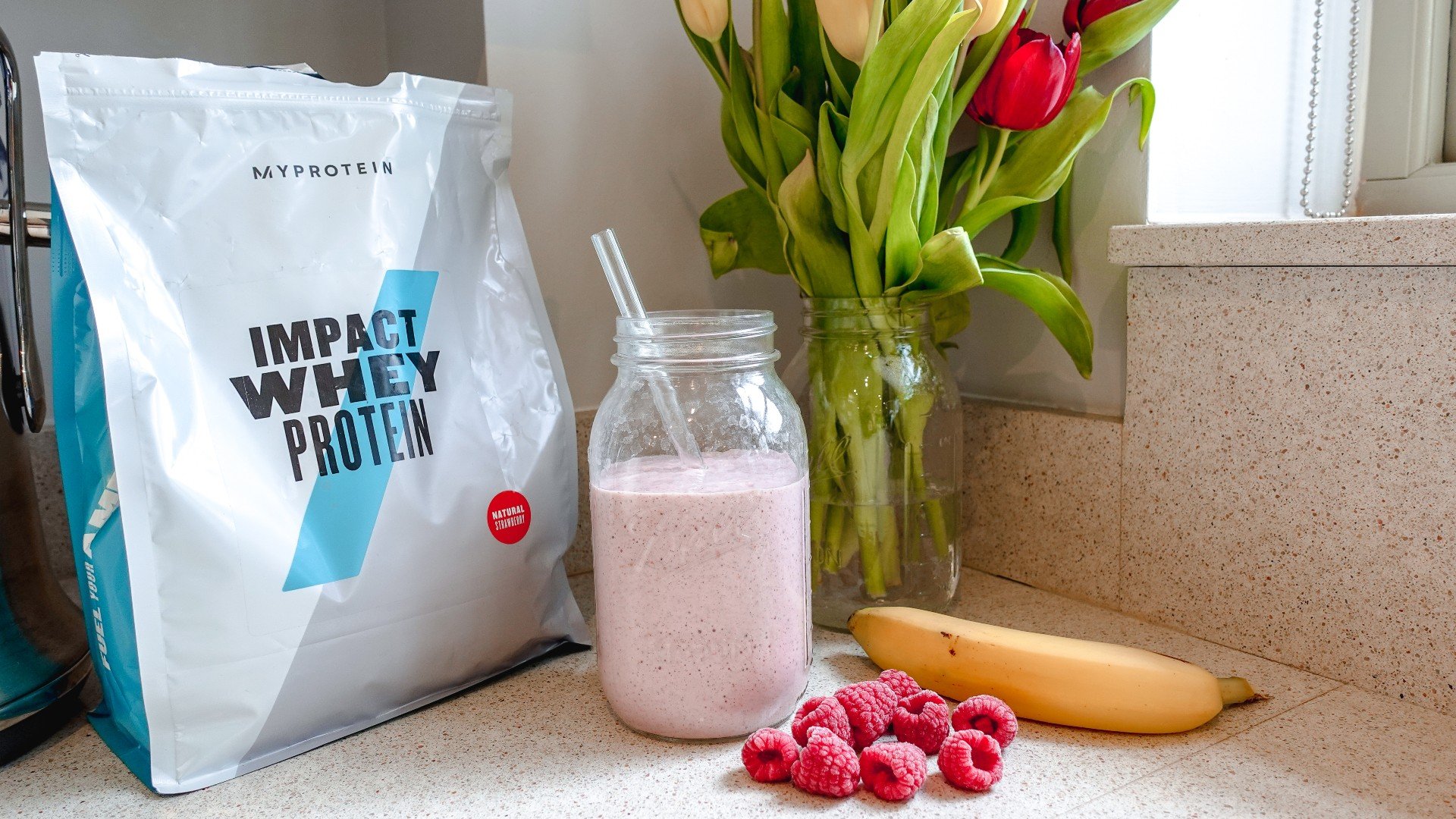 Method
1) Simply add all of your ingredients to a blender and blitz until smooth and lump-free. Enjoy immediately or pour into a shaker to take with you on the move.
Nutritional info per serving:
| | | | |
| --- | --- | --- | --- |
| Calories | Carbs | Protein | Fat |
| 401 | 58.6g | 25.6g | 9.5g |