Winter is coming, which only means one thing in the fitness community…
It's officially bulking season. That means upping your calorie intake to make it to that all-important calorie surplus. Having to eat a load more food sounds great in theory, but for a lot of people that means things can get pretty pricey.
Luckily, we're on hand with three simple, budget-friendly bulking shakes that won't only provide a delicious boost of calories alongside high-quality protein and carbs, but won't break the bank either (shout out to all the students, this one's for you especially).
In fact, we've worked out the price per serving and all of these high-impact shakes come in at well under £1.40, while providing at least 489 calories (in fact, our impressive Peanut Butter Banana shake actually weighs in at a massive 653 calories per serving). We don't think you'll be able to beat that value with anything you can find in the supermarket.
Not to mention, they're quicker and easier to fit into your day than yet another portion of chicken and rice.
Get your fill of these.
https://youtu.be/Zy8LCXDwr0E
Ingredients
Peanut Butter Banana:
Classic Chocolate:
Blueberry Boost: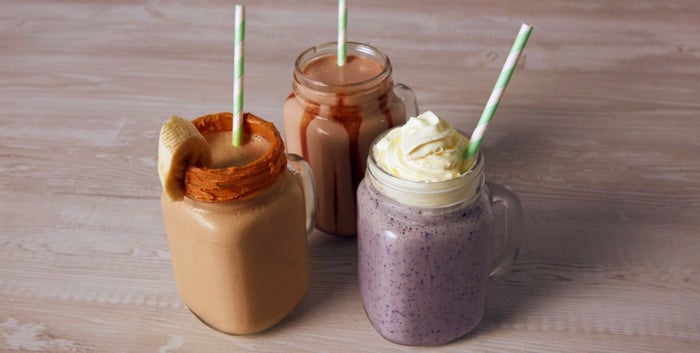 Method
For each shake, simply add all of the ingredients to a blender and blend until smooth.
Nutritional info per serving:
Peanut Butter Banana Shake
Calories
653
Carbs
77g
Protein
34g
Fat
25g
Chocolate Shake
Calories
510
Carbs
60g
Protein
34g
Fat
15g
Blueberry Shake
Calories
489
Carbs
49g
Protein
29g
Fat
14g
Lauren is an English Literature graduate originally from the South. She's always loved swimming, has discovered the power of weight training over the past few years, and has lots of room for improvement in her weekly hot yoga class. On the weekends she's usually cooking or eating some kind of brunch, and she enjoys trying out new recipes with her housemates – especially since shaking off student habits, like mainly surviving off pasta. Above all, she's a firm believer in keeping a balance between the gym and gin. Find out more about Lauren's experience here: https://www.linkedin.com/in/lauren-dawes-b4416aaa/