Gym wear has really evolved over the last few years, with advances in design and garment technology enhancing comfort and performance for men of all shapes and sizes.  
You may not have previously given much thought to your gym clothing, but here's why what you wear matters and what clothes you should wear to make the most of your workout. 
Why is it important what you wear when working out? 
Gyms may not usually have a strict dress code, but it's important to dress appropriately. You want to wear clothes that give you freedom to move but keep you well covered, made from materials that are breathable, lightweight and comfortable. 
There's also the added psychological benefit: if you feel good, you're more likely to feel motivated to have a good workout. 
Advice for finding the best men's gym clothes 
Comfort is key when it comes to finding gym clothes for men. Look for fabrics that are light, breathable, and moisture-wicking — this last one applies especially to any heavy sweaters out there — so you can stay cool when working out and train for longer.   
On what not to wear, avoid high-cotton clothing. Cotton's fine for most things, but it holds on to sweat, which is the last thing you want when you're exercising.    
If you're looking beyond comfort and want to really maximise your performance, you might want to try compression clothing — tight-fitting gymwear designed to help reduce muscle movement and post-workout soreness.   
My own preference is to work out in loose-fitting, lightweight clothes — shorts and a T-shirt — with a long-sleeved tee for warming up and cooling down. But it's completely up to you — work out in whatever you feel most comfortable in.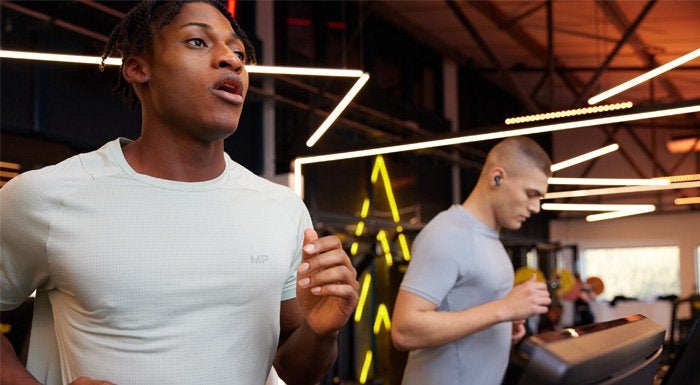 1. Dress to match your workout 
For comfort and performance, you should dress according to the activity. For instance, if you're using machines, safety is priority number one. So don't wear loose clothes that could get caught. 
If you're doing strength training, you'll want to bring some extra layers you can wear to stay warm between sets.  
And if you're going to be moving about a lot, wear clothes that give you plenty of freedom and you feel comfortable in.  
2. Shoes to fit the activity
Wearing the correct pair of shoes can also have a massive impact on your performance, as different activities require different footwear.  
For example, traditional weight-lighting shoes have a hard sole, elevated heel, and provide lateral support, making them ideal for a deep squatting position. But this means they won't be suitable for other exercises that require a more flexible sole. 
All running shoes are designed for running, but there are different shapes and sizes to choose from based on your running style and the distance you're running. The wrong pair of shoes could lead to discomfort and even injury, so you need to find the right pair.  
Cross training shoes are a modern alternative that have a stable sole with some pliability. They're specifically made to be worn for a variety of gym activities, though this may mean they're not the best pair for any specific exercise. 
My own preference is to wear running shoes for most activities, but to wear weightlifting shoes for lower-body work and power exercises. 
3. Follow gym etiquette 
Most gyms have a code of conduct or gym etiquette guidelines. As a general rule, it's best to avoid wearing excessively revealing clothing or vests that could make others uncomfortable. Bringing a small towel to wipe down equipment after use is also a considerate gesture.  
For more tips on etiquette, read here:  
4. Jewellery & accessories 
While you may like to wear items with sentimental or spiritual value, it's best to remove as much jewellery or non-functional accessories before you work out. These items can easily get caught, potentially causing injury to yourself or others.  
If you have some piercings that can't be easily removed, try taping over them to stop help prevent them from getting caught or pulled.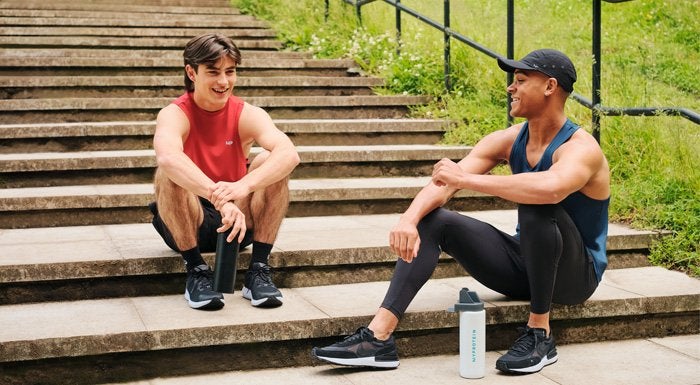 What should you wear to the gym? 
Cardio 
For cardio, wear clothes that allow you to move freely and keep cool. The Velocity Short Sleeve T-Shirt and Tempo Shorts are perfect, providing both flexibility and breathability.  
Weight Training 
During lower-intensity weight training sessions, layer your clothing to maintain a good temperature while you lift. The Performance T-Shirt and 2-in1 Shorts are ideal, and Knee Sleeves provide extra support.  
The Tempo Long 1/4 zip is perfect for warming up, cooling down, and stretching, to avoid sudden drops in body temperature.  
Combat Sports 
It's crucial to protect your body for combat sports. Stay covered with the Engage Short Sleeve T-Shirt and Engage Shorts during intense training sessions. Compression clothing is also helpful for recovery.  
HIIT 
High-intensity interval training demands clothes that are lightweight and ventilating. The Training Tank Top and Tempo Shorts are excellent choices for staying comfortable and agile during an intense session.  
Take Home Message
At the end of the day, the most important thing is to wear something suitable to your workout and to feel comfortable when you exercise. Whether you prefer joggers to shorts, or hoodies over T-shirts, it's up to you.  
The good news is there's plenty of choice nowadays. So find some gym clothes that let you exercise safely and move freely, and get ready to smash your workout.  
Want more of this?
READ THESE NEXT: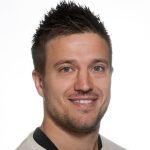 Simon started his fitness journey from a young age, and was playing sport as soon as he could roll a ball. This pushed him to compete in a variety of sports from rugby to squash.
After completing an MSc in Strength & Conditioning, alongside a PT qualification, he gained an academic role at the University of Chester. From lecturing to research-based studies, his applied role caters to both team and individual sports.