Millions of people visit Australia's national parks each year, travelling from far and wide to enjoy awe-inspiring views. But it's not just stunning scenery; national parks offer lots of opportunities for those wanting to keep fit, where you can run, bike, climb, hike, swim, surf and so much more.
But with hundreds of national parks to choose from, it can be difficult knowing where to begin! To help narrow things down, we searched through Instagram, analysing millions of photos to find the most popular parks, where you'll enjoy picture-perfect views while you work out.
These are Australia's most Instagrammable national parks.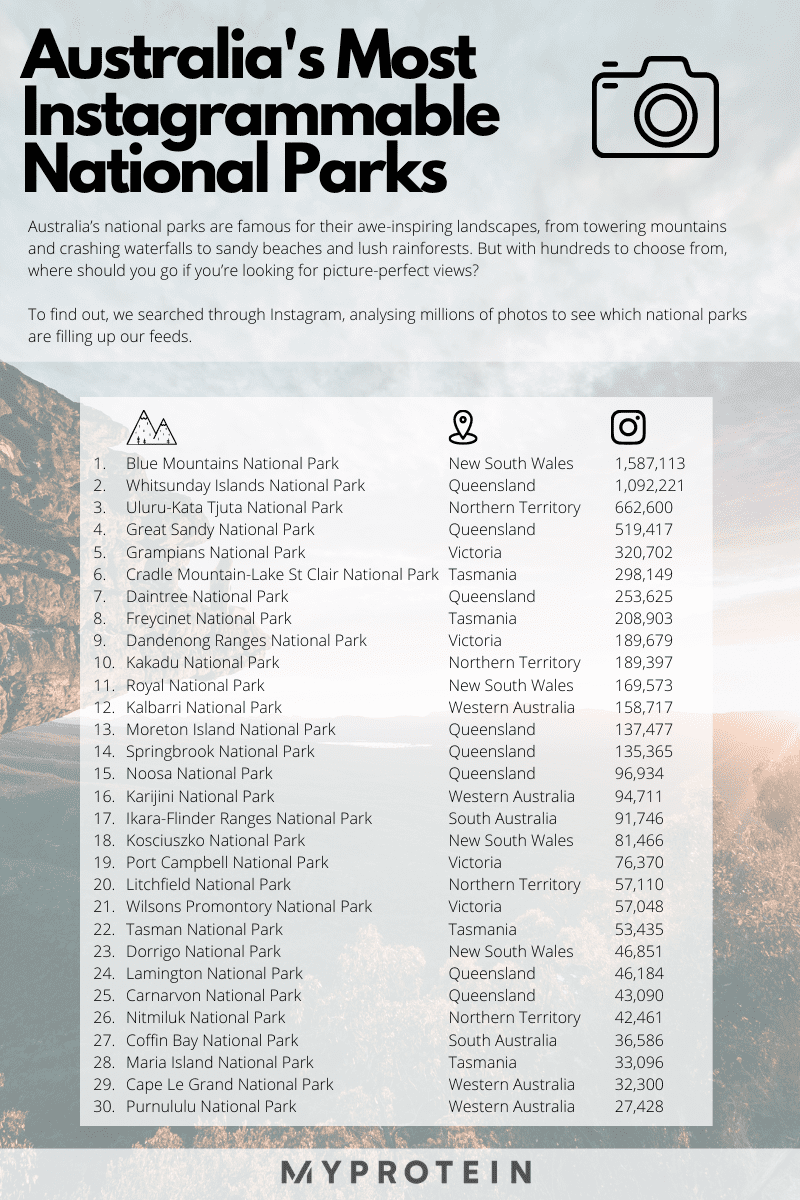 1. Blue Mountains National Park, New South Wales – 1,587,113 posts
Taking the top spot with nearly 1.6 million photos is Blue Mountains National Park. Just over an hour outside of Sydney, the World Heritage-listed Blue Mountains is perfect for an action-packed daytrip, with a range of hiking trails on offer, as well as cycling, rock climbing, abseiling and horse riding. For some memorable snaps, head to the crashing Katoomba Falls or the spectacular Three Sisters.
2. Whitsundays Islands National Park, Queensland –  1,092,221 posts
With crystal clear waters, pristine sandy beaches and an array of majestic wildlife, it's no surprise to see how popular Whitsundays Islands National Park is on Instagram, with users sharing over 1 million photos on the app. Visitors can explore the islands by boat, or strap on a snorkel to get an up-close view of the stunning Great Barrier Reef.
3. Uluru-Kata Tjuta National Park, Northern Territory –  662,600 posts
Home to two of Australia's most iconic and sacred sites, Uluru-Kata Tjuta National Park has inspired an impressive 662,600 photos on Instagram. Get up early for the breath-taking sunrise and watch the rock formations change colour before your eyes, before following ancient ancestral tracks on one of the park's many walking routes.
4. Great Sandy National Park, Queensland –  519,417 posts
Another spot high up on any beach-lover's travel list, Great Sandy National Park has over half a million posts on Instagram. As well as gorgeous freshwater lakes, the park is home to Fraser Island, the world's largest sand island, and the only place on the planet where rainforests grow on sand dunes at elevations of more than 200 metres!
5. Grampians National Park, Victoria –  320,702 posts
Just a two and a half hour drive from Melbourne, Grampians National Park boasts more than just awe-inspiring views, it's also home to its very own wine region. What better way to relax after a long hike on one of the park's many walking tracks than visiting one of the area's vineyards and sampling some award winning wines?
6. Cradle Mountain-Lake St Clair National Park, Tasmania –  298,149 posts
With almost 300,000 posts on Instagram, Cradle Mountain-Lake St Clair National Park is a dream for avid walkers, with a wealth of wilderness to explore, whether on a short stroll or one of the many multi-day trips, like the six-day Overland Track hike. Whatever your fitness level, you'll enjoy sensational mountain views, as well as adorable local wildlife, like wallabies, wombats and pademelons.
7. Daintree National Park, Queensland –  253,625 posts
If greenery is more your thing, head to Daintree National Park, just two and a half hours from Cairns and home to the oldest tropical rainforest in the world. Explore the incredible Mossman Gorge, keep an eye out for saltwater crocodiles, or learn more about local Aboriginal culture on a Ngadiku Dreamtime Walk, led by the local Indigenous people.
8. Freycinet National Park, Tasmania –  208,903 posts
On the east coast of Tasmania, Freycinet National Park is best known for the magnificent Wineglass Bay, but visitors can also enjoy the dramatic pink granite peaks of the Hazards Range, as well as white sandy beaches, secluded bays and bird-filled lagoons.
9. Dandenong Ranges National Park, Victoria –  189,679 posts
Just a short drive or train journey from Melbourne, Dandenong Ranges National Park offers a welcome break from the hustle and bustle of city life, with lush rainforests, steep volcanic hills and beautiful waterfalls. If you fancy putting your stamina to the test, try the Kokoda Track Memorial Walk, a 1,000 step-track up through the forest, with stunning views of Melbourne waiting for you at the top.
10. Kakadu National Park, Northern Territory – 189,397 posts
Australia's largest national park, Kakadu covers an area of almost 20,000 square kilometres, including wetlands, rivers and sandstone escarpments. Home to over 2,000 plant species, as well as an impressive array of wildlife like saltwater crocodiles and flatback turtles, Kakadu National Park is a popular spot with animal-lovers, while the famous Jim Jam Falls and Twin Falls are guaranteed to take your breath away.
Take home message
Whether you're looking for a scenic spot to take a nice, gentle stroll or you're planning a heart-pumping cardio session, you can't go wrong with one of Australia's beautiful national parks. Not only do you get to exercise in the great outdoors, you can also get some stunning Insta-worthy pics while you're at it!
Methodology
We compiled a list of Australia's largest and most popular national parks, before looking at the number of photos on Instagram featuring the name of the park in a hashtag, as well as associated hashtags (e.g. #UluruKataTjutaNationalPark, #UluruKataTjuta, #ExploreUluru). We then combined these figures to create our overall ranking, before cutting this list down to the top 30 parks.