No sports movie is complete without a training montage, from Rocky and The Karate Kid to Cool Runnings and Kung Fu Panda. But which is the best of the best? We decided to find out.
But first, we needed to know what makes a great movie training montage. Luckily, we weren't alone – we had some help from 7 fantastic trainers from our personal trainer scheme: Rob Hemingway, Claire Williamson, Andrew McDonald, Isabel Leonel, Daniel Hall, Lucy Burns and Sam Lyne.
As well as featuring a difficult, physically demanding workout, where we see a character undergo significant improvement, the ultimate movie training montage must have performed well in the box office, been a hit with critics and audiences alike, created a lasting buzz and had a catchy soundtrack.
With our criteria finalised and our team assembled, we set to work comparing 35 of the most iconic movie training montages of all time.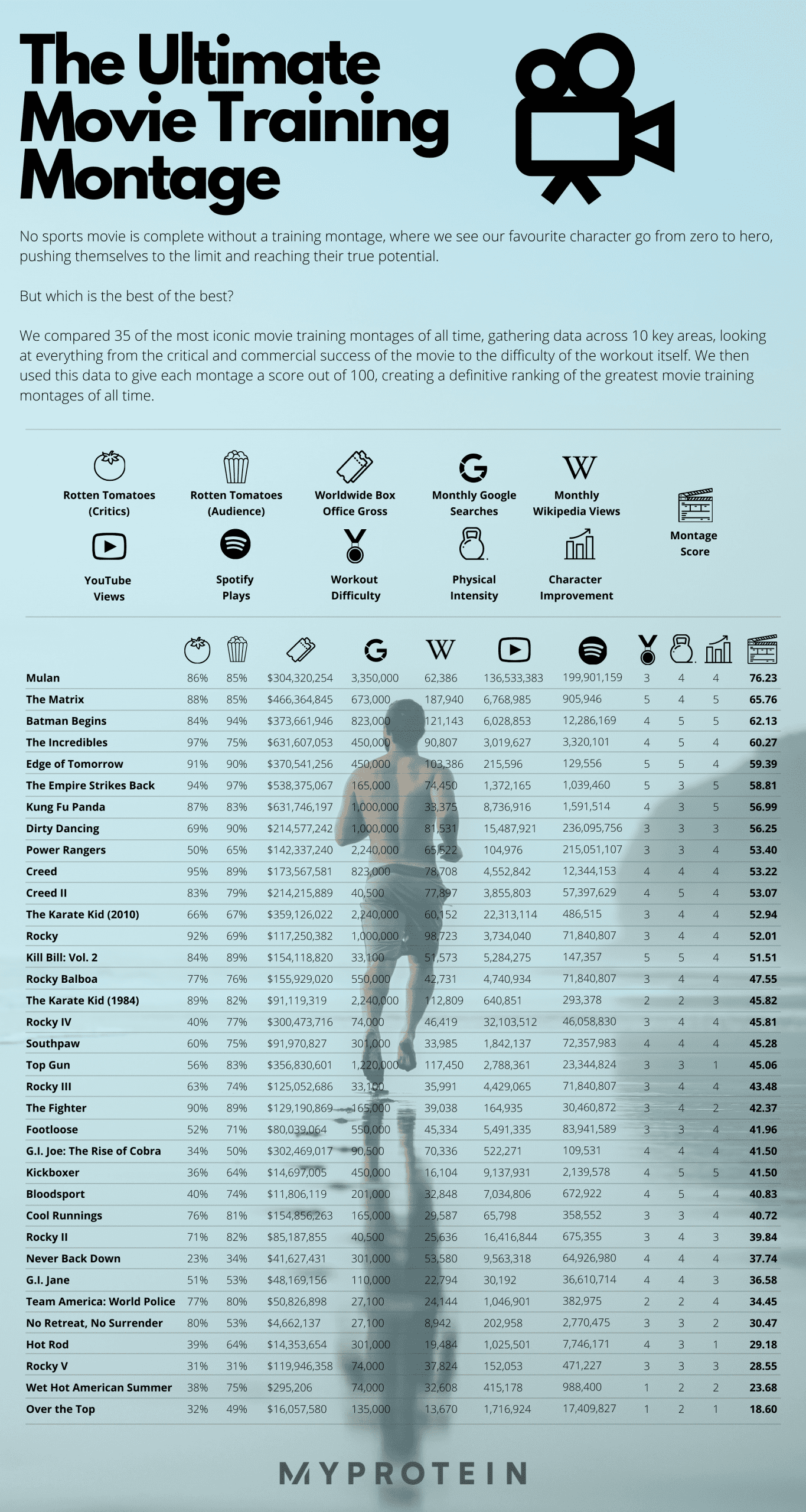 And the winner is…
Taking the top spot with an impressive score of 76.23 is Disney's Mulan. The montage, set to the toe-tapping "I'll Make a Man Out Of You", sees Mulan disguise herself as a man to train with the Chinese army, where she struggles to prove herself to captain Li Shang. However, over the course of the scene, Mulan overcomes every obstacle in her path, outperforming the other recruits and earning her place as one of our favourite Disney princesses!
Coming in second place is The Matrix, with a score of 65.76. In this scene, Neo becomes an expert in various forms of hand-to-hand combat, all by having training programs uploaded directly to his brain – if only it was that easy in real life! Finally, he puts his new found skills to the test in a truly unforgettable one-on-one fight with Morpheus.
At the other end of the table, Over the Top comes in last place, scoring just 18.6. Starring Sylvester Stallone as struggling trucker Lincoln Hawk, Over the Top follows his journey to become a champion arm wrestler, while also trying to reconnect with his estranged son. The movie's montage sees Hawk using his truck as a training aid, doing curls off the front bumper and tricep pull-downs in the cab.
Which movie training montage has the best soundtrack?
A catchy soundtrack is a vital component of any good movie montage; something that will set the scene and stay stuck in your head. And when you hear that song weeks, months or even years later, it'll instantly make you think of that montage.
So, which of our 35 iconic movie training montages has the best soundtrack?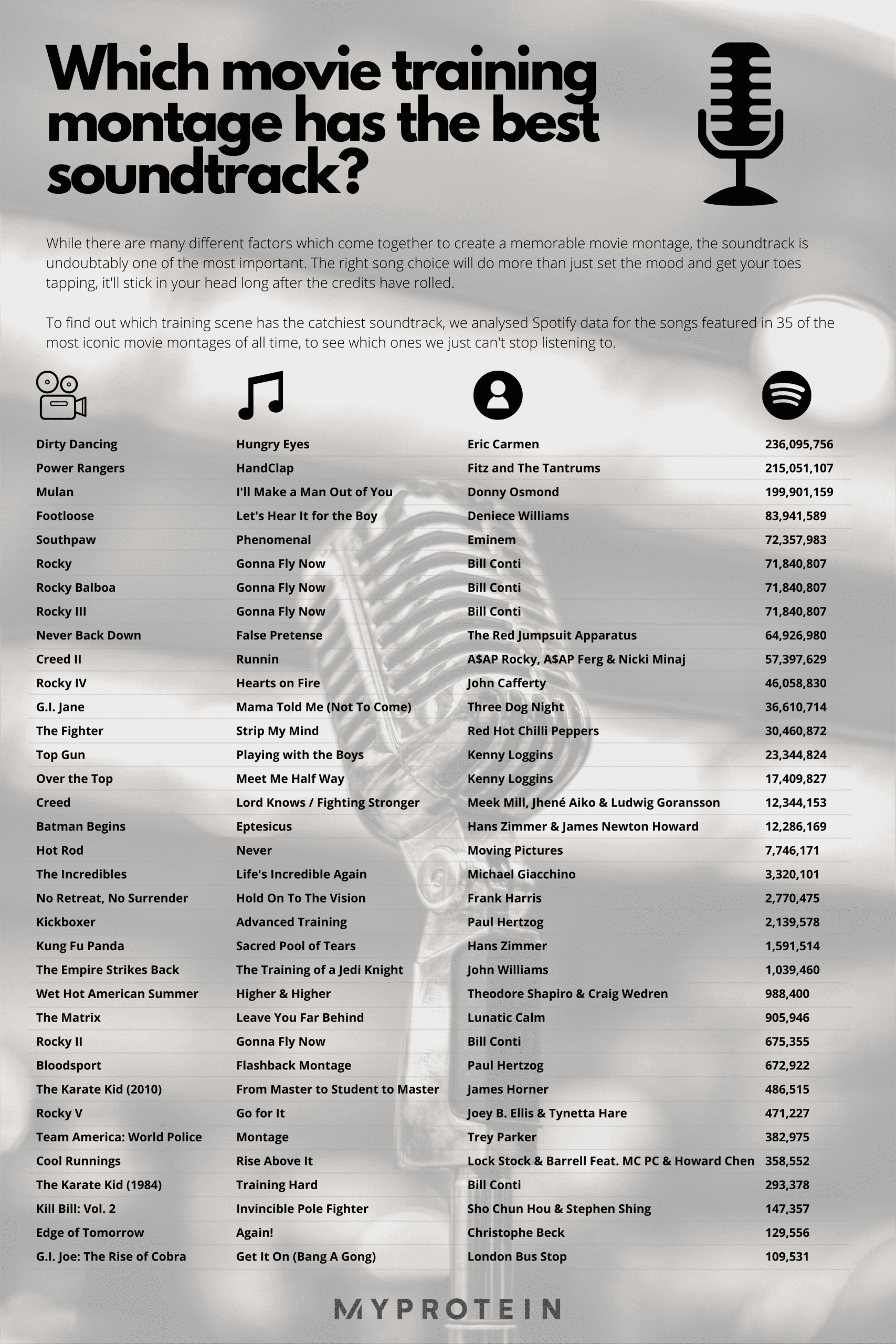 And the winner is…
Coming in at number one is Dirty Dancing, which features Eric Carmen's "Hungry Eyes". With over 236 million plays on Spotify, it's impossible to hear this song and not picture Baby finding her feet and learning to dance.
Power Rangers takes the number two spot, with Fitz and The Tantrums' "HandClap" enjoying over 215 million plays on Spotify, followed by Donny Osmond's "I'll Make a Man Out of You" from Mulan, with nearly 200 million plays.
Bringing up the rear is G.I. Joe: The Rise of Cobra. In this montage, Duke and Ripcord are put through their paces in The Pit to the sound of London Bus Stop's "Get It On (Bang a Gong)", which has just 109,531 plays on Spotify.
Take Home Message
When you're planning your next workout, why not turn to your favourite movies for some inspiration? Whether you're just searching for a catchy song to add to a motivating gym playlist, or are looking for some heart-pumping exercises to mix up your routine, you can find all of this and more on the big screen.
Methodology
We compiled a list of 35 of the most iconic movie training montages of all time, before gathering data for 10 different criteria. Using a weighted ranking system, each montage with then given a score for each of the 10 different criteria, which were then combined to create the final score out of 100. Each of the 10 criteria made up 10% of the final score.
The Workout Difficulty, Physical Intensity and Character Improvement scores were out of 5, based on the following:
Workout Difficulty:
No skill required whatsoever
Beginner skill level required
Intermediate skill level required
Expert skill level required
Practically impossible
Physical Intensity:
So easy you hardly need to try
Starting to raise heart rate and work up a sweat
Heart pumping, out of breath, but still doable
High intensity, guaranteed to be left aching afterwards
Brutal, pushing the body way past its limits
Character Improvement:
No improvement whatsoever
Slight improvement
Moderate improvement
Significant improvement
Complete transformation, zero to hero
Data sources included Rotten Tomatoes, Box Office Mojo, Google Keyword Planner, Wikipedia, YouTube and Spotify. Box office gross listed in U.S. dollars. All data accurate as of June 2021.