We're taking plant-based nutrition to the next level with the launch of our exciting new vegan range. Refreshed and reformulated, it's packed with performance supplements to drive you through training, everyday blends to support your wellbeing, and delicious snacks to keep your cravings in check.
We've split the range into three sections to reflect this – PERFORM, SUSTAIN, and NOURISH. Each one is well worth checking out, whether you're just giving Veganuary a go or you waved goodbye to animal products years ago. Here's what they're all about…
1. PERFORM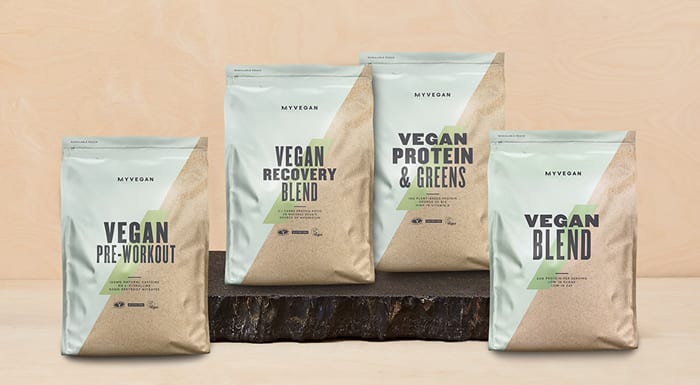 Take your training up a gear with these scientifically backed supplements. Supporting your body from start to finish, these are here to help you get the most from every single movement, every single workout:
Kick things off with this hard-hitting plant-based formula. A winning combination of corn-fermented L-citrulline, green coffee and green tea extracts, and vitamin C — it will increase endurance and improve alertness.1
Now in better shape than ever, we've improved the taste and texture of our must-have plant-based shake. Each servings provides 22g of protein from fava bean and pea protein, making it the ideal choice to support muscle growth and repair.2
We're reinventing intra-workout hydration with this one. Made with essential amino acids and important electrolytes, it's the perfect blend to replenish your body during a tough training session.
Ramp up your results with this super-effective post-workout blend — designed to deliver an ideal ratio of plant-based protein alongside both simple and complex carbs, it's just the thing for muscle recovery.3
To find out more about PERFORM, check out this article.
2. SUSTAIN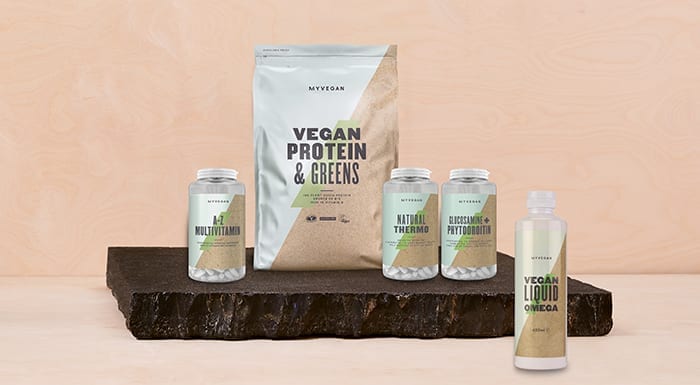 Created specifically to support your body from the inside out with a whole load of natural goodness, these five supplements will help to keep you feeling your best, so that you can put all of your energy into the important things. Make room for these in your daily routine:
Combat aches and pains with these joint support capsules — perfect to help cushion the blow of a heavy training schedule. Each one contains glucosamine and chondroitin, which are components of cartilage, which absorbs impact in joints when you move.
Need help getting into shape? Fire up your fitness goals with our plant-based fat burner. Made only with natural plant extracts including citrus hesperidin and green tea, they can help regulate cholesterol synthesis and support metabolism.4,5
A killer combination of plant-based protein and superfood extracts, such as kale, chlorella, spinach and spirulina — this blend certainly packs a punch. And it comes in three delicious flavours, including Mocha, Banana & Cinnamon, and Coconut & Lime. Getting your greens never tasted so great.
We don't think there's a simpler – or tastier – way to get your daily dose of essential omega-3 fatty acids. Thanks to our unique nano-encapsulation technology, you can get all the benefits with none of the aftertaste – simply drizzle the refreshing tangerine liquid over fruit, into smoothies, or enjoy straight off the spoon.
Following a plant-based diet shouldn't mean missing out on any important nutrient – no matter how small. We've packed 22 essential vitamins and minerals into each one of these comprehensive capsules.
To find out more about SUSTAIN, check out this article.
 3. NOURISH
In the eyes of many, snacking is perhaps the most important part of nutrition to consider, and these four products are here to prove that going green certainly doesn't mean settling for second best. Sink your teeth into this lot:
Pocket-sized, protein-packed balls of goodness. Pick from Red Berry or Peanut flavour, and get your gains on the go.
Brunch is the most important meal of the day, right? Get stacking with our super-convenient pancake mix – each serving packs in 20g of plant-based protein and comes in at under 190 calories.
Spice it up with this superfood powder, turmeric comes from the same family as ginger and is renowned for its power anti-inflammatory effects. Add to hot drinks, shakes, and baking — it's as simple as that.
Rich, chocolatey, indulgent – and yes, completely plant-based, we promise. Loaded with 13g of protein, they're a perfect after-training treat.
To find out more about NOURISH, check out this article.
Take Home Message
We hope you're just as excited about our new vegan range as we are. Whatever your level, whatever your goal, we're pretty certain that you'll find a new favourite amongst these — all that's left to do is put them to the test.
Our articles should be used for informational and educational purposes only and are not intended to be taken as medical advice. If you're concerned, consult a health professional before taking dietary supplements or introducing any major changes to your diet.
Caffeine contributes to an increase in endurance performance and capacity, and helps to increase alertness.
Protein contributes to the growth and maintenance of muscle mass.
Ivy, J. L., Goforth Jr, H. W., Damon, B. M., McCauley, T. R., Parsons, E. C., & Price, T. B. (2002). Early postexercise muscle glycogen recovery is enhanced with a carbohydrate-protein supplement. Journal of Applied Physiology, 93(4), 1337-1344.
Chiba, H., Uehara, M., Wu, J., Wang, X., Masuyama, R., Suzuki, K., … & Ishimi, Y. (2003). Hesperidin, a citrus flavonoid, inhibits bone loss and decreases serum and hepatic lipids in ovariectomized mice. The Journal of Nutrition, 133(6), 1892-1897.
Westerterp-Plantenga, M. S. (2010). Green tea catechins, caffeine and body-weight regulation. Physiology & Behavior, 100(1), 42-46.
Lauren is an English Literature graduate originally from the South. She's always loved swimming, has discovered the power of weight training over the past few years, and has lots of room for improvement in her weekly hot yoga class. On the weekends she's usually cooking or eating some kind of brunch, and she enjoys trying out new recipes with her housemates – especially since shaking off student habits, like mainly surviving off pasta. Above all, she's a firm believer in keeping a balance between the gym and gin. Find out more about Lauren's experience here: https://www.linkedin.com/in/lauren-dawes-b4416aaa/