To celebrate Mental Health Awareness this October, we've taken a look at some of the best mood-boosting foods out there to create delicious meals that can help to nourish both your mind and body.1
Related article: 5 easy ways to eat yourself happy — top mood foods for mental health
You're probably used to people telling you to cut down on the carbs, right? Well, despite the bad press they get, carbs actually play a very important role in improving your mood and how you behave.
Eating carbohydrates triggers the entry of tryptophan to the brain, which in turn promotes the feeling of well-being. This is because the body uses tryptophan to help make serotonin, which plays a key part in maintaining a healthy sleep cycle and a stable mood.2 We always knew there was a reason we felt so strongly about pasta…
This quick & easy stuffed pepper recipe is the perfect way to get a healthy serving of low GI carbs as they're packed with bulgur wheat, which is a whole grain that contains high amounts of vitamins, minerals, and fibre. They've also got a great protein content thanks to the tasty beef mince filling — ideal for helping you hit those daily targets.
Enjoy them straight away — with a generous sprinkling of grated cheddar — or portion them up for your meal prep that week.
Serves 3
Ingredients
3 large bell peppers
1 onion (finely chopped)
2 tbsp. olive oil
500g lean beef mince
1 tbsp. mixed herbs
1 tbsp. tomato puree
Salt & pepper
200g bulgur wheat (rinsed & drained)
400ml vegetable stock
Fresh parsley
Grated cheddar (optional)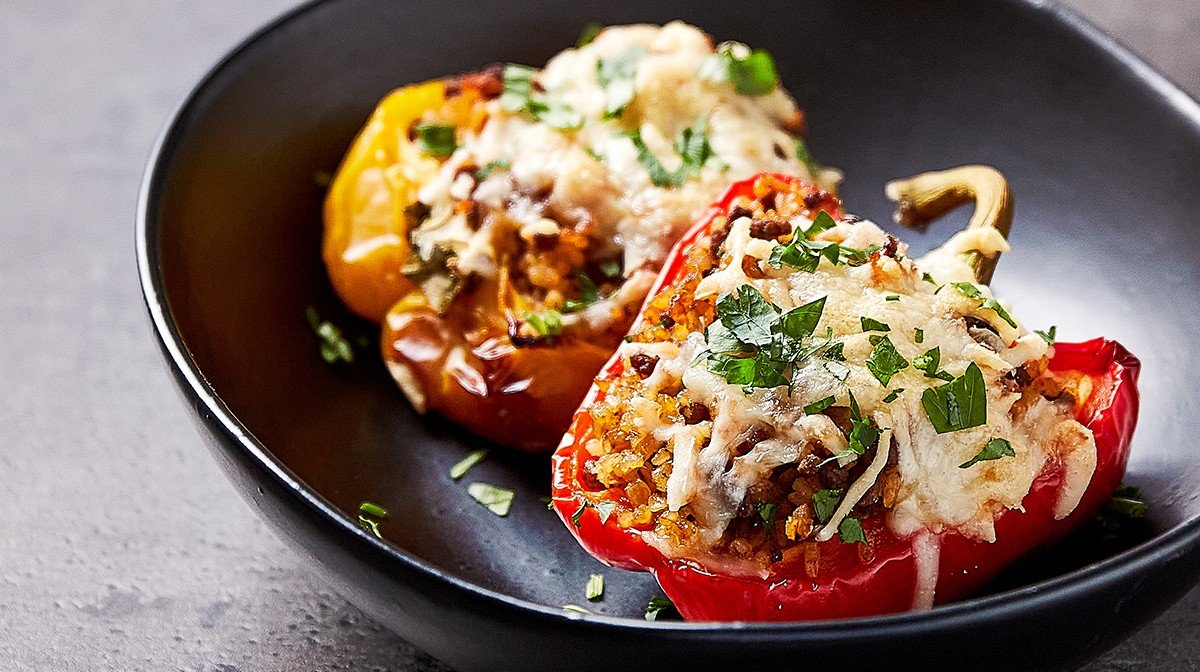 Method
Preheat the oven to 200°C.
Rinse, halve and deseed all the peppers. Place them on a baking tray (open side up), sprinkle with a little olive oil and a pinch of salt, and then roast for 10 minutes. Take out of the oven and let cool. Keep the oven on, but turn down to 180°C.
Meanwhile, fry the chopped onion in olive oil until soft. Then add the beef mince and break it up with your spoon so that you get even, small pieces. Fry for 5 minutes, stirring constantly.
Season with salt and pepper, then add the dry mixed herbs and stir in the tomato paste.
Add the rinsed & drained bulgur wheat, stirring well so it's all combined, and then add the vegetable stock. Turn the heat on low and simmer covered for 10 minutes until the bulgur has soaked up all the liquids.
Now spoon the beef and bulgur wheat mixture into each pepper half and place bake on the tray.
Roast the pepper for 10 minutes at 180°C.
Serve immediately with a generous sprinkling of grated cheese and some fresh parsley.