This one-pot vegan meal prep recipe is a guaranteed win for your weekday lunches.
---
Whether you're committed to a plant-based lifestyle or you're just looking for a way to mix up your chicken and rice meal prep, this delicious lentil dahl is definitely one to spice up your routine.
It's made with red lentils which are packed with plenty of protein and fibre, as well as essential nutrients such as B vitamins, iron, potassium and zinc — ideal for injecting a whole load of goodness to your daily diet.
And, if you have the time, why not treat yourself to the full package by making these incredible homemade naans to go with. They're super-simple, completely vegan and will make you the envy of your colleagues at lunch.
Makes 4
Ingredients
For the lentil dahl:
2 tbsp. 100% Coconut Oil
1 onion (chopped)
1-inch piece ginger (grated)
3 garlic cloves (crushed)
1.5 tbsp. turmeric
1.5 tbsp. cumin
15 tbsp. medium curry powder
300g red lentils (washed)
1 tin chopped tomatoes
1.2L vegetable stock
Coriander to serve
For the homemade naan:
200g plain flour
¼ tsp. salt
2 tsp. baking powder
250g plain dairy-free yoghurt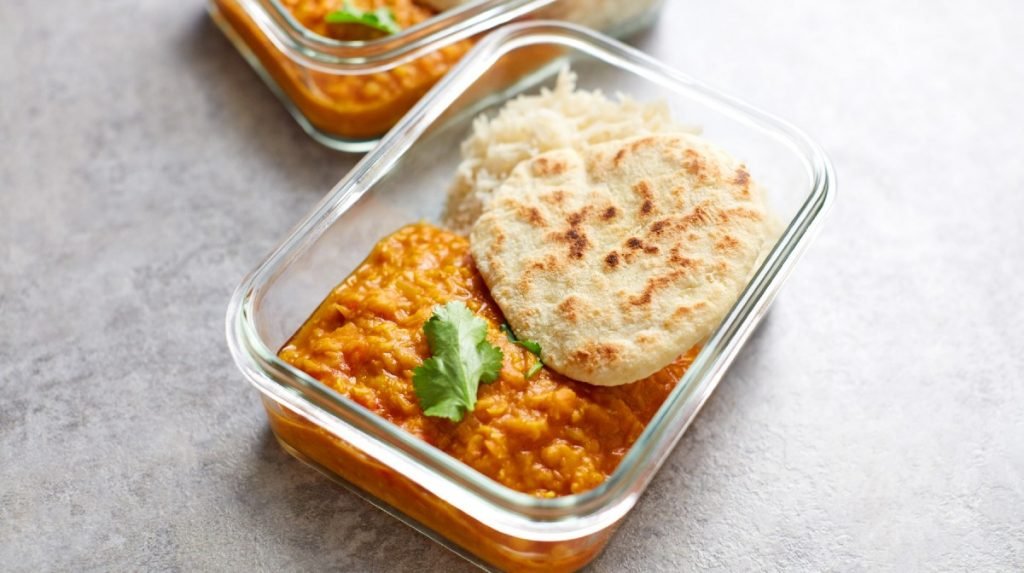 Method
First, add the coconut oil to a large saucepan on a medium heat. Once melted, add the onion, ginger and garlic, and fry for 3-4 minutes, stirring occasionally.
While waiting, prepare the stock in a separate bowl or jug — dissolving a stock cube in 1200ml boiling water. Set aside.
Then add the turmeric, cumin and curry powder to the frying pan and fry for a further minute while stirring.
Add the lentils and stir to make sure that they're fully combined with the ingredients already in the pan. Then add the tomatoes and mix through.
Now carefully pour in the stock, stirring slowly to make sure everything is fully combined. Lower the heat, place the lid on the pan and then leave to simmer for 30 minutes.
While waiting, start to prepare your naans. Add the flour, salt, baking powder and yoghurt to a bowl and mix well until you have a thick dough.
Sprinkle a little flour over your work surface and then use your hands to fully knead and combine the dough into a ball. Use a sharp knife to cut the ball into equal sections — we went for 8 sections for mini naans, but quarters would make 4 big ones.
Shape each section of dough into a flat disc shape with your hands, and then place them into a frying pan over medium heat, one at a time. Fry for a few minutes on each so, until it begins to rise up and brown.
Once your one-pot lentil dahl has cooked, stir well and then portion up with rice into meal prep containers. Add a mini naan to each one and garnish with coriander.