Mike Thurston has this breakfast omelette every morning "without fail", so it must be something special.
---
It's a well-known fact in the fitness world that your training is only part of the picture when it comes to making progress — a lot of the hard work happens in the kitchen too. You can guarantee that a machine like Mike Thurston has his nutrition nailed as well as his workout regime – you don't get abs like that from sit-ups alone, trust us.
We knew he'd have a few killer recipes up his sleeve, so we asked him to spill the beans on his breakfast go-to. His omelette is everything we expected from a muscle-building bro — it's absolutely packed with protein, providing over 37g in one serving.
It's also a nice way to get in a few veggies early in the day, including a healthy handful of spinach which in Mike's own words is "most tolerable when it's in this form". You can easily swap in your own favourites if you prefer (or just anything in the fridge that needs using up, really) and you can adjust the number of eggs to fit your own goals, too.
Feel like giving it a go? Get crackin'
Serves 1
Ingredients
4 whole eggs
1 egg white
1 garlic clove (minced)
½ onion (chopped)
2 rashers bacon (chopped)
Handful cherry tomatoes
1 tsp. chopped dill
Handful spinach
Low-calorie cooking spray
Sugar-Free Sauce (BBQ) to serve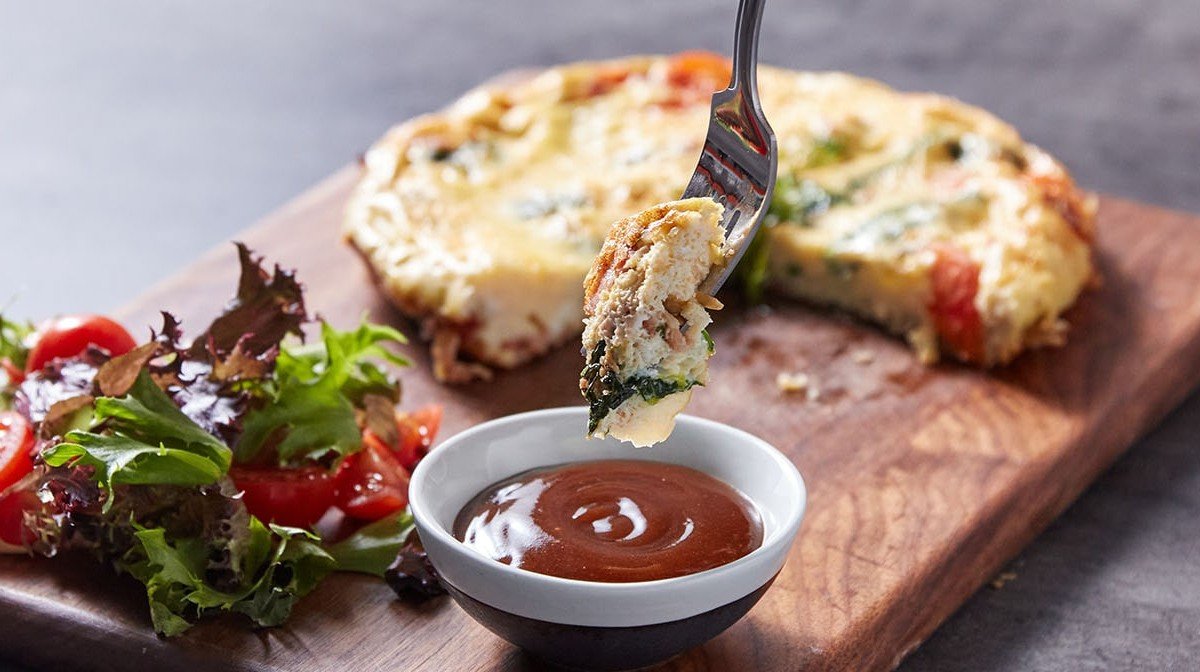 Method
1) Preheat your grill to 180°C.
2) To start with, Mike cracks 4 whole eggs into a bowl along with 1 egg white – feel free to adjust this in line with your own macros for the day though. Beat the eggs together until you have a well-combined mixture and then set aside.
3) Add a little low-calorie cooking spray to a large non-stick pan over medium heat, then add the garlic and onion. Fry for a few minutes then add the chopped bacon and cook for another 3-4 minutes.
4) Next add the chopped tomatoes, dill, and spinach. Cook for a few minutes, stirring constantly until the spinach has wilted. Pour the egg mixture into the pan.
5) Cook at a low heat for a few minutes and then transfer to the grill for 10 minutes. You're aiming for a solid top & bottom, but a nice gooey centre to your omelette.
6) Remove from the grill and serve with plenty of BBQ Sugar-Free Sauce for dipping. Delicious!