We've promoted potatoes from side-piece to your main meal.
Potatoes — a dinnertime favourite and the most versatile vegetable in your cupboard. If you're fed up with the same old fries, or jacket potatoes, then it's time to get creative. Luckily, Niall's on hand to help. He's pimped up your average potato to create these awesome loaded Hasselback Potatoes, in two exciting ways.
For a tasty veggie option, combine the classic combo of mozzarella and tomato with the humble potato for a delicious dinner. Want more of a meat feast? Niall's showing us how to make cheesy chicken potatoes too.
Serves 4
https://youtu.be/7yHKLOI9SVE
Ingredients
4 large Maris Piper potatoes (washed)
2 tbsp. 100% Coconut Oil
2 garlic cloves (crushed)
1 tbsp. oregano
50g mozzarella (sliced)
2 tomatoes (sliced)
1 handful spinach
1 cooked chicken breast (try baking in Cajun seasoning)
1 red pepper (sliced)
40g cheddar (sliced)

Method
Preheat your oven to 200°C (180°C for fan-assisted).
Place the potato between the handles of two wooden spoons or spatulas and cut thin slices into the potato widthways along the length of each potato, cutting down as far as the wooden spoons will let you (not all the way through).
Next, transfer your potatoes to a baking tray and add the melted coconut oil, mixed with crushed garlic.
Then, add oregano and season your potatoes generously with salt and pepper before baking them for 1 hour.
Once baked, remove them from the oven and allow to cool before adding the fillings.
Place a couple of slices of cheddar or mozzarella on top of each potato and bake for another ten minutes. Then, remove and tuck in!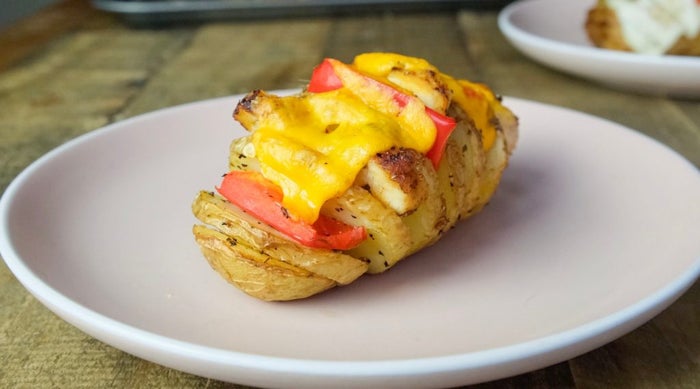 Nutritional info:
| | | | | |
| --- | --- | --- | --- | --- |
| | Calories | Carbs | Protein | Fat |
| Tomato & Mozzarella | 376 | 44g | 8g | 18g |
| Chicken & Cheddar | 480 | 43g | 28g | 22g |
Enjoyed this recipe? Try these next: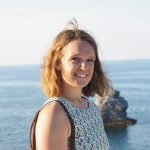 Evangeline is a Veganuary convert and newbie vegan with a degree in English and French from the University of Nottingham. Having recently ditched the meat and dairy, she really enjoys the new flavours and cooking techniques she's encountered on a plant-based diet. She's been shocked by the millions of ways you can use tofu, however still hasn't found a decent cheese substitute! When she's not in the office or eating, Evangeline usually out running or sailing. As a qualified RYA Dinghy Instructor and a marathon runner, she knows the importance of providing your body with the right nutrients for endurance sports as well as a busy lifestyle. Find out more about Evie's experience here.