Pack in the plant-based protein with this sweet treat.
Sometimes all you want is cake… minus the time and effort of baking. That's where we come in with this delicious blueberry mug cake recipe.
Made with a handful of ingredients, you'll be ready to dig in after just a matter of minutes. Plus, you'll have a fraction of the washing up to deal with afterwards.
Made with a scoop of our Brown Rice Protein, it's an easy way to top up your daily protein intake — great for supporting loads of important functions in the body, as well as helping your muscles to grow and repair.
All in all, we think this low-fat, plant-based mug cake is the perfect solution for when cravings come calling.
Makes 1
https://youtu.be/Se7Df0n9CKA
Ingredients
4 tbsp. almond milk
1 scoop Brown Rice Protein
2 tbsp. coconut sugar
¼ tsp. baking powder
Handful of blueberries
Optional extras: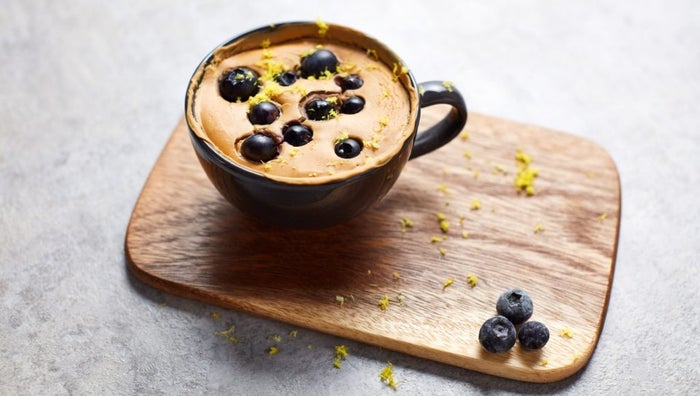 Method
Add the milk, protein powder, coconut sugar, and baking powder to a microwave-safe mug and stir well with a fork until you get a smooth mixture.
Once fully combined, sprinkle a handful of blueberries on top of the mixture and place into the microwave.
Microwave for 90 seconds at 800 watts. Timing may vary according to your microwave, so we recommend keeping an eye on the mug cake throughout — it should rise, but if it starts to bubble over the rim of the mug then stop the microwave and let it stand for a few seconds.
Remove from the microwave and let cool for at least 3-4 minutes before eating. Garnish with some lemon zest, and, if you're feeling indulgent, why not try a drizzle of syrup too?
Check out these plant-based treats next:
Nutritional info per serving:
| | |
| --- | --- |
| Calories | 248 |
| Total Carbohydrates | 38g |
| Protein | 24g |
Lauren is an English Literature graduate originally from the South. She's always loved swimming, has discovered the power of weight training over the past few years, and has lots of room for improvement in her weekly hot yoga class. On the weekends she's usually cooking or eating some kind of brunch, and she enjoys trying out new recipes with her housemates – especially since shaking off student habits, like mainly surviving off pasta. Above all, she's a firm believer in keeping a balance between the gym and gin. Find out more about Lauren's experience here: https://www.linkedin.com/in/lauren-dawes-b4416aaa/