Who can resist a warm sausage roll, fresh out the oven?
With this simple recipe, you can tuck into these Christmas classic, sausage rolls, without a second thought, as we've replaced buttery pastry with tortilla wraps to put a healthier spin on everyone's favourite festive snack.
They're are every bit as delicious and full of flavour, just a slightly lighter version — ideal for making sure there's room for all the other Christmas temptations, right?
Makes 16 sausage rolls
https://youtu.be/sdfVa7TgprE
Ingredients
12 lean sausages
1 tsp. paprika
1 tsp. oregano
Salt & pepper to taste
4 plain tortilla wraps
40g butter (melted)
Sesame seeds
Extras: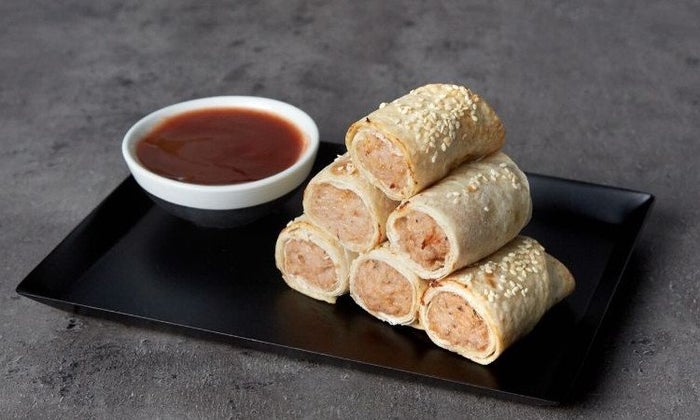 Method
1) Preheat the oven to 180°C/350°F.
2) First, in a large bowl, squeeze the all of the meat out of the sausage casings. Add the herbs and seasoning and mix together well with your hands or a spatula.
3) Next, layout the tortilla wraps and divide the sausage meat equally between them, placing it in a log across the middle of each wrap.
4) Starting from the bottom of each wrap, use both hands to roll upwards until you have a tight sausage roll.
5) Cut the roll into four equal pieces — or if you want bite-sized sausage rolls you can always cut smaller — and place them onto a baking tray.
6) Brush each sausage roll with melted butter and sprinkle with sesame seeds. Then bake in the oven for 20 minutes, until the tortillas have turned slightly golden around the edges.
7) Allow to cool for a little while, then enjoy them warm (or cold if you prefer) with a generous serving of Sugar-Free Sauce.
Enjoyed this festive recipe? Try these next!
Nutritional info per serving:
| | |
| --- | --- |
| Calories | 149 |
| Total Fat | 4g |
| Total Carbohydrates | 12g |
| Protein | 10g |
Lauren is an English Literature graduate originally from the South. She's always loved swimming, has discovered the power of weight training over the past few years, and has lots of room for improvement in her weekly hot yoga class. On the weekends she's usually cooking or eating some kind of brunch, and she enjoys trying out new recipes with her housemates – especially since shaking off student habits, like mainly surviving off pasta. Above all, she's a firm believer in keeping a balance between the gym and gin. Find out more about Lauren's experience here: https://www.linkedin.com/in/lauren-dawes-b4416aaa/