Snacks never stick around for too long in the Myprotein office, and samples of the new Impact Bar were no exception. When we say it's our "tastiest bar ever", we mean it.
A triple-layered bar with a soft and chewy caramel centre, enrobed in chocolate and topped with crispies for extra crunch. It's ideal for satisfying sweet-tooth cravings and the perfect companion for a cup of tea.
Anyway, now you've been introduced, here are the details of the new Impact Bar.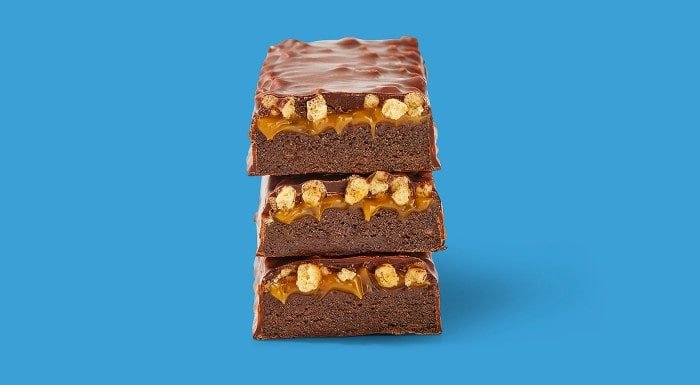 What is the Impact Bar?
We like our snacks to pack a protein punch. The Impact Bar contains 20g of protein, is low in sugar, high in fibre, and super convenient.
And it comes in seven delicious flavours — Caramel Nut, Fudge Brownie, Dark Choc Sea Salt, Dark Choc Orange, Dark Choc Mint, Peanut Butter, Cookies & Cream — so you should be able to find the flavour of your dreams.
What you think
Some customers have already tried the new bar, too. It's safe to say they can't get enough.
This customer is yet to try all seven flavours, but we're impressed that they've gotten through four already (and loved them). Although we're not sure that the Impact Bar can't be used on a bulk… just have two bars next time!

Making your way through those flavours!

We don't mind if you wrap it in the fridge and save the rest for later, Annabel…

Making us blush, Jane!
Take home message
We're so pleased that the new Impact Bar is finally out there for everyone to try. Choose your flavour and say hello to your new favourite snack, ideal for the office, on the move, or before or after your workout.