Why choose between fajitas or pizza when you can have both?
---
If you're looking for a real feel-good Friday night dinner, then we've got you covered with these delicious fajita chicken rolls. A simple twist on two of our favourite recipes, we're basically keeping all the sizzling flavour of fajitas but switching out the tortilla wraps for soft pizza dough and adding extra cheese. Genius.
They're incredible for a high-protein grab 'n' go snack on their own or can be made into a real main event situation by adding a few sides – whether you decide that should be garlic bread or nachos & guac is totally up to you… Who's to say you can't do both?
Makes 9
Servings

9 rolls
Prep Time

5 minutes
Cook Time

40-45 minutes
Ingredients
1 tbsp. olive oil
2 chicken breasts (cut into strips)
2 tbsp. fajita seasoning
1 onion (sliced)
3 peppers (sliced)
1 sheet readymade pizza dough
3 tbsp. salsa
120 g low-fat cheddar (grated)
To serve: Sugar-Free Sauce (BBQ)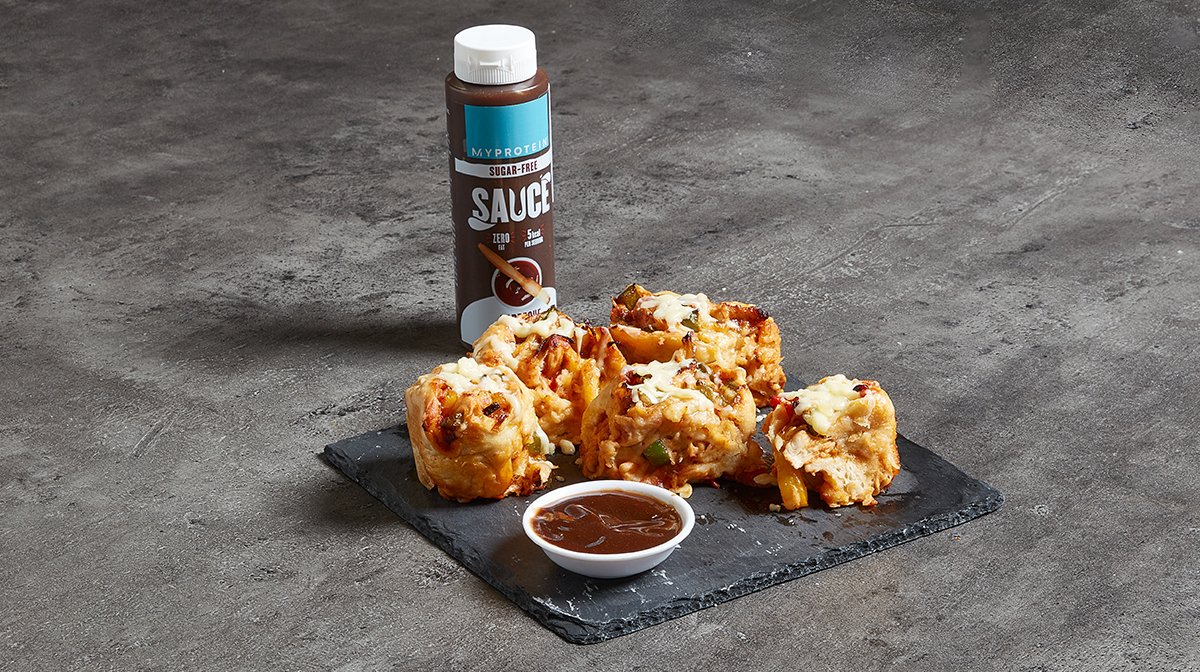 Method
First preheat the oven to 180°C.

Heat the olive oil in a frying pan over medium heat and then add your strips of chicken breast and fajita seasoning. Stir well to evenly coat the chicken and then cook for 5-10 minutes until it's completely cooked through with no pink bits.

Next add the sliced onion and pepper strips to the pan and fry for another 5 minutes until softened. Turn off the heat.

Roll out your readymade pizza dough on a chopping board or clean work surface. Add the salsa sauce to the top of the dough and spread out evenly, then add the chicken & pepper mix too.

Sprinkle the grated cheddar on top and then carefully roll up the dough from the bottom to the top so that you have one long pizza roll. Cut the roll into 9 even sections and then place each section into a baking dish, stood up so that you can see the insides of the roll.

Sprinkle with a little extra grated cheese and then bake for 30 minutes until the cheese is golden brown and bubbling.

Leave to cool for a few minutes before carefully cutting out each pizza roll section. Serve with plenty of our BBQ Sugar-Free Sauce and enjoy!