Ever wondered what a cheat meal looks like for a man like Chunkz?
---
It's no secret that Chunkz has had an incredible weight loss transformation. The hugely successful YouTube star & entertainer is virtually unrecognisable, especially when you look back to his 2020 Soccer Aid appearance.
Of course, we couldn't be more supportive of his fitness journey and his efforts to become a more active, healthier version of his lovable self are seriously impressive. We know that it takes a lot of work — both in the gym and the kitchen — to lose weight.
We also know it takes a balanced approach to make it sustainable and, most importantly, enjoyable too. Which is why we wanted to get Chunkz involved in our brand new YouTube series, "Cheats with Chunkz" to get him cooking up a storm with some of our top Myprotein athletes, sharing training and nutrition tips while they get stuck in.
In this first episode, Chunkz welcomed professional British boxer and YouTuber, Viddal Riley, into the Myprotein Kitchen to whip up a badass burrito lasagne. Yep, you read that right — burrito lasagne.
Get ready for some hilarious kitchen fails as well as an exclusive insight into their eating habits, guilty pleasure snacks, and favourite fast food cheats.
Want to taste that burrito lasagne for yourself? Of course you do.
---
Although the process was a little chaotic at times, we have to admit that Chunkz & Viddal really nailed that recipe. We can confirm it tasted just as incredible as it looked (probably a little better than it looked if we're honest actually), so we'd recommend giving it a go yourself.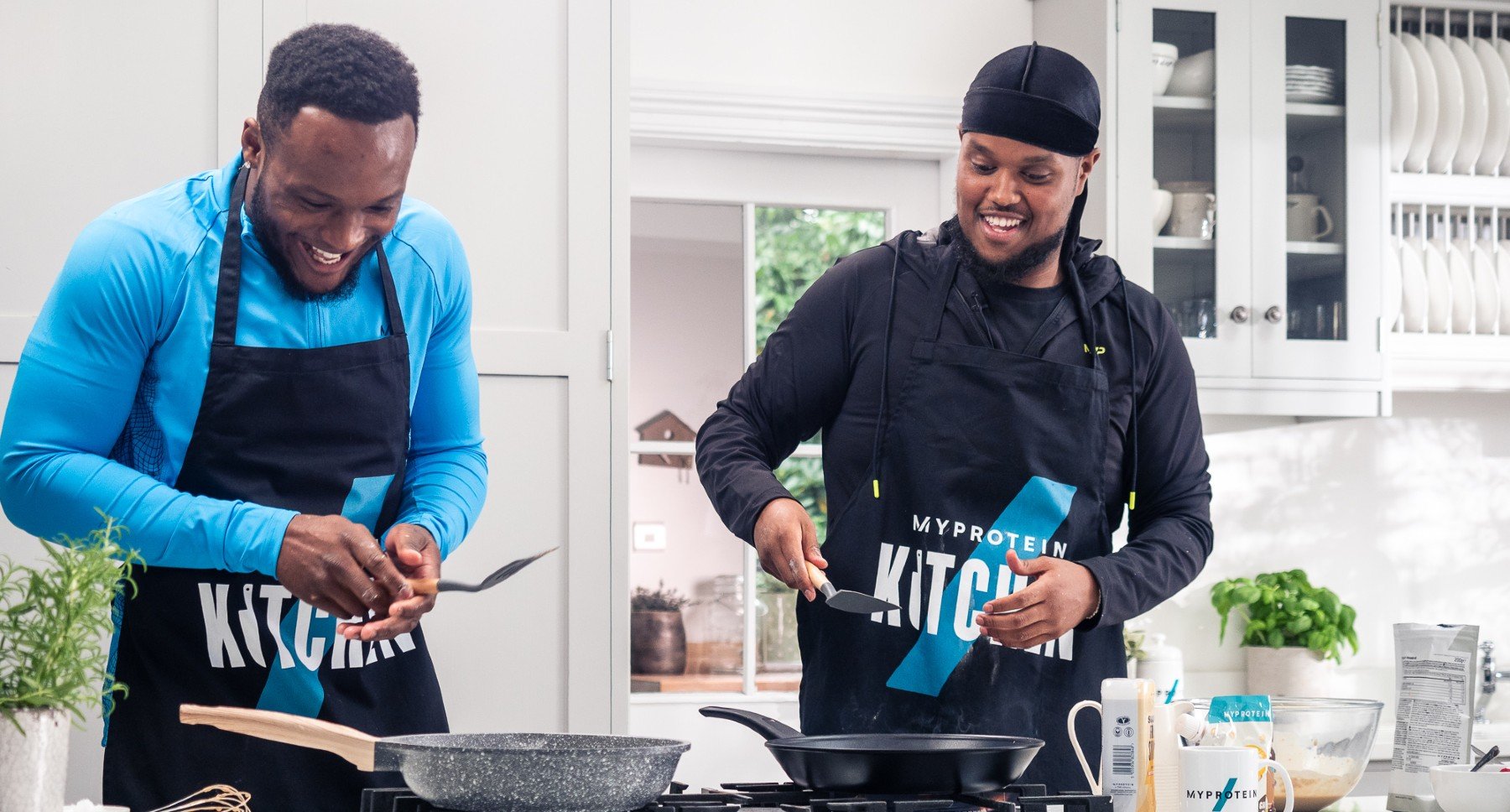 Recipes serves 6-8
What you'll need:
1kg beef mince
2 jars enchilada sauce (340g each)
1 packet taco seasoning mix
1 tbsp. ground cumin
2 packs microwavable Mexican rice
9 tortilla wraps
1 can refried beans
400g mature cheddar cheese (grated)
Olive oil for frying/greasing
Salt & pepper for seasoning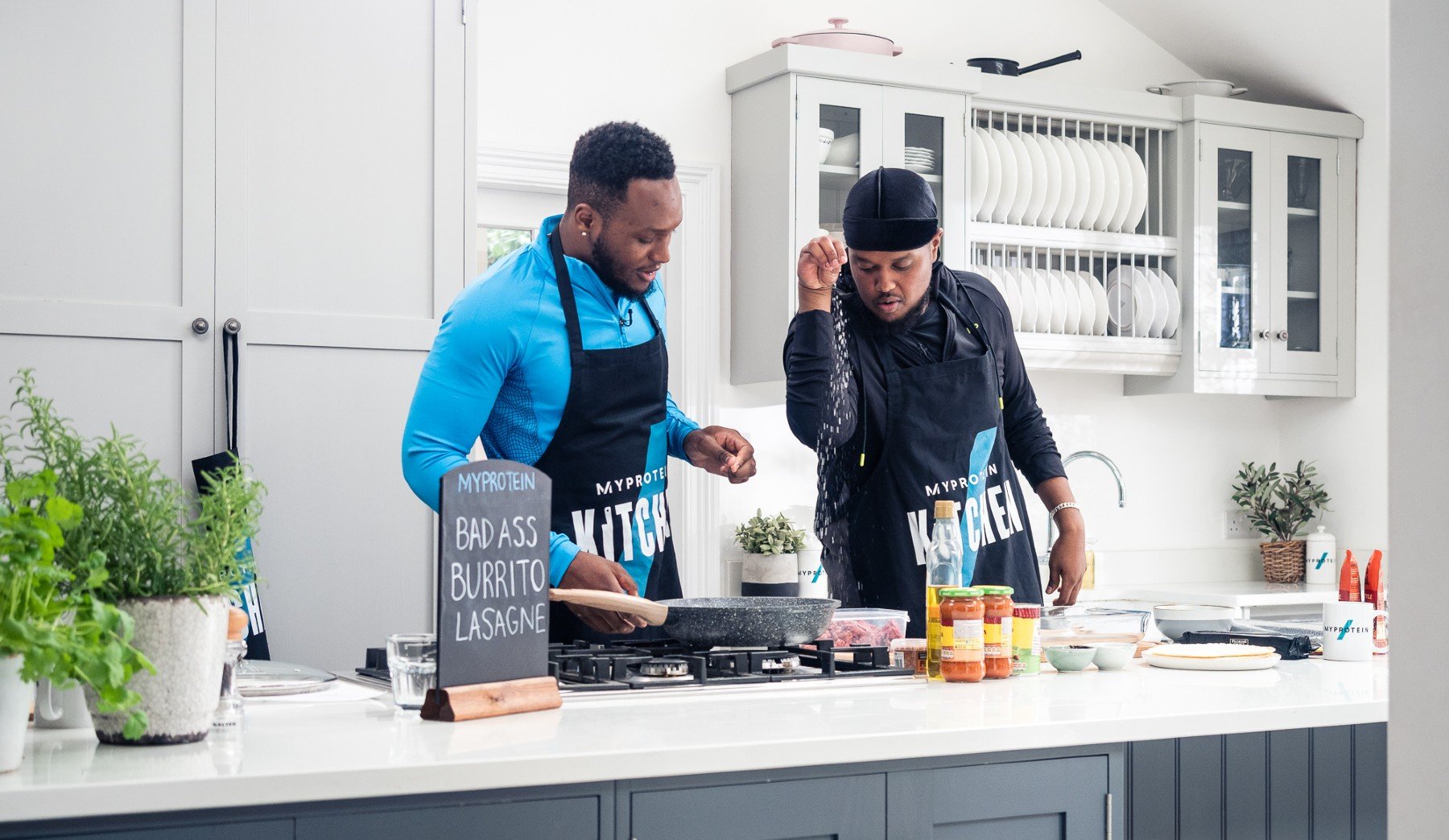 What to do:
Preheat the oven to 180°
In a large frying pan, heat a little olive oil and brown off the beef mince, seasoning with a sprinkle of salt and pepper. Drain off any excess fat.
Once the beef is browned, stir in both jars of enchilada sauce and add the taco seasoning mix and ground cumin. Mix through and leave simmering on low for 5 minutes.
Heat both packs of rice according to packet instructions. Spread each tortilla wrap with 1-2 tablespoons of refried beans, ready to layer up your dish.
Grease a large baking dish to make sure your tortillas don't stick.
Start building your lasagne layers! Spread a third of the meat mixture on the bottom of the dish, and top with 3 tortillas (enough to cover the meat mixture with a little overlap). Add a layer of the rice on top of the tortillas, and then a third of the grated cheese.
Repeat again, until you have 3 distinct layers, finishing up with a cheesy top. Then cover with tin foil and cook for 20-30 minutes until the top is golden brown and bubbling.
Let stand for 10 minutes before serving with your sides of choice. Chunky guac and a dollop of salsa are a must!
Nutritional info per serving (based on 6 servings):
| | | | |
| --- | --- | --- | --- |
| Calories | Carbs | Protein | Fat |
| 817 | 55.6g | 66.3g | 57.5g |