Eating these might get a little messy, but it's oh so worth it.
---
Talk about sandwich goals. We challenge you to get to the end of this incredible recipe video without salivating.
Niall Kirkland is serving up absolute scenes with these sticky, juicy BBQ chicken thighs that have been shredded and loaded into a soft bread rollwith plenty of crunchy homemade slaw. As far as we're concerned, we'll be playing this one on repeat for most of winter.
Serves 4
Ingredients
For the marinade:
3 tbsp. BBQ Sugar-Free Sauce
1 tbsp. honey
1/2 tsp. cumin
1/2 tsp. smoked paprika
1 tsp. oregano
1 tsp. salt
1 tbsp. hot sauce
3 garlic cloves (crushed)
1 tbsp. lemon juice
600g boneless, skinless chicken thighs
For the slaw:
1 carrot (grated)
¼ red cabbage (grated)
5-6 radishes (thinly sliced)
1 spring onion (finely chopped)
1 tbsp. apple cider vinegar
1 tbsp. light mayonnaise
For the rest:
4 bread rolls
Light mayonnaise
Chopped coriander to garnish
Chopped spring onions to garnish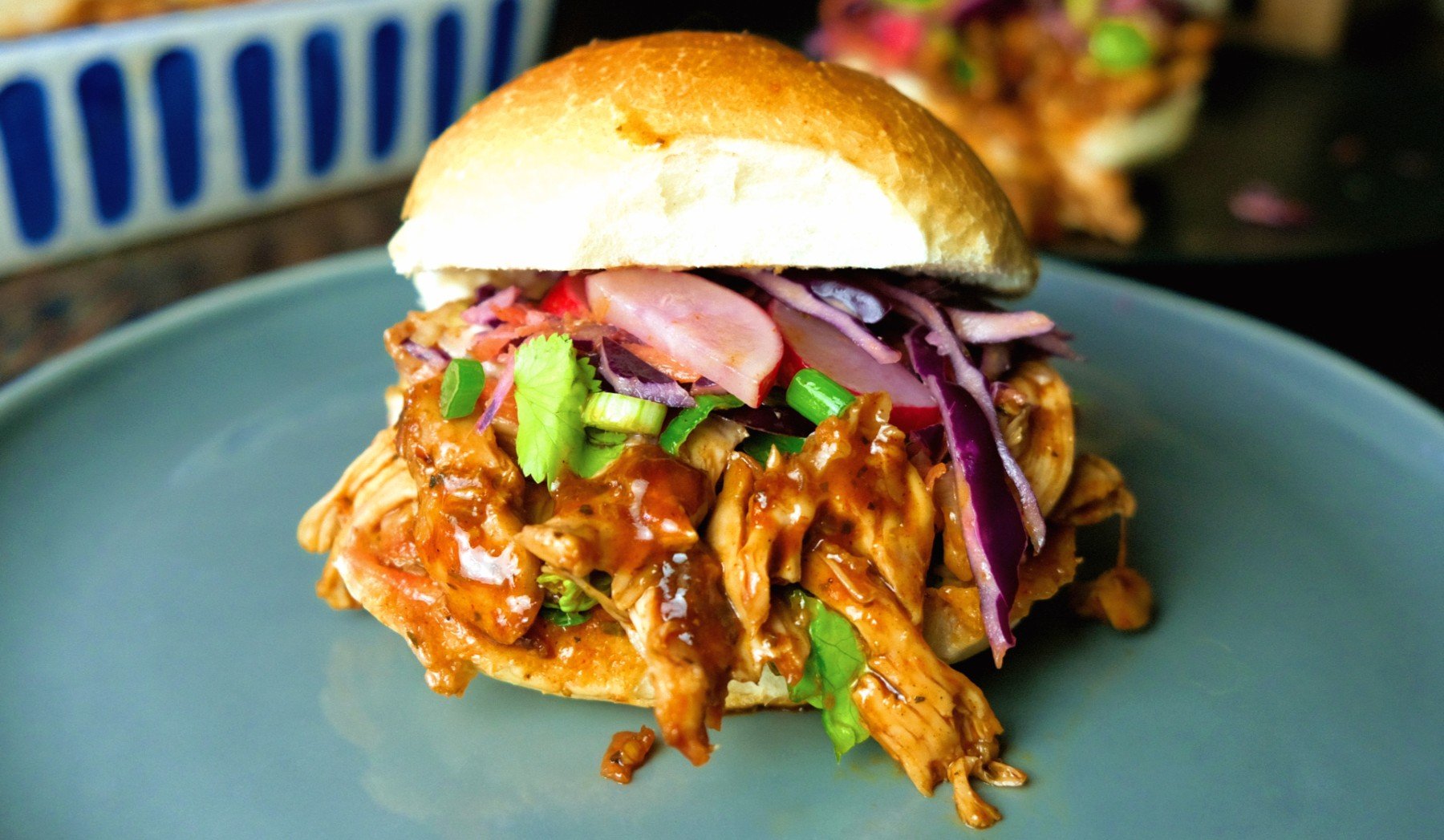 Method
Mix together all of the marinade ingredients until fully combined. Add the chicken thighs, stir well until completely coated, then leave to marinate for at least 30 minutes.
Preheat oven to 190°C/ 360°F. Transfer your BBQ chicken thighs to a baking dish, pour any leftover marinade over them and then bake for 25 minutes until cooked through. Remove chicken thighs once during cook time to baste (this will help keep your chicken thighs juicy and coated).
Whilst chicken thighs are cooking mix together all of your ingredients for the homemade slaw and set aside.
Once the chicken thighs are cooked, remove from oven and leave to cool for a few minutes before shredding using two forks.
Now you're ready to build your sandwiches – apply roughly a teaspoon of light mayonnaise to the bottom of your roll, then pile with plenty of pulled BBQ chicken, top with slaw and garnishes. Bon appetit!