This açaí bowl recipe will become your new favourite healthy breakfast.
Learn how to make the nation's favourite superfood treat – the açaí bowl. Absolutely brimming with antioxidants, it's no wonder these vibrant purple bowls of goodness are taking over your social media feeds. But there's more to these super-bright berries than simply meets the eye.
Açaí berries (pronounced ah-sigh-ee) look a lot like grapes in their whole-fruit form, found in South America on açaí palm trees. They're packed with compounds called 'polyphenols', which have antioxidant, anti-inflammatory, and cardio-protective properties – protecting your body from free radical damage and risk of heart problems.
This wonder-ingredient is also packed with essential nutrients like iron, potassium, magnesium and vitamin E, which are great for muscle function, a reduction of fatigue, and the immune system.
Açaí berry powder has a subtly sweet flavour and mixes in perfectly with yoghurt, smoothies and smoothie bowls. This recipe blends açaí powder with frozen banana and yoghurt to make a deliciously thick, ice cream-like texture, topped with extra fruit and crunchy granola if you're feeling fancy.
You can use any yoghurt you like for this açaí bowl recipe, like dairy-free yoghurt if you're following a vegan diet. Likewise, any and all toppings are welcome here – from fruit and granola to nut butters and coconut flakes. This guilt-free treat will leave you feeling satisfied and refreshed, ready for the day ahead.
Click to jump straight to the nutritional information.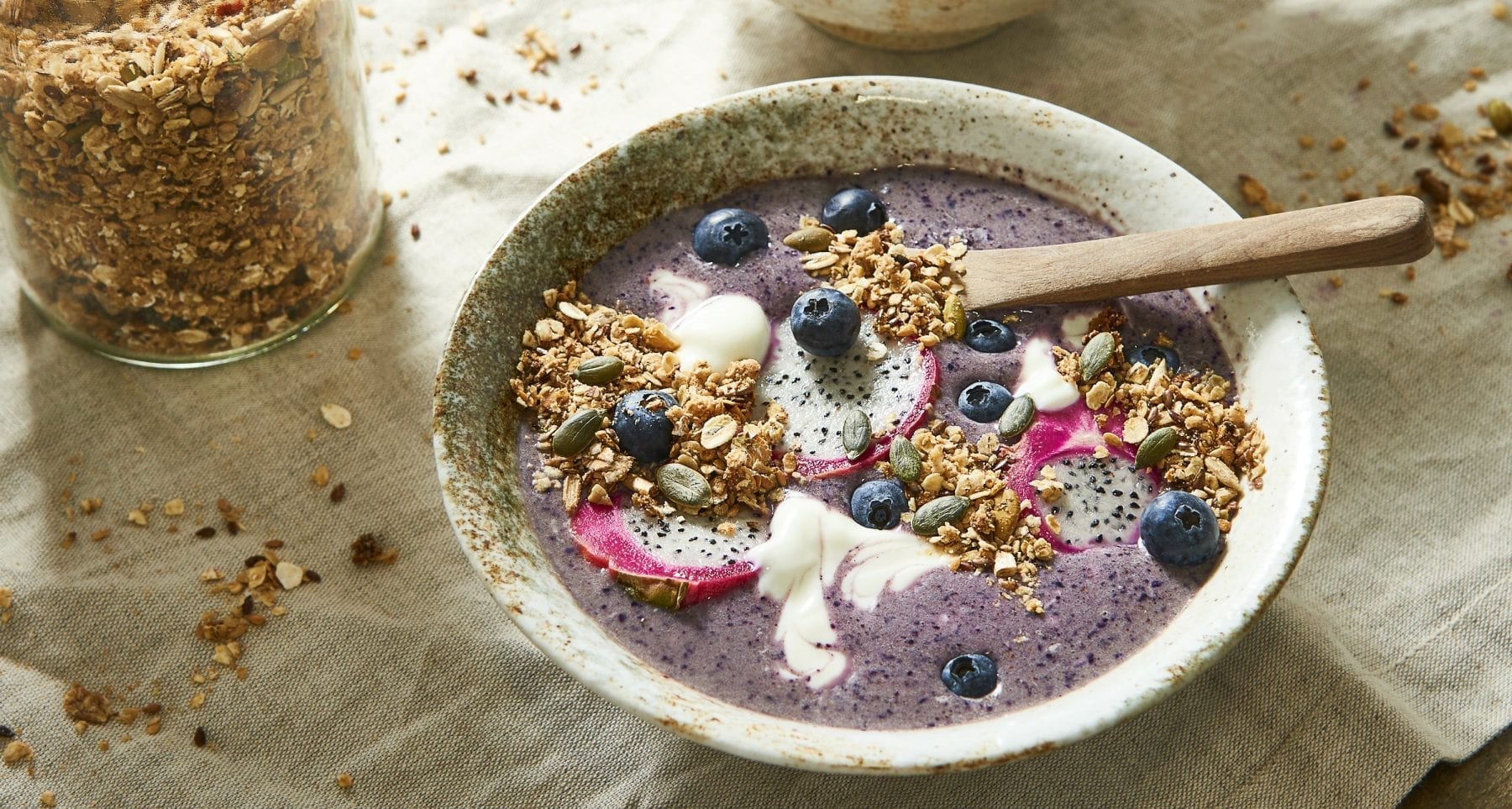 Ingredients

To decorate (optional):
Method
1. First, place the banana, yoghurt and Organic Açaí Powder into a blender and process until smooth and creamy.
2. Next, pour the blended mixture into a bowl and decorate with your toppings. Simply beautiful.
---
Enjoy this açaí bowl recipe? Check out more delicious healthy recipes here!