This açaí bowl recipe will become your new favourite healthy breakfast.
Learn how to make the nation's favourite superfood treat – the açaí bowl. Absolutely brimming with antioxidants, it's no wonder these vibrant purple bowls of goodness are taking over your social media feeds. But there's more to these super-bright berries than simply meets the eye.
Açaí berries (pronounced ah-sigh-ee) look a lot like grapes in their whole-fruit form, found in South America on açaí palm trees. They're packed with compounds called 'polyphenols', which have antioxidant, anti-inflammatory, and cardio-protective properties – protecting your body from free radical damage and risk of heart problems.
This wonder-ingredient is also packed with essential nutrients like iron, potassium, magnesium and vitamin E, which are great for muscle function, a reduction of fatigue, and the immune system.
Açaí berry powder has a subtly sweet flavour and mixes in perfectly with yoghurt, smoothies and smoothie bowls. This recipe blends açaí powder with frozen banana and yoghurt to make a deliciously thick, ice cream-like texture, topped with extra fruit and crunchy granola if you're feeling fancy.
You can use any yoghurt you like for this açaí bowl recipe, like dairy-free yoghurt if you're following a vegan diet. Likewise, any and all toppings are welcome here – from fruit and granola to nut butters and coconut flakes. This guilt-free treat will leave you feeling satisfied and refreshed, ready for the day ahead.
Click to jump straight to the nutritional information.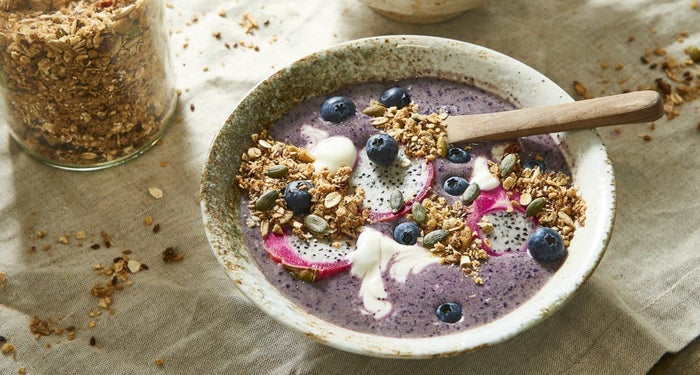 Ingredients
To decorate (optional):
Method
1. First, place the banana, yoghurt and Organic Açaí Powder into a blender and process until smooth and creamy.
2. Next, pour the blended mixture into a bowl and decorate with your toppings. Simply beautiful.
Enjoy this açaí bowl recipe? Check out more delicious healthy recipes here!
NUTRITIONAL INFORMATION
PER BOWL
Nutritional info per serving:
| | |
| --- | --- |
| Calories | 256 |
| Total Fat | 5g |
| Total Carbohydrates | 43g |
| Protein | 9g |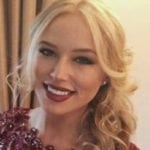 Jennifer Blow is our UKVRN Registered Associate Nutritionist – the UK's register of competent and qualified nutrition professionals. She has a Bachelor's of Science in Nutritional Science and a Master's of Science by Research in Nutrition, and now specialises in the use of sports supplements for health and fitness, underpinned by evidence-based research.
Jennifer has been quoted or mentioned as a nutritionist in major online publications including Vogue, Elle, and Grazia, for her expertise in nutritional science for exercise and healthy living.
Her experience spans from working with the NHS on dietary intervention trials, to specific scientific research into omega-3 fatty acid supplementation and also the effect of fast foods on health, which she has presented at the annual Nutrition Society Conference. Jennifer is involved in many continuing professional development events to ensure her practise remains at the highest level. Find out more about Jennifer's experience here.
In her spare time, Jennifer loves hill walking and cycling, and in her posts you'll see that she loves proving healthy eating doesn't mean a lifetime of hunger.