There's not a more delicious way to drink plant-based protein powder than in fruity vegan smoothies. That's why we've come up with the perfect vegan shake recipe, so that you can sip on plant-based perfection in a quick and easy way.
Looking for the best vegan protein powder for you? Our Vegan Protein Blend is made from all-natural ingredients, packed with essential amino acids, and 22g of protein per serving. The protein comes from pea protein isolate and fava bean isolate and is flavoured with natural flavourings for a sweet and tasty shake.
To make one of the most perfect protein-packed vegan smoothies, we've mixed our plant-based protein powder with banana and almond milk to make a thick vegan shake with plenty of health benefits. This is ideal for sipping on post-workout for a protein boost, or simply as a nutrient-packed vegan snack.
Jump straight to the nutritionals here.
https://youtu.be/zbcJcS66SvM
Ingredients:
1 scoop Vegan Protein Blend (Coffee and Walnut flavour)
250ml almond milk
½ banana
Handful ice
Toppings of choice
Method
1. Put the Vegan Protein Blend, almond milk, banana, and ice into a blender and blend until smooth
2. Pour into a glass and top with your favourite toppings — we love mixed berries — then enjoy!
Nutritional info per serving:
| | |
| --- | --- |
| Calories | 228 |
| Total Fat | 4g |
| Total Carbohydrates | 28g |
| Protein | 22g |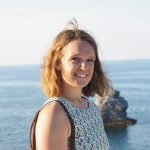 Evangeline is a Veganuary convert and newbie vegan with a degree in English and French from the University of Nottingham. Having recently ditched the meat and dairy, she really enjoys the new flavours and cooking techniques she's encountered on a plant-based diet. She's been shocked by the millions of ways you can use tofu, however still hasn't found a decent cheese substitute! When she's not in the office or eating, Evangeline usually out running or sailing. As a qualified RYA Dinghy Instructor and a marathon runner, she knows the importance of providing your body with the right nutrients for endurance sports as well as a busy lifestyle. Find out more about Evie's experience here.