---
Rob Lipsett
Age: 25
Location: Dublin, Ireland
Myprotein ambassador
---
Personal trainer, social media influencer and sponsored athlete – is there anything Rob is missing?
Rob began playing for the pack in his first year at school. However, where most would struggle with a serious, brutal training regime, Rob ditched the pitch and became a full-time gym enthusiast. Now a Myprotein ambassador, Rob represents the world's number 1 sports nutrition company, but surely that's not everything?
Luckily, we had the chance to get up-close and personal with Rob, check out the interview below!
---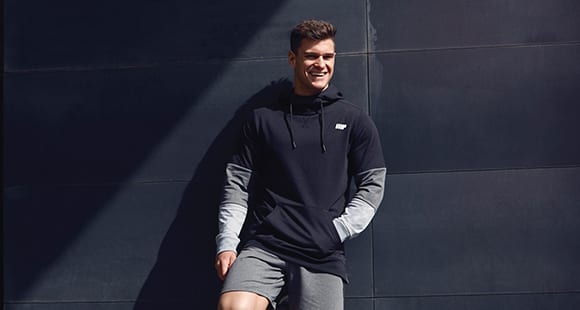 Rob is wearing the men's lightweight, slim-fit Superlite Pullover Hoodie and Tru-Fit Shorts
---
We know you LOVE the gym, but how often do you train?
I would say on average 5 to 6 times a week. Usually for about 1 hour and it mainly involves weight training. I do a little bit of cardio but more in the form of staying active; I would go for a walk with friends, go on hikes, climb mountains, but no structured cardio. However, when I'm competition prepping I do some more regimental cardio.
---
Imagine you're only allowed ONE gym day per week, what would exercises would you include? Tough decision eh?
I'm not going to lie, it would definitely be push day, including chest, shoulders and triceps – you just look awesome afterwards. Although, sometimes when I'm travelling and unable to regularly hit the gym I would do upper/lower training or even full body workouts. So it really depends on what my schedule looks like.
---
We understand you're often jetting to the other side of the globe, so how do you fit in your training routine abroad?
I always utilise the equipment and environment I have access to. When you are in a big city you can always find a gym, some people like to make excuses and they say: "Oh I can't find a gym". But there is always something available, even if it's a run in the local park. I try to make it to the gym approximately 3 or 4 times a week when I am travelling, it's better than missing out!
---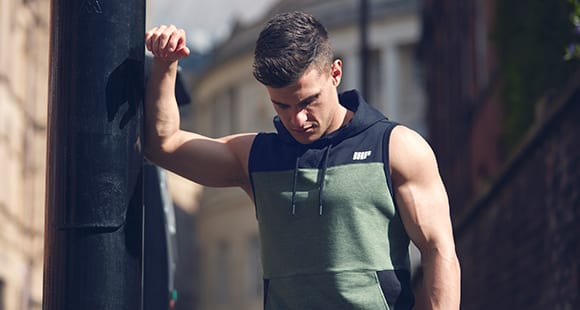 Rob is wearing the men's sleeveless Superlite Pullover Hoodie
---
So, Mr Popular – who is your gym buddy? Or do you prefer to concentrate on your own workout?
Mostly, I work out on my own because I like to zone out. I use it as a bit of a quiet time, a bit of me time, I put in some earphones and listen to really good music and workout to the best I can.
---
Do you jazz it up? Rock up in style? Or chill out throughout your workout?
I actually have a Spotify playlist, it's so mixed! Literally includes everything from house music, EDM, all the way down to heavy metal and old school rap.
---
Everybody loves cheat-day! When is yours and what is your ideal treat?
I follow a flexible diet, so every day I will allow myself to eat something that I really like as long as the majority of my intake is coming from whole food, including plenty of fruits and vegetables. I allow myself some pancakes or sweet treats to keep me on track and so when it comes to the weekends I don't actually feel the need to go out and have a massive cheat meal.
This is a sustainable diet for me. That should be the first thing you look for when you are starting a new diet plan, "Am I actually going to stick to this?" So I think this is very important.
---
Eat, Sleep, Train, Repeat. Where do you fit supplements in?
I tried supplementing when I was very young and I thought that supplements were more important than food. I would spend so much money on them and I would forget about the main things, such as training and nutrition. Since I was 18, I have educated myself on supplements and take them properly and consistently, taking the right one at the right time.
My main supplements are creatine monohydrate, caffeine /pre workout, fish oil, vitamin d and perhaps a multivitamin or a green supplement as well if I don't feel I've eaten enough vegetables during that day. Then I love the snacks from Myprotein, I love the high protein bar and the baked cookie, they're so GOOD, I eat 4 of them in one go! Also, the beef jerky is great when I travel.
---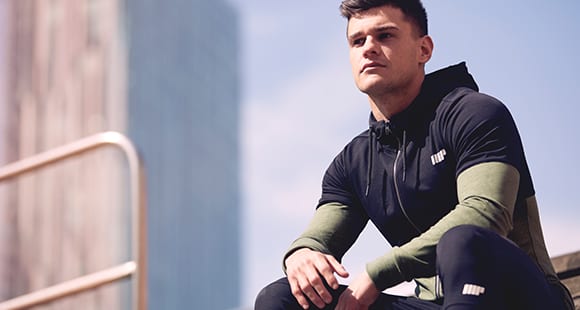 Rob is wearing the Superlite Zip-Up Hoodie and Superlite Joggers
---
If you were given a one-way ticket to any holiday destination – where would it be?
I was in Australia about 3 weeks ago and I just absolutely fell in love with the place! Due to it being on the other side of the world, I am definitely going back when winter hits Ireland; I will stay there for 2 months and then fly home. But yeah I'm clearly in LOVE with Australia.
---
We're not talking fancy dress, we're talking superhumans! Who is your favourite Superhero and what powers would you choose to have?
Iron Man, because he is a badass, he doesn't have any magical powers, he makes himself being a superhero.
I would control time! I could rewind time and think about a really good idea that's already been done and invent it myself! I would invent Google!
---
Now we're not talking Premier League, but do you have any upcoming goals to aim for?
This year I want to travel as much as possible and I want to document it as much as I can! In 2016 I was laying the foundations, and now we are part-way through 2017, I want to grow those foundations, have a bit of fun and see as much of the world as possible. With that comes great content so I'm going to grow my audience and create the best content I can for my viewers.
---
We asked Rob to give us three words which described himself? He gave us 4…
Outgoing, open-minded and friendly.
---
So many people avoid the gym, not a fan of getting hot and sweaty nor do they maintain a healthy lifestyle – what's your favourite motivational quote to help others achieve their dream?
I will either find a way or make one.
A lot of people look for excuses when they feel they can't do something and I hate that. You can tell when someone is making excuses so I tried to avoid that completely.
A lot of people give up when they don't see immediate results because they are too impatient and that goes with everything whether it be fitness, business, relationships whatever it is if things aren't going their way they immediately give up.  95% of people give up and 5% that push pass the initial struggle, they are the ones who see the results.
---