By now, you've probably heard about our exciting new partnership with KSI. We're backing the YouTube star on his run-up to take part in one of the year's biggest amateur sporting events.
Olajide 'JJ' William Olatunji, better known as KSI, is due to go fist-to-fist against the highly controversial Logan Paul, on August 25th at the Manchester Arena — and we've been getting him prepped and primed for the big event.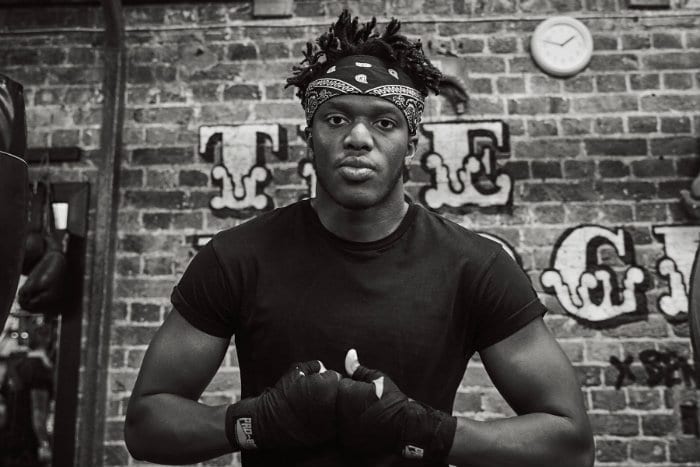 On Sunday 12th, we personally delivered a van-load of our world-class sports supplements to his door. And that was just the beginning…
We know that nailing the nutrition is only part of the journey, so we thought we'd better cover the training aspect as well. By enlisting the help of another one of our outstanding ambassadors — the boxing and MMA star, Michael 'Venom' Page — we're fuelling KSI with experience too.
This is what went down.
1) KSI gets stacked
We arrive at KSI's impressive pad, start the not-so-easy task of unloading all of our packages for him, and then get a quick tour of the place. He runs us through what an average 'day in the life' looks like (at the moment it seems to be mainly train, eat, sleep, repeat), while his chef, Sarah, whips up a stack of protein pancakes for him — which he sees off with a shake of Thewhey™.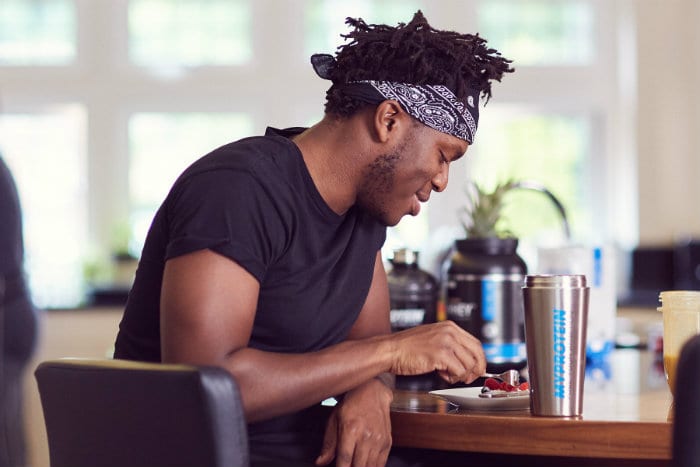 We have just enough time for him to talk us through the iconic bandana before he gathers up his training kit and we head off to the Fitzroy Lodge boxing club.
https://www.youtube.com/watch?v=mCJ9oRxeB8s&t=30s
2) Fighting talk
We took advantage of having KSI's full, undivided attention on the journey and got firing with the questions we know everyone's been wanting to ask. Covering everything from how mentally prepared he's feeling, to who his favourite boxer of all time is — watch the video below to get the full inside scoop.
https://www.youtube.com/watch?v=OSL1iF1eMjM
3) Page puts him through his paces
The master meets his student. Michael 'Venom' Page doesn't hang about before he's throwing punches — showing off his impressive right hook before turning to KSI gleefully to "see what these guns have to say".
Confident as always, KSI replies calmly that he's "feeling himself".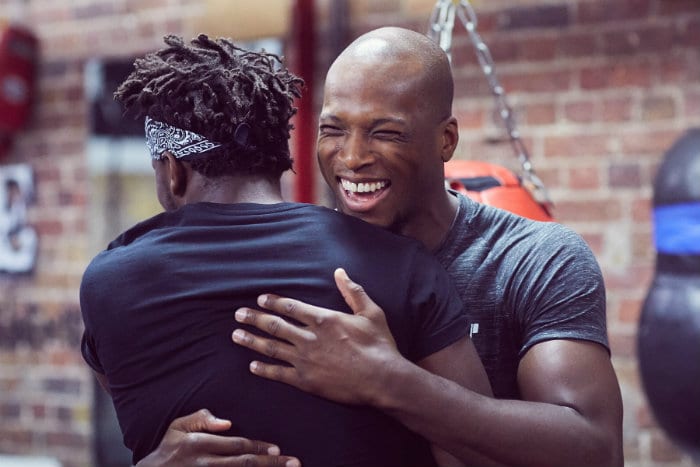 Page then highlights the importance of speed over power, and the two go head-to-head on a reaction time challenge. It's soon pretty clear that KSI is going to be put through his paces, no holding back.
He gets plenty of tips and techniques along the way though — watch the video below to see them both in action in the ring.
https://www.youtube.com/watch?v=3qIWT1cC3TE
After the session, KSI takes a moment to unwind.
"It was tough, but it was a pleasure to be training with a MVP. He's taught me a few tricks of the trade."
We finish up by asking for his predictions for the big upcoming fight.
"Obviously it's going to be a victory on my end… and I'm going to make it look easy."
We're firm believers that hard work pays off, so we can't wait to see how this one unfolds — remember to tune in on the August 25th.
Lauren is an English Literature graduate originally from the South. She's always loved swimming, has discovered the power of weight training over the past few years, and has lots of room for improvement in her weekly hot yoga class. On the weekends she's usually cooking or eating some kind of brunch, and she enjoys trying out new recipes with her housemates – especially since shaking off student habits, like mainly surviving off pasta. Above all, she's a firm believer in keeping a balance between the gym and gin. Find out more about Lauren's experience here: https://www.linkedin.com/in/lauren-dawes-b4416aaa/